April in Africa
Last year HHI spent April in Paris, where our Founder/Director, presented at UNESCO's Education for All event. And while that was absolutely lovely, this year it has been our pleasure to spend April in Africa, specifically in Swaziland with our partners at the Bantwana Initiative. Together, we are working with the Ministry of Education and Training to create the country's first formal training program for preschool teachers.

This month 15 officers from the Ministry graduated as Master Trainers, and then together we trained 18 preschool teachers in the new program. It was an exciting week, as we all learned from each other and built a new system of support that will serve hundreds (and later we hope thousands!) of the country's most vulnerable young children. (We may also gotten to serve some of the cutest!)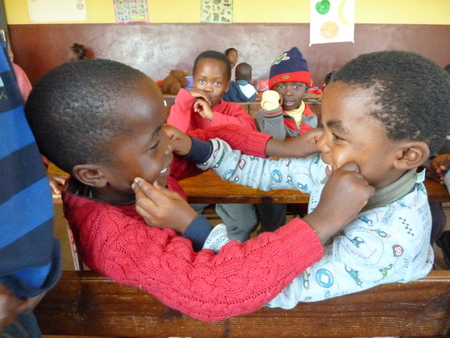 Preschool students in Lumbumbo, Swaziland
Our thanks to Bantwana, World Education and the generous funding of the Open Society Institute of South Africa.

News & Updates:
- July 20th, in Portland

- 5k/10k fun run, walk and stroller push to benefit HHI

- Details here. Register here. Facebook Event.
---
Last year was HHI's biggest year ever, working in more countries, collaborating with new partners and offering training and support to more caregivers around the world. Read last year's highlights in our newly published annual report. AnnualReport2012

---
HHI's Founder and Executive Director was honored to be featured in Portland Monthly's cover story. It makes total sense to us! Read more.