"When he was at the table with them, he took bread, gave thanks, broke it and began to give it to them. Then their eyes were opened and they recognized him . . ."
Luke 24.30-31a
---
John Newton, the man who was a captain of slave ships and later became a follower of Jesus devoted to the abolition of slavery, penned the famous words: "I once was lost, but now am found, was blind, but now I see." He knew, from his personal experience, the darkness of spiritual blindness, the inability to recognize the Lord. But, by God's amazing grace, he was also able to sing the praises of the light and sight of the crucified and risen Christ.
The disciples on the road to Emmaus (whose story we'll hear together tomorrow) suffer a similar blindness. They walk the road to Emmaus in darkness, their spirits downcast within them. But they walk in the presence of the risen Lord, and by the end of the story, they too can sing of the amazing grace of God that opens our eyes to see Jesus, the light by which we see all things.
I encourage you to read and reflect on
Luke 24.13-35
prior to our time together tomorrow morning.
---
Building Blocks of Faith Assessment Results:
On February 19, the overwhelming majority of Valley Church remained following the service of worship and completed the Building Blocks of Faith assessment. To jog your memory, the assessment asked us questions regarding four distinct areas of our experience of faith formation at Valley Church: belonging, knowledge and understanding, hope, and calling and equipping. The leadership team would now like to share with you the broad picture of the results of the assessment.
First of all, the leadership team would like to thank you for completing the assessment. According to representatives from the CRC's Faith Formation Ministries, we had one of the highest rates of participation they had seen! Thank you for taking the time to participate.
At a broad level, the results of the assessment showed that the members of Valley Church have a strong sense of belonging both to God and our church, a good grounding in knowledge and understanding of the faith, a high sense of hope anchored in Christ, and a sense of calling and equipping. In other words, the results of the assessment show us that Valley Church is in a state of good health that enables us to exercise our faith formation muscles in new ways to grow even stronger in our faith. We have strong foundations on which we can experiment and try new things.
Our highest scores were in the category of belonging. Prior to completing the assessment, the leadership team had already desired to focus in the areas of belonging and fellowship in order to address areas of potential growth. With our coaches from the CRC's Faith Formation Ministries looking at the assessment results with us, we have determined that we will continue our focus on nurturing our sense of belonging through deep Christian fellowship that unites us across all social boundaries. We will particularly focus on learning to tell one another our life stories and the stories of our own faith journeys as a means of deepening our fellowship and belonging to God and to one another.
We look forward to the new opportunities and experiments that God is calling us into in order to continue to grow into maturity in our faith and ever deeper belonging to our God and to God's church. Keep your eyes and ears open for upcoming events and opportunities! And please continue to share ideas and feedback for ways we can grow together in our faith to the leadership team.
Wishing you every blessing as we grow together in Jesus Christ,
Valley Church's Leadership Team:
Ron Crawford, Jeff DeYoung, Florence Doller, Kurt Monroe, Becky Stocum, and Terry Woodnorth
---
Announcements, Events, and Opportunities:
Friday Fuel:
Need some time to unplug and unwind at the end of the week? Need some encouragement or some conversation over food with brothers and sisters in Christ? This coming Friday evening (May 5) you are invited to gather at Charlie Huizinga's house for fellowship and food - fuel for our journey through life with our Lord. We'll gather at 7:00 p.m. and stay until we're ready to leave, or until Charlie kicks us out, whichever comes first! Please bring a snack to share.
We plan to gather again for Friday Fuel at 7:00 p.m. on Friday, May 14 at the Stocum's house and Friday, May 21 at the Monroe's house (weather permitting).
Men's Lunch:
The men will gather for food and fellowship at Apple Hills at noon on Thursday, May 4
Pastor Kurt on Study Leave:
Pastor Kurt will be taking a week of study leave from May 1 to May 7. If you need pastoral care during this time, please contact a deacon or elder.
National Day of Prayer:
Thursday, May 4 is the national day of prayer. Prayer guides will be available in the foyer tomorrow morning.

Gardening Time Is Quickly Approaching!
:
The gardening season is upon us! Valley's community garden has plots available, so if you hear friends or neighbors comment on wanting to garden, feel free to tell them about the garden. Flyers are available in the foyer.
---
From the Deacons:
Vote for the CHOW Bus:
The CHOW mobile grocery bus is competing for grant funding from the USA Today network. The grants will be awarded based on votes from the public. Go
here
to find out how to vote for the CHOW bus.
Support the Stu Naismith Peacemaker Awards: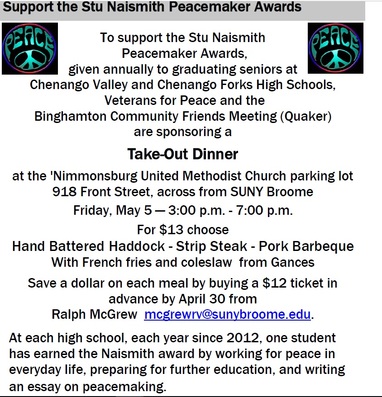 ---

~ Valley Church ~
Gathered as God's family, we are sent into the world as agents of God's mission of renewal.

---
This Sunday:
Worship Service
at 10:00 a.m.
---
That we might better pray for one another and God's world:


We give thanks for a successful surgery and pray for continued healing and strength for Luci Huizinga.
We pray for continued healing and strength for Peter DeYoung.
We pray for discernment, wisdom, and guidance through the logistics of planning to teach English in China while she completes her final semester of graduate school.
We pray for all of our college students as they approach the end of the school year: for health and good management of time as they prepare for final examinations.
We pray for God's world: for an end to the escalation of tensions with North Korea; for the people of Syria; for the people of South Sudan, Somalia, Nigeria, and Yemen who are facing food shortages and starvation; for unity and civility among the citizens of the United States and for guidance and wisdom for government leaders at all levels; for ongoing restoration, renewal, and justice for the people of Haiti; for those who are persecuted for their faith around the world (especially for our Coptic brothers and sisters in Christ in Egypt) and the organizations and people fighting to protect them.
We pray for friends and family: we pray for healing, strength, and peace for Edele Thompson as she battles cancer; for Becky's friend Joe who is battling colon cancer, and for peace and strength for his family; for Adam Derzanovich; we give thanks for healing for David Derzanovich's brother-in-law Tim, and pray for continued healing and recovery; for Beth Cunningham's cousin Karen; for Lynda Huizinga's niece Alexis; for Alistair Krempel; for Mike Corgan's nephew who is battling heroin addiction.

---
Sunday Morning Ministries for
April 30, 2017
Greeter: Claire Krempel


Ushers: Charlie Huizinga and George de Jager
Intercessory Prayer: Kurt Monroe
Old Testament Scripture Reader (Psalm 116.1-4, 12-19): Leslie Vermaat
Gospel Scripture Reader (Luke 24.13-35): Kurt Monroe
Nursery: Herleen DeYoung