"I am the LORD your God, who brought you out of the land of slavery. You shall have no other gods before me."
---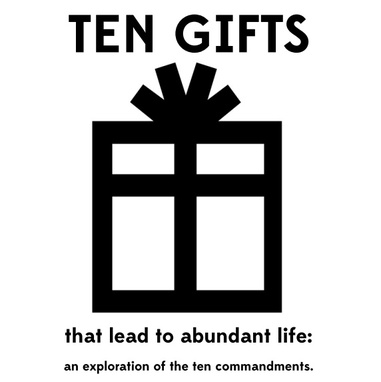 This Sunday marks the beginning of a new sermon series: Ten Gifts that Lead to Abundant Life: an Exploration of the Ten Commandments. Over the past few weeks we've been listening to Luke's account of John the Baptist's and Jesus' conceptions, all put in terms of a new Exodus for God's people. Over the next ten Sundays, we will return to the story of the first Exodus in order to examine the life-giving boundaries God gave to his people following their salvation - their Exodus from the land of slavery. For an introduction to the sermon series and a schedule, please read here. This Sunday, we will hear Exodus 20.1-3. If you have time over the next few days or weeks, I would encourage you to read the first nineteen chapters of the book of Exodus in order to more fully inhabit the story of God's redemption of his people in which these gifts were spoken to God's people.
---
Christmas Continues!
Merry Christmas! While the rest of the world begins wrapping up the "holiday season" (pun intended) and stores start marking down leftover wrapping paper and decorations on the 26th of December, the Christian calendar says that Christmas just started and goes for a full twelve days - until January 5. So, for the next two Sundays (December 29 and January 5) we will remain fully in the season of Christmas. We will continue to celebrate the coming of Christ into this world. We will continue to light the candles and sing the carols.
This Sunday we will be singing a carol that might not be familiar to everyone, so I invite you to listen to "Sussex Carol," beautifully performed by the choir of King's College Cambridge
here
to familiarize yourself with the tune and words before our service of worship this Sunday.
The image at the top of the page is a detail from a 1460s painting of the nativity of Christ that is part of an illuminated manuscript by Willem Vrelant of Belgium.

Sunday Service Times:
Children's Sunday School:
No Sunday School
this Sunday.
Coffee available for adults:
9:30 - 10:30 a.m.
Worship Service:
10:30 a.m.
---
That we might better pray for one another:
We continue to pray for God's blessing and healing for Jenny DeYoung as she continues her chemo treatments.
We ask for healing and strength for Barbie Aukema's mother, Barb, in her battle with lung cancer.
We continue to pray for Jim Conrad's mother, Ruth, during her chemotherapy treatments.
We pray for the Rex family, friends of the Nelsons, as they grieve Chuck Rex's sudden passing.
We ask God to protect those travelling over the next few weeks.
---
Upcoming Events and Opportunities:
No Sunday School this Sunday:
This Sunday (December 29), in order to give our teachers a well-earned Christmas vacation, there will be no Sunday School for children.
Valley Church's winter Congregational Assembly:
Our winter congregational assembly will be Sunday, January 12. We will gather upstairs for a potluck lunch, fellowship, and a celebration of the Lord's Supper immediately after the service of worship. Then we will hear the stories from a variety of people in our congregation of how God has led us in ministry, mission, and fellowship over this past year, and how God is leading us into the coming year. Please mark your calendars.