"A new commandment I give you: Love one another. As I have loved you, so you must love one another. By this everyone will know that you are my disciples, if you love one another."
~ John 13:34-35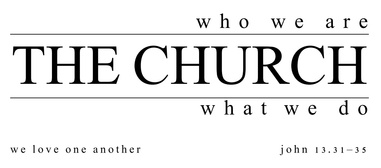 The Church: What We Do

This Sunday we will begin the second half of our sermon series - what we do as the church. We will explore John 13:31-35, in which Jesus gives his followers a new command: love one another. This "new command" to love one another will, itself, guide the rest of this sermon series, because it is the foundation for all of the actions of God's church.
I invite you to read John 13:31-35 in preparation for our time together tomorrow morning.
---
The photo at the top of the email is of "Rehoboth Peak." It lies about one mile south of Rehoboth Christian Reformed Church and the Rehoboth Christian Schools in northwest New Mexico. That was the landscape - a bone-dry landscape - I inhabited for the past two weeks. You can imagine my climate shock when I came back to Binghamton and found our grass green (and in desperate need of mowing) and our garden absolutely overgrown. What a wonderful gift God gives us in something as simple as rain. Let's give thanks (even if we're kind of tired of it)!
To further illustrate the difference in climates, take a look at the Monroe family's new friend (in the two pictures below). We met him on our hike up Rehoboth Peak. The locals call him a Horny Toad, but he's actually a Greater Short-Horned Lizard (not a toad at all), native to the high deserts of the Southwest. He's that brown all the time, and perfectly camouflaged all the time. (If he hadn't moved, we would have never seen him). In New Mexico, the bright green frogs and snakes of New York would be hawk and coyote food any time they popped their little heads out from under their rocks.
I was reminded again over the past two weeks of the amazing diversity and beauty of God's creation, from the running rivers and streams and the green hillsides of new York to the barren and desolate grandeur of the New Mexico high desert. And I was made thankful for God's faithful love not only of us humans, but of the whole of his creation - even the funny looking lizards of New Mexico.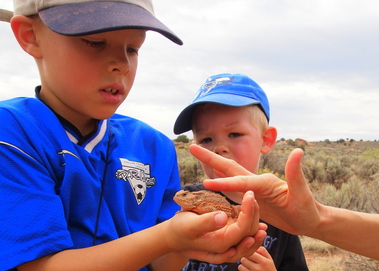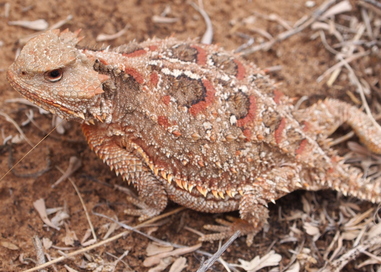 Sunday Service Time:
Worship: 10:00 a.m.
---
In the Life of Valley Church:
We give thanks for a safe and rewarding mission trip to York, PA from which the youth and leaders just returned yesterday. Be sure to ask the kids and leaders about the highlights of the trip and ways you can continue to pray for the spiritual growth of our youth and the needs of York, PA.
We pray for Edele Thompson as she has begun chemotherapy to treat cancer. She is staying with her daughter in Rochester while she is treated. (Her address there is 2 Amsterdam Drive, Fairport, NY 14450.)
We ask God's healing for Jim Stocum's mother and guidance for her doctors as they fine-tune her chemotherapy.
We give thanks that Lor Recker-Woodnorth's mother has returned home (after eight weeks in hospital and rehabilitation), and we pray that she will continue to grow in strength as she continues physical therapy and exercises at home.
We pray for Wilner and Marila Nicolas, that their time with family and friends in Haiti would be blessed with good health and safety, and that they would be able to return to the United States without difficulty.

---