"But when the kindness and love of God our Savior appeared, he saved us, not because of righteous things we had done, but because of his mercy. He saved us through the washing of rebirth and renewal by the Holy Spirit, whom he poured out on us generously through Jesus Christ our Savior, so that, having been justified by his grace, we might become heirs having the hope of eternal life."
~ Titus 3.4-7

---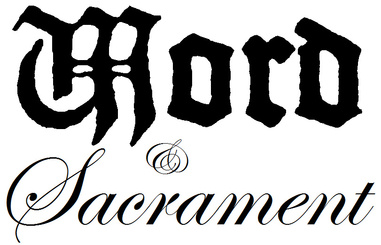 For the past three Sundays we have reflected on the gift of God's Word. Tomorrow we shift our focus slightly and meditate on the gift of the sacraments, specifically the gift of baptism. In addition to our scripture readings, we will once again turn to the Reformed confessions and allow those distillations of the teaching of scripture to help us think clearly about what we believe. Over the next few weeks I encourage you to reflect on, and give thanks for, the gift of your own baptism. Prior to our gathering tomorrow, I also invite you to read and reflect on
Titus 3.1-8
.
---
World Renew Appeals for Funds
to Help Heal Trauma in Nigeria:
While Valley Church regularly supports a group of ministries annually, there are occasionally emergency situations that arise in the world that require assistance and aid that go beyond the ministries we normally support. World Renew has issued a request. The following is from that appeal:
Recent Boko Haram activities in northeast Nigeria, despite concerted efforts by security agents, give great cause for grief and concern.
The cities of Bauchi, Kano, and Jos have witnessed a rise in violence that has claimed hundreds, even thousands, of lives, as well as land.
Churches, mosques, and markets have been attacked through a new tactic of strapping bombs to young women and girls as young as 10. The number of internally displaced people has increased dramatically due to this heightened violence.
In this context World Renew appeals urgently for support.
For the rest of the article and to see how you can help, please see
here
.
---
Bible Reading
Plans and Commentary Recommendation:

A few weeks ago I said I would provide links to various online Bible reading plans if you wanted something other than the two year plan some of us are following. Bible Gateway provides access to a wide variety of reading plans all in one place
here
. You can even subscribe so that it will send you a daily email of where you are in your chosen plan. You can choose your start date and it will accurately keep track of it for as long as the plan runs.
I also received a request for a recommendation of a commentary to have at hand while reading through the Bible. For those reading the Bible straight through, I do still heartily suggest reading Fee's and Stuart's book
How to Read the Bible Book by Book: A Guided Tour
. (Not that I really want to advertise for Amazon, but the Kindle version is currently only $3.99). While it's not a commentary, it gives a very scholarly (but not stuffy) overview of things to watch for as you read, treating the whole of scripture as God's grand story, and treating each different text and passage on its own terms.
For a more traditional (single volume) commentary I would recommend the
New Bible Commentary
. It was written and edited by a solid team of evangelical scholars who take the biblical text seriously on its terms and within its historical context. It is also clear that the primary aim of the authors was the building up of the average Christian in the faith, so it is accessible.
---

Sunday Mornings:
Coffee: 9:15 a.m.
Worship Service:
10:00 a.m.
---
That we might better pray for one another:

We pray for our college students as they return for classes at various times over the next few weeks. We pray for safety and that God would open their eyes to his kingdom reign over all that they are learning.
We pray for healing for Holly Nelson as she recovers from a concussion.
We pray for Becky Stocum and Susie Spitzer as they travel to Long Island for the funeral of their sister-in-law Diane's father, and we pray for the entire family as they grieve this loss.
We pray for those in our church body and our neighborhoods who are battling the flu and other wintertime sicknesses.
We pray for continued healing and strength for both Jerry Krempel and Jim Pitcher.
We pray for Howard and Ruth Van Dam, giving thanks for Ruth's job and praying that God will guide Howard into meaningful work.
We pray for healing for Barb Hover, who was admitted to the hospital this past week.
We pray for the leaders and volunteers of Kids' Night Out and for the advisory team for Faith & Finances, that God would lead, energize, and empower these ministries.
We continue to pray for God's world: for the people of France and the rest of Europe as they grieve the loss of loved ones and work for peace; for the people of western Africa as they continue to battle Ebola; for God's miraculous intervention in the Middle East, that the hearts and minds of the people living there, and that whole cultures, would begin to bend toward peace, and that God's church would continue to proclaim and embody the good news of God's reign there.
We pray for friends and family: for Mike and Charlyn's daughter who is on partial bed rest during her pregnancy; for healing for Harry's brother-in-law, Hank, following an infection and surgery on his knee; for Terry and Lor's daughter Kara, her family, her small group, and her church, as they continue to mourn the tragic loss of her good friend; for Beth Cunningham-Blake's great-niece MacKenzie who continues to struggle with health issues, and for wisdom and clarity for her doctors; for healing and encouragement for Adam Derzanovich as he continues his recovery following surgery; for David Derzanovich's two brothers-in-law, Tim and Bill who are still battling health issues.
---
Upcoming Events and Opportunities:
Craft Night:
Crafters will be meeting on Wednesday, January 28 from 7 to 9 p.m.
Kids' Night Out:
The next Kids' Night Out is on Saturday, February 7. More information is
here
, and online registration is
here
. I encourage you to invite friends and families to take advantage of this gift to the parents of our community, and I encourage you to consider volunteering to help our with the next KNO.
Valley Church Supported Ministry Pledges:
If you have not already done so, please remember to prayerfully consider what you are feeling led to pledge for Valley's supported ministry organizations and return the forms (without your name) to one of the deacons (Pat Aukema, Joel Huizinga, Trent Nelson, Terry Woodnorth). If you were not at the congregational meeting and did not receive a form or perhaps lost yours, a form was placed in everyone's folders.
---
Sunday Morning Ministries for
January 25, 2015:
Greeter:
Cindy Krempel
Ushers:
George DeJager and Herleen DeYoung
Intercessory Prayer:
Leslie Vermaat
Scripture Reader:
Terry Woodnorth


Nursery:
Luci Huizinga