"Welcome him in the Lord with great joy, and honor people like him, because he almost died for the work of Christ. He risked his life to make up for the help you yourselves could not give me."
~ Philippians 2.29-30
---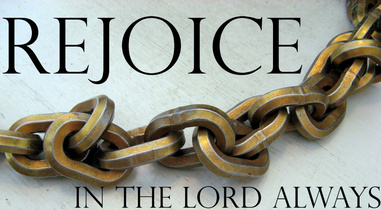 As we continue dwelling in Paul's letter to the Philippians this Sunday, Paul clearly reminds us how normal and mundane the advancement of the good news about Jesus can seem. While it might be tempting at times to think of Paul primarily as a great theologian (which he was), passages like this one remind us that you would never encounter Paul sitting isolated in an ivory tower, thinking grand thoughts, or writing profound dissertations. Rather, he always worked in the context of the congregations and cities that he loved and served, and for whom King Jesus had come. Paul certainly rejoices in the advancement of the royal announcement of the King. But in this passage Paul reminds us that the good news of King Jesus advances through the normal actions of a loving community of friends and co-laborers in the Lord - through normal, faithful actions of normal members of the church that are transformed by God into the extraordinary stuff of Christ's Kingdom. I encourage you to read
Philippians 2.19-30
prior to our time of worship together.
---
Van Dam Family Visit and Potluck on July 20:
On July 20, Howard and Ruth Van Dam and their family will be visiting Valley Church as part of a tour of churches who have supported their ministry to Haiti over the years. The Van Dams have felt God's leading to re-settle in the United States, and they are in the process of moving to Michigan. However, they wanted to say thank you to the churches who have supported them prior to settling down in Grand Rapids. On July 20 Howard will be preaching at Valley, and following the service we will have a potluck to honor and celebrate their service to the people of Haiti and wish them well on their transition back into American life. Please mark you calendars and think about what you would like to bring to the potluck.
---
Pastor Kurt on Vacation Next Week:
From July 14 to 21 I will be on vacation. If you need pastoral care during this time please contact an elder or deacon.
I will also not be at Valley on Sunday, July 27 as I will be preaching for our brothers and sisters in Christ at Trinity CRC in Richfield Springs. However, I will be in the office beginning July 22, so please feel free to contact me for pastoral care or anything else that week.
---

Sunday Service Time:
Worship Service:
10:00 a.m.
No Sunday School for the Summer.
---
That we might better pray for one another:
We continue to pray for Annette Vernon as she ministers alongside the Hospital of Hope to the people of Togo, Africa.
We give thanks for the healing that Barb Hover has experienced, and we ask God to continue to free her body from cancer.
We rejoice with Elizabeth and Mark Bennett at the birth of Alexander Joseph, and ask for continued health for both mother and baby.
We pray for Jacob DeYoung whose broken arm is going to require surgery. We ask for peace for Jacob as well as Joel and Jenni, and for guidance for the doctors as they perform the surgery.
We continue to pray that God's shalom would break forth in our neighborhoods and around the globe: for our neighbors in the Chenango area experiencing fractured relationships, financial difficulty, hunger, sickness, depression, and addiction; for the immigrant children whose parents sent them on the long and dangerous journey to the United States from Central America; for our Christian brothers and sisters in Iraq and Syria, and for those working for peace in those places; and we pray for peace in Palestine.
We pray for family and friends: for the Green family as they mourn the loss of Norm; for the Recker family as they gather to remember Lor's uncle, and especially for Lor's mother as she grieves her brother's passing from Grand Rapids; for Christaline Germaine's friends who are grieving the loss of Scott Wright Jr. who was killed last week; for continued healing for Jim Conrad's mother; for healing for Jim and Dorris Pitcher's son-in-law Lee Allard who is undergoing cancer treatments.
---
Upcoming Events and Opportunities:
Potluck with Van Dams:
On July 20 following the service we will have a potluck to celebrate and honor the Van Dams' service to the people of Haiti. See left column for more details.
2nd Offering on July 20:
On July 20, as we honor the ministry of the Van Dams and pray for their transition back to life in the United States, we will have an opportunity to give a second offering to support the ongoing work of Christian Reformed World Missions in Haiti.
Sign-Ups for Summer Coffee Hour:
The sign-up for the summer coffee hours (you'll want to find someone to partner with for this) is on the back of the front door.
50th Anniversary Weekend:
Remember to mark your calendars for Valley's 50th Anniversary Weekend: September 26-28. Please let us know addresses of any Valley friends who have moved away that you might know in the 50th anniversary contact book in the foyer. Also, if you find any pictures or videos, please pass those on to Ron Crawford.
---
Sunday Morning Ministries for
July 13, 2014:
Greeter:
Ushers:
David Derzanovich and Jerry Krempel
Intercessory Prayer:
Scripture Reader:
Luci Huizinga
Nursery:
Herlene DeYoung
Children's Church:
No children's church