"We continually ask God to fill you with the knowledge of his will through all the wisdom and understanding that the Spirit gives, so that you may live a life worthy of the Lord and please him in every way. . . For he has rescued us from the dominion of darkness and brought us into the kingdom of the Son he loves, in whom we have redemption, the forgiveness of sins."
~ Colossians 1.9b-10a, 13-14
---
One of the main thrusts of Paul's letter to the Colossian Christians is maturity in Christ. This Sunday we continue our journey through the letter to the Colossians, and we get to witness Paul's (and Timothy's) heartfelt petition to God for the Colossians' growth into fullness of maturity in Christ. Paul reminds us that we have indeed been rescued from the authority of darkness into the reign of Jesus Christ by the unmerited grace of God. But we have not been rescued for lives of immaturity, foolishness, and unrighteousness; rather, we have been rescued for lives of Christian maturity, wisdom, and righteousness. In Christ, we indeed "may live a life worthy of the Lord and please him in every way: bearing fruit in every good work, growing in the knowledge of God." I encourage you to read and reflect on
Colossians 1.9-14
prior to our time together on Sunday morning.
This Sunday we will also ordain and install our new elders and deacon.
---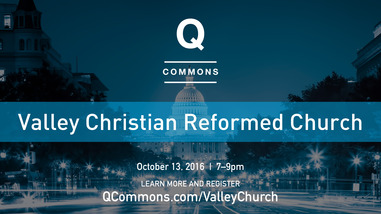 Q Commons: "Engaging Our Divided Nation"
at Valley Church:
On Thursday, October 13, from 7 to 9 p.m., Valley Church will be a host site for the live-stream of this year's Q Commons. Q Commons is a two-hour live event designed to educate Christians on how they can bring hope and leadership to their communities in a critical moment for America. The evening will include 6 keynote addresses from leading Christian thinkers, artists, entrepreneurs, and pastors on the increasing divisions in America and the crucial role God's people have in extending God's reconciliation to our neighbors, fostering unity, building up our communities and nation, and seeking the common good.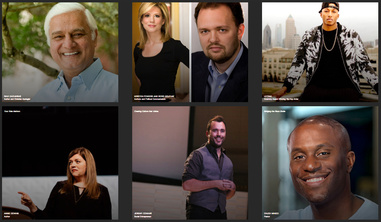 Speakers include: Ravi Zacharias on "Responding in Our Divided Moment," Kirsten Powers and Ross Douthat on "How Should Christians Think About Voting," Lecrae on "Race, Righteous Anger & Resolution," Annie Downs on "Your Role Matters," Jeremy Cowart on "Creating Culture that Unites," and Chuck Mingo on "Bridging the Race Divide."
For more information and to register for the event, please visit Valley's personalized Q Commons website
here
.
---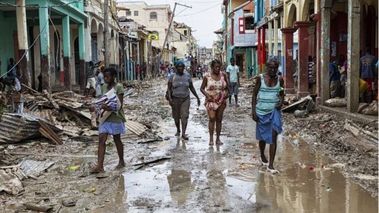 Pray for Haiti and Support Haiti:
As the death toll in Haiti climbs above 800 and we see images of devastation of entire towns, we are reminded that we need to intercede on behalf of Haiti. You should also know that the city of Jeremie, located on the western end of the Haitian peninsula and the former home of the Germain family (and pictured above), was one of the hardest hit by the hurricane. We need to especially pray for the Germain family as their hearts break for friends and family still in Haiti.
If you feel led to give financial support to relief efforts, World Renew is on the ground. This is from their website: World Renew is responding to extensive damage from Hurricane Matthew, which made a direct hit on the southwest corner of Haiti on Tuesday, Oct. 4, 2016. World Renew staff on the ground in Leogane and Duchity are assessing the needs of those who were affected and are determining how resources can best be used to provide emergency aid to those who need it most – even as Matthew heads for the U.S. East Coast today. To read the rest of the article or to donate, see
here
.
---
New Christian Reformed World Mission Missionaries in Haiti:
As the world's eyes are turned to Haiti and as we pray for the Haitians as they mourn those who have died and begin an arduous recovery process following hurricane Matthew, it seems appropriate to announce that Valley Church will be supporting Cody and Jessica Zuiderveen (and their son Hudson) who have been called by God to serve the people of Haiti with Christian Reformed World Missions. Following the retirement of Howard and Ruth Van Dam the Valley council began conversations with Christian Reformed World Missions regarding new missionaries that we might partner with and support, hoping that we could continue to support missionaries in Haiti. As it turned out, Cody and Jessica were just about to begin their ministry there. We need to pray for the Zuiderveens not only as they continue to raise support, but we can especially pray for them as their ministry in Haiti will begin with yet another catastrophic natural disaster from which the Haitian people will have to recover. You can learn more about the Zuiderveens
here
, and you can read their newsletter
here
.
---
Announcements, Events, and Opportunities:

Kids' Night Out:
Tomorrow evening from 5:00 to 8:00 is the first Kids' Night Out of the KNO season. If you would like to help out, please contact Janet Crawford. Also, I encourage you to pray for the volunteers, kids, and parents.
Memorial Service for Doris Pitcher's Sister,
Nancy Carter:
The memorial service for Doris Pitcher's sister, Nancy Carter, will be at Valley Church this Sunday (October 9) at 4:00p.m.
Council Meeting:
The council will meet on Tuesday, October 11 at 7:00 p.m.
Operation Christmas Child:
We are collecting items for boxes for Operation Christmas Child: school supplies, hygiene items, small toys, hard individually wrapped candy, socks, hats, mittens, hair accessories for girls, etc. If you did not get an Operation Christmas Child bookmark with a schedule of items on it last Sunday, please pick on up in the foyer this Sunday.
Can Collection for Boy Scout Troop 152:
A group of Boy Scouts from Troop 152 (Valley Church is the troop's charter organization) who are going to the National Jamboree in West Virginia in 2017 are collecting cans in a box at the east end of Valley's parking lot to raise funds for the trip.
---

~ Valley Church ~
Gathered as God's family, we are sent into the world as agents of God's mission of renewal.

---
This Sunday:
Worship Service
at 10:00 a.m.
---
That we might better pray for one another:


We pray for the people of Haiti, especially those who have lost loved ones and those who have lost homes and property. The Germain family was from Jeremie, one of the hardest hit areas in Haiti, so we especially pray for the Germains as they are anxious and concerned for their friends and family still in Jeremie.
We pray for the Kids' Night Out team of volunteers (and especially their leader, Janet Crawford) as the KNO season begins tomorrow evening. Pray for energy and strength for the volunteers, a great time for the kids, and a renewing evening out for their parents.
We pray for Doris Pitcher and her family following the death of her sister, Nancy.
We pray for Mike Corgan, Jeff DeYoung, and Terry Woordnorth as they begin their journey as mentors with the Council of Church's Jail Reentry program, and we pray already for the man they will be mentoring once they have completed their training.
We continue to pray for the family of Wilson and Maggie Germain during a difficult time.
We pray for members of our congregation struggling with ongoing medical issues.
We pray for God's world: for reconciliation, relational healing, and peace regarding racial tensions in the United States; for the people of Syria; for the people of south and east Africa impacted by severe droughts there; for ongoing restoration, renewal, and justice for the people of Haiti; for refugees fleeing violence around the world; for those who are persecuted for their faith around the world; for God's miraculous intervention in the Middle East; for the people and leadership of the United States during this election season; for organizations fighting to protect religious liberty in our changing world.
We pray for friends and family: for healing for Lynda Huizinga's niece Alexis and for a suitable bone marrow transplant candidate to be found; for healing and peace for those recently involved in car accidents: for Charlyn Corgan's parents and for the Conrads' co-worker's mother and family; for healing for Sue Law's neighbor Caroline; for continued healing for the DeYoungs' cousin/niece Carina and for safety for the Kleins as they travel home; for the health of marriages of friends and neighbors; for healing for Adam Derzanovich; for Mike Corgan's nephew who is battling heroin addiction; for energy and strength for Alistair Krempel; we pray for those battling cancer: for Jim and Marsha Conrad's friend Judy, for Marcus Doller's friend Scott, for the DeYoungs' niece/cousin Terri; for the Petersons' friends Pat and Amy.

---
Sunday Morning Ministries for
October 9, 2016
Greeter: Frank Lockwood


Ushers: David Derzanovich and Jim Conrad

Intercessory Prayer: Doug Aukema

Scripture Reader: Trent Nelson

Nursery: Herleen DeYoung and Elizabeth Bennett