"Then he looked at those seated in a circle around him and said, "Here are my mother and brothers! Whoever does God's will is my brother and sister and mother."
Set Free to Seek God's Kingdom!

We continue our series on seeking God's kingdom this Sunday - Mother's Day/Ascension Day (see below) - with an exploration of Mark 3:20-35. This section of Mark's gospel has a lot to say about our practice of Mother's Day, and I encourage you to read the passage prior to our worship service, and prior to your celebration of Mother's Day!
We will also be celebrating Lord's Supper together this Sunday. As we come to the table as God's family, I invite you to prepare in heart, mind, and soul, to commune with your brothers, sisters, mothers, and fathers in Christ, made ready by God's Spirit to feast on this meal that gives us strength and nourishment to follow Jesus as we seek God's kingdom together.
We'll be singing a few new songs this Sunday. They are easy to learn, but here's a recording of one called "Come, All You People" that you can listen to in order to prepare for Sunday.
---
Happy Ascension Day!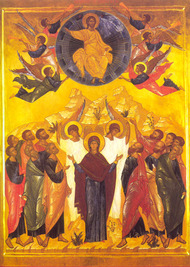 It isn't one of the biggies - it's not like Easter, or Christmas, or Pentecost, or Good Friday, or even Ash Wednesday - but there it is, hiding out in the Church calendar: Ascension Day. Today is the 40th day after Easter, the day on which the Church celebrates Jesus' ascension.
I put a detail of this icon at the top of the newsletter. Notice the majority of the disciples looking intently up into the sky. I imagine the angel is in the act of telling them to stop looking up and to remember that they've got work to do, and that the Holy Spirit is coming.
On Ascension Day we celebrate (at least) two things: Jesus' sovereign rule over all things, and the promise of the gift of the Holy Spirit (which we celebrate next Sunday on the day of Pentecost).
We will celebrate Jesus' ascension this Sunday (along with a version of Mother's Day that is compatible with Christ's rule). And we will celebrate that Jesus has entered into the heavenly realm, and sits enthroned, ruling over all things, bringing God's kingdom to bear on earth as it is in heaven. Jesus' ascension isn't about him floating off and out of our solar system to the outer reaches of the universe, distant, remote, and disconnected from our lives. Rather, Jesus was hidden by the clouds, ushered into the heavenly realm, and remains close at hand, present, and ruling over all things. We celebrate that the one who rules is also the one who lived faithfully in our place, suffered on our behalf, and was bodily resurrected. And we celebrate that the one who hears our prayers knows more than we know what it means to suffer.
Jesus' ascension also points to the gift of the Holy Spirit. In his departure, we are reminded that we are his body - his hands and feet and mouth and everything else - on earth. Ascension Day reminds us that it was never Jesus' plan to leave us high and dry and on our own as we are sent out into the world to proclaim, in word and deed, God's good news in Jesus. We know that we have the gift of the Helper, which we celebrate fully next Sunday.
Happy Ascension Day! That's a lot to celebrate.

Sunday Service Times:
Sunday School: 9:15 a.m.
---
In the Life of Valley Church:
We give thanks for the good news regarding Jim Stocum's mother and for her birthday, and we continue to pray that her treatment for colon cancer will go well.
Please continue to pray for:
McKenna Derzanovich, David's newborn granddaughter, who is still having trouble breathing on her own.
Janet Crawford's father as he continues a round of IV antibiotics.
Jim Conrad's cousin, Mary Howard, as she is seems to be loosing her battle with cancer and is experiencing pain.
Lor Recker-Woodnorth's mother as she will be having open heart surgery on Tuesday (and for Lor and Terry as they travel to be there with her).
Joyce Vos as she and her doctors work to find answers about her recent blackout and fall.
Fred and Kim Emmi, friends of the Conrads, who were involved in a motorcycle accident and are recovering from their injuries.
Etienne Germain as he continues to serve the people of Haiti.
Wilner and Marila Nicolas as they wait to return to Haiti in order to be reunited with their two oldest children and return to Binghamton.

---
Upcoming Events
and Opportunities:
Elder and Deacon Nominations:
The council and I encourage you to continue prayerfully considering those around you who might be gifted and equipped to hold the office of elder or deacon at Valley Church. We handed out nomination forms two weeks ago, but if you weren't here or have misplaced yours there are more forms on the coffee table in the foyer. Nominations need to be returned to Greg Huck, Paul Peterson, or Beth Cunningham no later than Sunday, May 19.

Feedback for Offering of Letters:

If you wrote letters to members of Congress this past week for the Offerings of Letters, please report to Terry Woodnorth how many letters you wrote, and to whom, so that Bread for the World can have accurate data reported to them.
Thank you for your advocacy on behalf of poor and hungry people in the U.S. and worldwide.