"Endow the king with your justice, O God,
the royal son with your righteousness.
May he judge your people in righteousness,
your afflicted ones with justice.
May the mountains bring prosperity to the people,
the hills the fruit of righteousness.
May he defend the afflicted among the people
and save the children of the needy;
may he crush the oppressor.
May he endure as long as the sun,
as long as the moon, through all generations.
May he be like rain falling on a mown field,
like showers watering the earth.
In his days may the righteous flourish
and prosperity abound till the moon is no more.
May he rule from sea to sea
and from the River to the ends of the earth."
---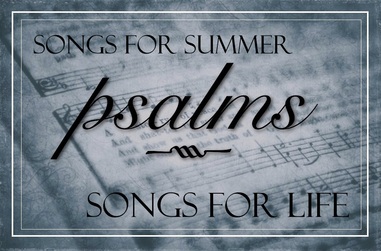 Following a few weeks with the psalms of lament and imprecation, we turn a corner this week as we come to Psalm 72. This is once again a song of joy and hope. It is a song that celebrates a new king and his flourishing, peaceful reign. Interestingly, some of the themes we heard from the psalms of lament are here again, particularly themes of righteousness and justice. In the psalms of lament and imprecation, righteousness had been replaced by wickedness and justice by injustice. However, in this song that celebrates the ascension of the king there is great hope that righteousness and justice will be established and maintained for the peaceful flourishing of God's people and ultimately for the whole earth. I encourage you to read and reflect on
Psalm 72
prior to our time together tomorrow morning.
---
Operation Christmas Child is beginning to get into full swing. We will be collecting plastic shoeboxes and sturdy cardboard shoeboxes now until September 27th. A display will be put in the downstairs fellowship area by September 12th. As always we will be looking for school supplies, hygiene items, toys, hard individually wrapped candy, socks, hats, mittens, hair accessories for the girls, etc. A schedule/bulletin insert will be in the bulletin soon for you to take home. Finally,
follow this link to purchase shipping labels online if you care to do so
. You can either print them and put it in Tilly Huizinga's mail folder or attach it to an email to Tilly at tillyhuizinga@yahoo.com and she will print them. It will be wonderful for everyone to see where the boxes are going.
---

Sunday Mornings:
Coffee: 9:15 a.m.
Worship Service:
10:00 a.m.
---
That we might better pray for one another:
We pray for continued healing and patience for Holly Nelson.
We pray for the peace and flourishing of the city of Binghamton, and for guidance as to specific ways we as individuals and as a church might actively encourage that flourishing.
We pray that God would move in the hearts and minds of those who would grow in their faith and discipleship through Faith & Finances, that they might hear about the course and register.
We pray for God's world: for those who are persecuted for their faith around the world, and for those who are being called to witness to Jesus Christ with their blood; for restoration, renewal, and justice for the people of Haiti; for God's miraculous intervention in the Middle East, that the hearts and minds of the people living there, and that whole cultures, would begin to bend toward peace, and that God's church would continue to proclaim and embody the good news of God's reign boldly there.
We pray for friends and family members: we pray for Tilly's friend Elaine who is travelling to Africa to do missions work there; we pray for Doug and Pat Aukema's nephew Charlie and their friend Fred, both battling cancer; for strength, energy, and freedom from pain for Angela Krempel; for Beth and Don's friend Donna and her boyfriend who was injured in a motorcycle accident.
---
CHOW Pantry Needs
and the CHOW Walk to Fight Hunger:
The Valley Church CHOW pantry is in need of canned meat products and canned fruit. You can drop off donations on the CHOW table in the area just outside of the downstairs church office.
Also, so that you can mark it on your calendar, I want to let you know that the CHOW walk to fight hunger is scheduled for Sunday, September 20 at Binghamton University, behind the East Gym. Registration begins at 1:00 p.m. and the walk starts at 2:00. For more information visit the CHOW walk website
here
.
Sunday Morning Ministries for
August 14, 2015:
Greeter:

Terry Woodnorth


Ushers:

Doug Aukema and George De Jager
Intercessory Prayer:
Kurt Monroe
Scripture Reader:
Trent Nelson


Nursery: