This Sunday we embark on our journey through Paul's letter to the church in Colossae. Paul begins on a note of heartfelt gratitude: gratitude for what God has done in and for his brothers and sisters in Christ in Colossae - for the Colossians' faith and for the tangible expressions of love they have shown one another and the family of God farther afield. We are left with a beautiful picture of Paul on his knees, offering prayers of gratitude and concern for this new little church. I encourage you to read and reflect on
Colossians 1.1-8
prior to our time together on Sunday.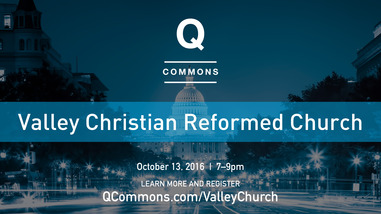 Q Commons: "Engaging Our Divided Nation"
at Valley Church:
On Thursday, October 13, from 7 to 9 p.m., Valley Church will be a host site for the live-stream of this year's Q Commons. Q Commons is a two-hour live event designed to educate Christians on how they can bring hope and leadership to their communities in a critical moment for America. The evening will include 6 keynote addresses from leading Christian thinkers, artists, entrepreneurs, and pastors on the increasing divisions in America and the crucial role God's people have in extending God's reconciliation to our neighbors, fostering unity, building up our communities and nation, and seeking the common good.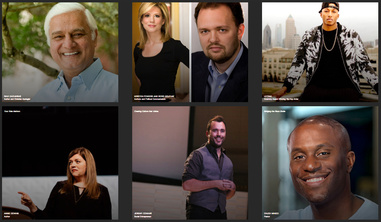 Speakers include: Ravi Zacharias on "Responding in Our Divided Moment," Kirsten Powers and Ross Douthat on "How Should Christians Think About Voting," Lecrae on "Race, Righteous Anger & Resolution," Annie Downs on "Your Role Matters," Jeremy Cowart on "Creating Culture that Unites," and Chuck Mingo on "Bridging the Race Divide."
For more information and to register for the event, please visit Valley's personalized Q Commons website
here
.
Announcements, Events, and Opportunities:

2016 Valley Church Fall Festival:
Thank you, thank you, thank you to everyone who contributed to Fall Festival this past Sunday. Your generosity, hospitality, and joy were a blessing to our neighborhood! And a special thank you to Ron Crawford for his continued coordination of the event. We are all grateful for your leadership!
Mental Health Unity Event
at Tabernacle United Methodist Church:
Tomorrow (Saturday, October 1) from 1:00 to 3:30 p.m., Tabernacle United Methodist Church (83 Main Street, Binghamton) is hosting the
Mental Health Unity Event
at which Joel Vermaat will be the keynote speaker. The purpose of the event is to educate the public to speak out against stigma and discrimination toward mental illness. The event is open to the public and free of charge.
County Council of Churches Jail Ministry's
Reentry Program:
If you are interested in more information about being on a three-person team that will mentor and befriend a neighbor during the tenuous transition from jail to society, please talk to Pastor Kurt or a deacon.
Can Collection for Boy Scout Troop 152:
A group of Boy Scouts from Troop 152 (Valley Church is the troop's charter organization) who are going to the National Jamboree in West Virginia in 2017 are collecting cans in a box at the east end of Valley's parking lot to raise funds for the trip.
Operation Christmas Child:
We are collecting items for boxes for Operation Christmas Child: school supplies, hygiene items, small toys, hard individually wrapped candy, socks, hats, mittens, hair accessories for girls, etc.
Recipes for Marinades for Grilled Veggies
(from Fall Festival):
For those of you who really enjoyed the grilled veggies at the Fall Festival, here are some recipes you might want to try:
Marinade #1:
1/4 cup balsamic vinegar
2 Tablespoons honey
1 Tablespoon olive oil
4 garlic cloves, crushed
salt and pepper (optional)
Marinade #2:
3 Tablespoons water
2 Tablespoons oil
1 1/2 Tablespoon fresh oregano
2 teaspoons balsamic vinegar
2 teaspoons Dijon mustard
1 1/2 teaspoons lemon juice
2 cloves garlic, crushed
salt and pepper (optional)