"Once you were alienated from God and were enemies in your minds because of your evil behavior. But now he has reconciled you by Christ's physical body through death to present you holy in his sight, without blemish and free from accusation - if you continue in your faith, established and firm, and do not move from the hope held out in the gospel."
---
The Hatfields and McCoys. Chenango Forks and Chenango Valley. The USA and the USSR. The Yankees and everybody else. Trump and Clinton. Alienated enemies. What about us and God? Yeah, we were like that, too. We might wonder: how could reconciliation ever come about? It seems impossible. Somebody - at least one of the parties involved - would have to
do
something. Something rather selfless, more than likely. The good news is: in the case of us and God, it has been done. Through the bodily death of Christ, God has reconciled us to himself. We are no longer alienated enemies. We are reconciled children, ready to be presented holy, without blemish, and free from accusation. God has done it! And the aftershocks of this great reconciliation are already reverberating through the whole of creation until the end when Jesus says, "Behold, I make all things new!" All of that means that, as those who have been reconciled to God and participants in God's new creation, we have the power to be a reconciling force in the world, breaking down all kinds of divisions that we find around us with the very reconciling love of God in Christ. This is the good news of King Jesus!
I encourage you to read, reflect on, and rest in
Colossians 1.15-23
prior to our time together this Sunday.
---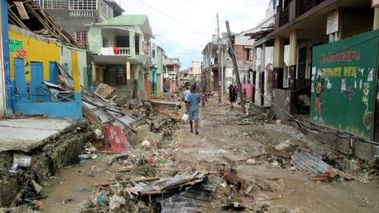 From the Deacons, Part I -
Hurricane Matthew Response:
Earlier this month Hurricane Matthew hit southwest Haiti and the southeast United States. The needs of survivors are great in both countries. The deacons encourage the congregation to give generously toward relief efforts now underway through a special offering to be held this Sunday. Gifts can be designated for Hurricane Matthew disaster response in any of the following three ways:
1: World Renew - US (for more information see
here
)
2: World Renew - Haiti (for more information see
here
)
3: Haiti families - the relatives of Valley families who are living in southwest Haiti were devastated by the hurricane (relatives of Etienne & Lydie, Wilner & Marila, Wilson & Margaret, Jean & Bertide). Etienne Germain will be going to Haiti next week to begin to help in these communities. Housing and livestock are areas of greatest need.
Undesignated gifts in the special offering will be allocated by the deacons as needs are determined and effective responses can best be given. If you are unable to give this Sunday, gifts will also be accepted in the coming weeks.
---
From the Deacons, Part II:
Have you noticed a change in the taste of the coffee you have been drinking at church? The coffee now being served is
Equal Exchange
coffee, a Fair Trade brand. The change in brands reflects Council's reaffirmation to serve Fair Trade coffee. Fair Trade coffee provides the coffee growers a fair and equitable percentage of the coffee profits. Please enjoy this delicious new change. If you have any questions or would like more information on fair trade coffee and the role it plays in pursuing justice, please talk to a deacon.
---
From the Council:
In October we celebrate Pastor Appreciation Month. It is a special time that we set aside each year to honor Pastor Kurt and Jennifer for the hard work, sacrificial dedication, and multiple blessings they provide. A special coffee hour will be held after the worship service this Sunday, October 23, to honor Kurt and Jennifer. Cards with notes of appreciation from the congregation are encouraged. If you would like to make a monetary contribution toward a gift from the congregation, please give your gift to a deacon or elder before the end of the month. This is instead of a Christmas gift to the pastor.
Now we ask you, brothers and sisters, to acknowledge those who work hard among you, who care for you in the Lord and who admonish you. Hold them in the highest regard in love because of their work. (1 Thess. 5:12-13)
---
Announcements, Events, and Opportunities:
Adult and Teen Education:
For the Life of the World: Letters to the Exiles:
Due to a lack of interest, we will not begin For the Life of the World this Sunday.
Operation Christmas Child:
We are collecting items for boxes for Operation Christmas Child: school supplies, hygiene items, small toys, hard individually wrapped candy, socks, hats, mittens, hair accessories for girls, etc. If you have not picked up an Operation Christmas Child bookmark with a schedule of items on it, please pick one up in the foyer this Sunday.
Can Collection for Boy Scout Troop 152:
A group of Boy Scouts from Troop 152 (Valley Church is the troop's charter organization) who are going to the National Jamboree in West Virginia in 2017 are collecting cans in a box at the east end of Valley's parking lot to raise funds for the trip.
---

~ Valley Church ~
Gathered as God's family, we are sent into the world as agents of God's mission of renewal.

---
This Sunday:
Worship Service
at 10:00 a.m.
---
That we might better pray for one another:


We ask that God would bless Charlie Huizinga and the Henrie and Huizinga families and all the friends of Jan Henrie-Huizinga with his comfort and peace as they mourn her passing. (To see Jan's obituary and details regarding calling hours and the funeral service, please see
here
).
We continue to pray for the people of Haiti, especially those who have lost loved ones and those who have lost homes and property. We pray also for the extended Germain family, many of whom were from Jeremie (one of the areas hardest hit by the hurrican) and have loved ones still there.
We pray for the families of Gloria Moore and Nancy Carter as they continue to grieve.
We pray for healing and strength for: Erin Peterson, following surgery on her foot; Jan Vermaat following a fall while in Michigan; and Doug Aukema, following a fall in the barn.
We continue to pray for the family of Wilson and Maggie Germain during a difficult time.
We pray for God's world: for the people of Syria; for ongoing restoration, renewal, and justice for the people of Haiti, especially following hurricane Matthew; for refugees fleeing violence around the world; for those who are persecuted for their faith around the world; for God's miraculous intervention in the Middle East; for the people and leadership of the United States during this election season; for organizations fighting to protect religious liberty in our changing world.
We pray for friends and family: we give thanks for the healing Harry and Marilyn Myers' daughter, Karen, has received following her hip surgery; we pray for healing for Lynda Huizinga's niece Alexis and for a suitable bone marrow transplant candidate to be found; for Holly Nelson's brother-in-law following a bad bicycle accident; for continued healing for David Derzanovich's brother-in-law Tim and for his sister to quickly find work; for healing and hope for Adam Derzanovich; for the health of marriages of friends and neighbors; for Mike Corgan's nephew who is battling heroin addiction; for energy and strength for Alistair Krempel; we pray for those battling cancer: for Jim and Marsha Conrad's friend Judy, for Marcus Doller's friend Scott, for the DeYoungs' niece/cousin Terri; for the Petersons' friends Pat and Amy.

---
Sunday Morning Ministries for
October 23, 2016
Greeter: Judy Zwiezynski


Ushers: Doug Aukema and Herleen DeYoung

Intercessory Prayer: Kurt Monroe

Scripture Reader: Lor Recker-Woodnorth

Nursery: Melanie Nelson