"But you have come to Mount Zion, to the city of the living God, the heavenly Jerusalem. You have come to thousands upon thousands of angels in joyful assembly, to the church of the firstborn, whose names are written in heaven."
~ Hebrews 12.22-23a
---
Yesterday was the 500th anniversary of the day on which Martin Luther nailed his 95 theses to the door of the church in Wittenberg. Accordingly, I wanted to give you some more resources for digging deeper into all things Reformation over the coming days.
First of all, if you've been reading the bulletin notes about the Reformation hymns, you will have noticed that folks at the time of the Reformation took their church music very seriously. In many ways, the Reformation gave the whole church their voice back, releasing the congregation to sing God's praise. This article in The Banner titled "
The Reformation Gave a Musical Voice to Everyone
" traces some of the history of congregational singing.
Karin Maag, a history professor at Calvin College gave a public lecture at Calvin title "500 Years Later: Why the Reformation Still Matters," which you can see
here
.
Also, for the occasion of the 500th Anniversary of the Reformation, leading Protestant theologians have crafted a new confession of faith - "
A Reforming Catholic Confession
" - what they have called "a 'mere Protestant' statement of faith," reminding us of what unites us in the faith after 500 years of unfortunate division.
Calvin Theological Seminary's publication
Forum
had five great short articles on the
solas
of the Reformation from professors there. ReFrame Media (of Back to God Ministries) also published five podcasts on the
solas
called "Salvation: Five Insights from the Reformation" that you can access
here
.
PBS did a documentary on Luther that you can watch
here
.
This Sunday we continue with the
solas
sermon series, but I will forge into new territory, suggesting we need to reemphasize and rediscover some
solas
that have been neglected or forgotten in the past 500 years. This Sunday we will look specifically at
sola ecclesia
- church alone, a
sola
the Reformers would never have imagined anyone would need to say. However, after several centuries of individualizing influences in the Western world, we have come to the point that we must clearly state that God saves us (by grace alone, through faith alone, in Christ alone, to his glory alone) always into the church alone - both in its local expression (a specific congregation) and in its universal expression (the one true church of all times and places). We are not saved into an individual experience or anything else.
Sola ecclesia
- church alone! I encourage you to read and reflect on
Hebrews 12.18-24
prior to our time together on Sunday.
Also, don't forget that daylight savings time ends in the wee hours of the morning this Sunday. Remember to set your clocks back before falling asleep Saturday night!
---
Upcoming Events and Opportunities: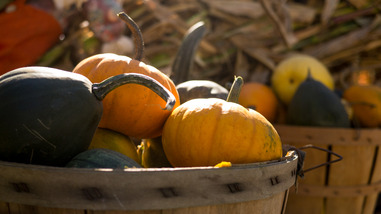 Harvest Dinner:
We will gather for our annual Harvest Dinner following the service on Sunday, November 12. Please contact one of the fellowship team members (Herleen DeYoung, Beth Blake, Sue Comfort, Holly Nelson, or Elizabeth Bennett) to sign up; they will have sign-up sheets in the foyer this Sunday before and after the service.
Thanksgiving Basket Reverse Offering:
This Sunday (November 5th), there will be a reverse offering for the Thanksgiving baskets for needy families in the Chenango Forks School District. Please bring items for donation on November 12th or no later than November 19th.
Praying Together:
You are invited to join together with your brothers and sisters in Christ for prayer prior to the service each week upstairs. Luci Huizinga and Becky Stocum are helping to organize this time of prayer for our congregation, our neighborhood, and our world. You are encouraged to join them near the upstairs kitchen at 9:00 on Sundays.
Faith Formation/Education Opportunity:
This Sunday, we continue our faith formation class for teens and adults: "The 'R' in CRC: What Does It Mean to Be Reformed?"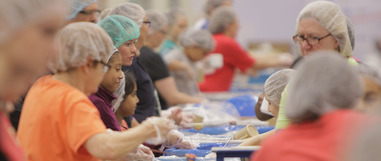 An Opportunity to Help Southern Tier MobilePack Feed God's Hungry Children:
You are invited to join Southern Tier MobilePack (STMP) as they pack 100,000 meals for chronically malnourished children around the world. The meal-packing event will take place at Endwell United Methodist Church on Watson Blvd. in Endwell on November 3rd and 4th. STMP is working with a Christian non-profit organization called Feed My Starving Children (FMSC) for the event.

FMSC believes that hope begins with food, and they exist to provide hope in the name of Jesus. The MannaPack meals that STMP will be packing contain vitamins, dehydrated vegetables, soy, and rice. MannaPack is specially formulated for chronically malnourished children and is culturally acceptable worldwide.
For this event, STMP needs about 520 volunteers and they still have 220 slots to fill. You can register individuals or families at give.fmsc.org/endwell by clicking on the blue "volunteer" button. STMP hope that you and your family (anyone over the age of 5 can participate) may be interested in volunteering for a 2 hour packing slot in this important service for God's hungry children.
---

An Opportunity to Help Families in Puerto Rico:
Trent Nelson works with several people who have family members in Puerto Rico. Trent's co-workers have requested help for their family members who are still struggling with basic supplies following Hurricane Maria. The deacons would like to encourage Valley Church to help meet their needs as soon as possible, so you will have your final opportunity to make a donation this Sunday, November 5.Here are the things that are needed:
flashlights with batteries
candles
toothpaste and toothbrushes
toilet paper
plastic utensils
ramen noodles
instant coffee
canned soup
canned tuna
spam
There are boxes in the foyer in which you can place your donations. Items will be collected for shipment after the service this Sunday.
Shipping has been arranged (and can reach the recipients), but money for shipping will be needed.
---

~ Valley Church ~
Gathered as God's family, we are sent into the world as agents of God's mission of renewal.

---
This Sunday:
Daylight Savings Time Ends - remember to set your clocks back before you go to sleep on Saturday evening!
Prayer gathering upstairs at 9:00 a.m.
High School gather at 9:15 a.m.
Worship Service
at 10:00 a.m. (preschool - 4th grade dismissed for children's church part way through the service).
Faith formation class following the service.
---
That we might better pray for one another and God's world:


We pray for peace for Rod and Daryl Whitacre as they wait for Rod's triple bypass surgery this coming Tuesday.
We give thanks for a successful hip replacement surgery this morning for Marylin Myers, and we pray that she will experience continued healing and a speedy recovery.
We pray for peace and wisdom for Doug and Pat and their extended family as they navigate a new season in life after they sell their dairy cows later this month.
We pray for healing and a relief from pain for Beth Blake, who is suffering back pain and problems with sciatica.
We pray for continued healing for Claire Krempel, Ron Crawford, and Sue Brown.
We continue to pray for our world: for those who have been impacted by recent man-made and natural disasters, specifically for those impacted by the terrorist attack in New York City, the people of Puerto Rico, Houston, Florida, the Caribbean, Mexico City, East Africa, and South Asia.
We pray for ongoing needs: we continue to pray for: Jean, the young man Etienne knows who was severely injured in a work accident in Haiti; for the de Jager's friend, Bill, who was diagnosed with kidney cancer; for Lor's neighbor who continues her cancer treatments; for Becky's niece who has fluid on her brain; for Becky's friend Joe who is battling colon cancer; for Adam Derzanovich; for Lynda Huizinga's niece Alexis; for Alistair Krempel; for Mike Corgan's nephew who is battling heroin addiction.

---
Sunday Morning Ministries for
November 5, 2017
Greeter: Cindy Krempel


Ushers: David Derzanovich and Charlie Huizinga
Intercessory Prayer: Kurt Monroe
Scripture Reader (Hebrews 12.18-24): Paul Peterson
Nursery: Florence Doller