"
Submit to one another out of reverence for Christ."
~ Ephesians 5:21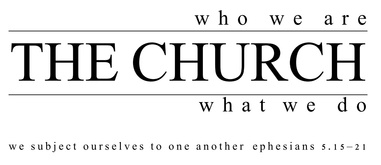 The Church: What We Do


This Sunday we will be exploring Paul's words in Ephesians 5:15-21. In the passage he speaks of the Spirit-filled church speaking (or singing!) to one another with psalms, hymns and songs from the Spirit. All of this singing should be done as we submit to one another out of reverence for Christ. I encourage you to read the passage from Ephesians prior to our time together on Sunday.
As I said, Paul suggests that our singing, our giving thanks, should be done in submission to one another. When I think of this kind of submission I think of jazz. That might sound funny, but my small experience playing jazz taught me that mutual submission is necessary for things to work in a music that involves so much improvisation. For example, if the trumpet player, taking a solo, wants to speed up the tempo, the rest of the band needs to carefully attend to what he wants to do, and then they need to submit to that desire if they're going to stay together. Another example: if the pianist decides to modulate to a different key, the other players need to submit, or they will quickly finding themselves making a lot of noise, but not really playing music anymore. There's a lot of give and take, leading and following that goes on in jazz.
This kind of mutual submission is based on respect for one another and a desire to hear everyone play as well as they possibly can. Sounds a lot like what we, as the church, should be doing as we improvise life together. So, while you're reading that passage from Ephesians, you can put on your favorite jazz record and be thankful there was mutual submission happening during the recording! (I'm listening to Miles Davis - the trumpet player above - as I write).
---
Hope for a Hundred Hearts -

Operation Christmas Child:
You might hav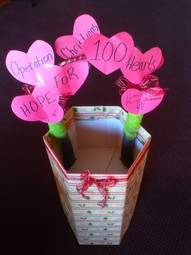 e noticed the display Tilly put up in the foyer. It is for our
Operation Christmas Child
collections, which Tilly named Hope for a Hundred Hearts. (If you want more information on Operation Christmas Child, click on the link above). We have a goal of collecting toys for a hundred kids this year, but that's not where we're starting. We would like to start by collecting plastic shoe boxes first, so that the kids can have a box to keep their toys in that will last longer than a cardboard shoe box. You can tell by the picture that the display is still empty, so we've got a ways to go. We're trying to collect the shoe boxes by September 8, so let's see if we can't see that display filling up soon!

Sunday Service Time:
Worship: 10:00 a.m.
---
In the Life of Valley Church:
We pray for healing for Edele Thompson as she undergoes chemotherapy to treat cancer. She is staying with her daughter in Rochester while she is treated. (Her address there is 2 Amsterdam Drive, Fairport, NY 14450.)
We pray for Wilner and Marila Nicolas as they continue on the journey toward immigration. We give thanks for the joy of the two children with whom they have been reunited, but we remember that they are now separated from their youngest daughter, Whitney, while they wait for their interview.
We pray for healing for Jim Stocum's mother, Esther, and for guidance as the doctors fine-tune her chemo treatments.
Vivian Keller is scheduled for a CT scan on July 31. We pray that the lesion that was detected would be smaller or completely gone. We give thanks that she was told she can stop taking her blood thinning medicine.
The riders and drivers on the Sea-to-Sea ride have crossed much of the United States (they're currently enjoying the flat lands and cornfields of Iowa), but they still have a long road ahead of them. We pray that they will be safe, and that God will continue to give them strength and encouragement for the days ahead.

---
Upcoming Events and Opportunities:

Hope for a Hundred Hearts - Operation Christmas Child:

See middle section.
Fall Festival
:
Mark your calendars. The date for Fall Festival has been set: Sept 22, 2013.

---
Recommended Reading: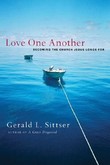 The format of the second half of this sermon series was inspired by Gerald Sittser's book
Love One Another: Becoming the Church Jesus Longs For
. This is a book that is easy to read but is also full of sound, substantive, and challenging thoughts about what we, as the church, are called and empowered to do.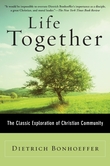 One of the classics on the life and actions of the church is Dietrich Bonhoeffer's Life Together. While it might be a bit more difficult to read than Sittser's book, any effort put into reading it is amply rewarded. I have heard some say that, after the Bible, Life Together should be on the top of the required reading list of any Christian. I wouldn't argue with that!