Resources for Advent:
As I promised in the service this morning, here are some resources that might help us more fully inhabit God's story over the next few weeks so that our practices and actions might be part of our preparation for the coming of God into this world, and so that we might, in turn, help prepare the world to receive its king.
First, our close denominational cousins, the Reformed Church in America, has provided Jesse Tree Family Devotions here. The devotions provide daily readings from the Old Testament, suggested discussion points, and can be joined with making Jesse Tree ornaments together with which you can decorate your tree.
Another devotional option for families with an artistic and ornament option from the good people at storywarren.com can be downloaded here. More possibilities can be explored at storrywarren.com.
One more possibility is from Jennifer Monroe, who has created a devotional that our family will be using this year during Advent. This devotional follows the same story in Luke that we're following this Advent, and encourages families to dwell in that story in depth, also giving the possibility for families to tell the stories of the Old Testament backgrounds during each week. There are also suggested songs to sing as a family, discussion questions, and prayers. It can be downloaded here.
Any of the above can be adapted for use by adults. But for more adult-specific options, and for individuals, I recommend both the book to the right (
Watch for the Light
), or
Seeking God's Face
, a wonderful devotional available from Faith Alive resources (and available for
Kindle
and
Nook
) that is based on the Christian calendar that anchors our time in God's story.
Again, as we think of re-orienting our actions during this season of Advent, don't forget the
Advent Conspiracy
.
I am wishing you every blessing this Advent as you seek to inhabit God's story and live as a light of his saving actions in history, and his promises to come again to bring his kingdom to completion.

Recommended Reading: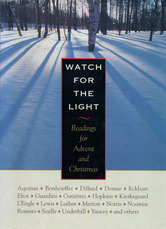 Watch for the Light: Readings for Advent and Christmas
is a collection of fairly short, daily readings for the seasons of Advent and Christmas from some of the very best Christian writers through the sweep of Christian history. You will be guided through your Advent preparations for the coming of Jesus, God and king, by people as diverse as Thomas Aquinas, Dietrich Bonhoeffer, C.S. Lewis, Philip Yancey, Gerard Manley Hopkins, and many more.