"Devote yourselves to prayer,
being watchful and thankful."
---
Our culture is not naturally conducive to a life of prayer, brimming over with distractions and noise as it is. Sure, we might be able to squeeze out a prayer here and there in the midst of the information overload and the frantic pace of life many of us live, but that's not what Paul is talking about in this Sunday's passage from Colossians. Paul doesn't tell us to pray. He tells us to be
devoted to
prayer. Paul is envisioning prayer not as a thing one occasionally squeezes into an overloaded, distracted life, but rather prayer as a way of life. Paul is encouraging us to view prayer as a way of life that opens our eyes to help us see the world around us more fully, putting us on the alert to the meaning of all that's coming at us (good and bad), cultivating within us a heart of gratitude, orienting us wisely toward our non-Christian neighbors, and making us watchful for opportunities to proclaim the mystery of Christ to the world.
I encourage you to read and reflect on Paul's continued meditations on our new-creation lives in Christ in
Colossians 4.2-6
prior to our time together on Sunday.
---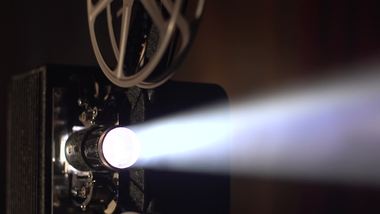 Movie Night at Valley
:
You are invited to join us for Movie Night at Valley starting this Sunday evening at 6:00 p.m. Over the next ten weeks, on the big screen in the sanctuary, we will be watching
The Bible
, the ten-part miniseries that was aired on the History Channel a few years ago. Each Sunday we will sit back with some popcorn and enjoy one episode (about an hour long), and then we'll talk about what we saw (and how it matches up with how scripture portrays the events). You can watch the trailer to the miniseries
here
. I encourage you to come join us for the fellowship and the film on these these long, cold winter Sunday evenings!
---
Announcements, Events, and Opportunities:
Coordinator for Monday CHOW Needed:
Our CHOW pantry needs someone willing to help coordinate the Monday distribution of food to clients. The responsibility will involve a few hours in the middle of the day on Mondays. If you would like more information, please talk to Barb Lockwood.
Pastor Peer Group Meeting Makes the News:
If you ever wonder what I'm up to when I go to the pastor peer group meetings in Richfield Springs, you can read about our meetings in the CRC news
here
!
Change for Life - Life Choices Center:
Valley Church is once again participating in the "Change for Life" campaign and filling baby bottles with pocket change (or bills or checks!) to support the work of Life Choices Center as they help couples and single mothers in the Binghamton area who are facing unplanned pregnancies. Pick up your bottle if you have not already done so! We will collect the bottles on Sunday, February 26.
Can Collection for Boy Scout Troop 152:
A group of Boy Scouts from Troop 152 (Valley Church is the troop's charter organization) who are going to the National Jamboree in West Virginia in 2017 are collecting cans in a box at the east end of Valley's parking lot to raise funds for the trip.
---

~ Valley Church ~
Gathered as God's family, we are sent into the world as agents of God's mission of renewal.

---
This Sunday:
Worship Service
at 10:00 a.m.
---
That we might better pray for one another and God's world:


We pray for healing and strength for: Peter DeYoung, Ann de Jager, Chuck Huizinga, Jan Vermaat, and Elizabeth Bennett.
We pray for God's world: for those in our city whose marriages, family relationships, and households are ruled not by the peace of Christ but rather are places of chaos, disorder, and danger; for the people of Syria and those who have been displaced by the war there and are now refugees; for ongoing restoration, renewal, and justice for the people of Haiti, especially following hurricane Matthew; for those who are persecuted for their faith around the world and the organizations and people fighting to protect them.
We pray for friends and family: we pray for healing, strength, and peace for Edele Thompson as she battles cancer; we pray for healing for friends and family who are sick: for Adam Derzanovich; for David Derzanovich's broters-in-law Tim and Bill; for Beth Cunningham's cousin Karen; for Garry Wickham's father; for Lynda Huizinga's niece Alexis; for Alistair Krempel; for Mike Corgan's nephew who is battling heroin addiction.

---
Sunday Morning Ministries for
February 19, 2017
Greeter: Judy Zwierzynski


Ushers: Joe Patak and George de Jager
Intercessory Prayer: Florence Doller

Scripture Reader: Trent Nelson

Nursery: Herleen DeYoung and Liz Bennett