"When they heard all he was doing, many people came to him from Judea, Jerusalem, Idumea, and the regions across the Jordan and around Tyre and Sidon. . . Jesus went up on the mountainside and called to him those he wanted, and they came to him. He appointed twelve that they might be with him and that he might send them out to preach and to have authority to drive out demons."
~ Mark 3.8, 13-14
---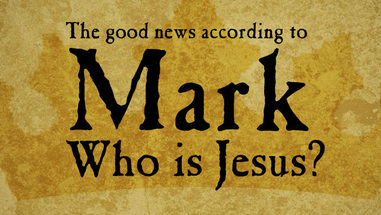 This Sunday, we continue our journey through Mark's story about Jesus. In spite of the increasing opposition to Jesus from the religious leaders that we read about the past two Sundays, the crowds gathering around Jesus continue to grow. In the passage this week, Jesus will finally call the twelve followers he wants be to be his loyal lieutenants for his mission. Jesus' retreat to the mountains and the calling of the twelve was packed full of meaning for the Jewish people of Jesus' day; we'll explore what it meant for them, and what it means for us. I encourage you to read
Mark 3.7-19
prior to our time together on Sunday.
---
Operation Christmas Child Reminders:
We will collect the following items from October 5 - November 9: school supplies, hygiene items, shoe boxes (plastic or cardboard); hard candy, small toys, socks, hats, mittens, etc. No liquids please. We will be packing the boxes for shipment on November 16th. There will also be envelopes available by the Operation Christmas Child display to make contributions by check or cash for the shipping of the shoe boxes. Last year we sent 107 boxes, and we hope to do the same or more this year!
Applesauce Fundraiser:
Do you love homemade applesauce? Then this is for you. The youth group will be making quarts of homemade applesauce. You may purchase them in quart size freezer containers for $3 or purchase the sauce in quart size canning jars for $3.50. Order blanks are available on the table in the foyer with a sample jar on display. Orders will be taken until October 26th. The applesauce will be available for pick up on or before November 2nd after church.
Any proceeds above and beyond shipping costs will be designated to the youth group.
Apple Picking for the Applesauce Fundraiser:
On Saturday, October 25th the youth will meet at the Valley building at 8:00 a.m. For those who can stay, we will have pizza brought in and start making applesauce that day. Please let Tilly Huizinga know if you will be coming.
---

Out of the Darkness Community Walk:
This Sunday morning Joel and Robin Vermaat and their daughter Jennifer and son-in-law Eric, along with Barb Lockwood, will be walking in the American Foundation for Suicide Prevention's "Out of the Darkness Community Walk," raising funds for the foundation for "research, advocacy, education and prevention initiatives designed to reduce the loss of life from suicide." I encourage you to remember all those walking in your prayers. If you would like to make a donation, please see
here
.
---
Help with Childcare for MOPS Needed at
First Church of Christ:
As we continue cooperating with (rather than competing with) our brothers and sisters in Christ at the First Church of Christ, we have an opportunity to come alongside them as they minister to mothers of preschoolers in the Chenango area. They have asked for help covering childcare for MOPS meetings on the first Tuesday of each month from 9:00 a.m. to noon. MOPS is a Christian (interdenominational) organization that creates support networks of women who share the common bond of preschool age children. For more information about MOPS, please visit their website
here
.
If you would like to help with their childcare needs, please contact Pastor Kurt.
---

Sunday Mornings:
Coffee: 9:15 a.m.
Worship Service:
10:00 a.m.
---
That we might better pray for one another:
We continue to pray for healing, strength, and comfort for Jerry Krempel as he waits for his surgery next week. We also pray for Claire and Cindy as they care for Jerry during this time.
We pray for healing for Jenni DeYoung following her surgery.
We pray for healing for Barb Hover.
We continue to pray for Frank and Barb Lockwood as they mourn the loss of their daughter Cheryl.
We continue to pray for God's world: for the people of western Africa as they continue to battle Ebola; for God's miraculous intervention in the Middle East, that the hearts and minds of the people living there, and that whole cultures, would begin to bend toward peace, and that God's church would continue to proclaim and embody the good news of God's reign there.
We pray for friends and family: for Jim Moore who fell at his home yesterday and is currently in ICU at Wilson Hospital under observation for internal bleeding; for Beth (Cunningham) Blake's great niece MacKenzie who struggles with epilepsy as she undergoes testing with new doctors and faces a possible brain surgery, and for her family in this anxious time; for the Nelson's neighbors, the Kruzers, following the death of husband and father; for Adam and Cheryl DeVoe's friend Joe Sanderson who is battling colon cancer; for for healing for Ann DeJager's sister, Tonia, as she battle breast cancer; for Adam Derzanovich as he continues his recovery following surgery; for David Derzanovich's two brothers-in-law, Tim and Bill who are still battling health issues.
---
Upcoming Events and Opportunities:
Meals for the Nelson's Neighbors:
The family for whom the Nelsons have been requesting prayer following the sudden death of the young husband/father is in need of dinners. There are no food allergies, and they will need food for two adults and two children. The family does not have the support of a church family, but desperately needs to feel the love of Christ in tangible ways. If you can help by preparing a meal for them, or if you know of anyone who can, please call Holly Nelson at (607) 743-0189.
2nd Offering:
This Sunday we have an opportunity to give a special offering to support the Broome County Council of Churches CHOW ministry.
CHOW Walk to Trample Hunger:
This Sunday afternoon we also have an opportunity to join other Broome County residents for the 32nd annual CHOW Walk to Tramnple Hunger. The walk will be held on the campus of Binghamton University (follow the signs once you get to the campus). Registration begins at 1:00 p.m. The walk begins at 2:00. Bring along non-perishable food! For information please see
here
.
---
Sunday Morning Ministries for
October 19, 2014:
Greeter:
Dot Simonds
Ushers:
George DeJager and Charlie Huizinga
Intercessory Prayer:
Scripture Reader:
Nursery: