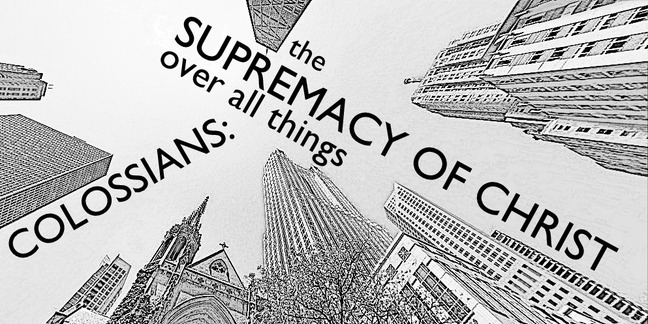 "So then, just as you received Christ Jesus as Lord, continue to live your lives in him, rooted and built up in him, strengthened in the faith as you were taught, and overflowing with thankfulness. . .
And having disarmed the powers and authorities, he [Christ] made a public spectacle of them, triumphing over them by the cross."
~ Colossians 2.6-7 and 15
---
On this election day, I'm writing this special email to remind you that (even as we go to the polls and watch the results come in) we are people who confess that Christ Jesus is King! We confess that Jesus is King no matter who's president. And we are, first and foremost, citizens of God's kingdom. We are citizens of God's kingdom to whom God has given the power and the responsibility of carrying on his mission of reconciliation and redemption in the world. Remember, true hope for America and for the world lies not with a president or political party or a particular nation. True hope for the world lies with the body of Christ - the Church in the power of the Spirit. We, God's people, saints in Christ Jesus, have been given the Spirit who empowers and equips us. We've been given our marching orders to carry forth God's mission in the world.
After the sermon on Sunday, a member of the congregation forwarded me this cartoon by Patrick Chappatte, which was entitled "Keep calm and take cover."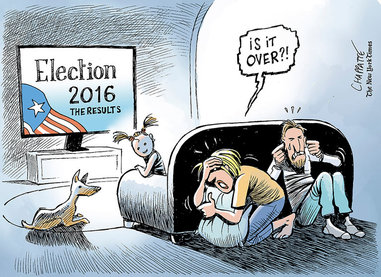 Saints in Christ, no matter what happens today and tomorrow and in the weeks and months to come, we are precisely the people who do not need to take cover, but who can stand tall and walk forth, rooted and built up in Christ, strengthened by the faith we have been taught, overflowing with thankfulness - all because we keep calm and carry on in Christ Jesus, who is the King!
In my own continuing effort to participate in God's "ministry of information" (which is the James Bond way of saying "minister of the Word," I think), I have made "Jesus is King - Keep Calm and Carry On" posters like the one you see at the top of the email which you can download and set as your computer's desktop background if you would like to. I've created three different ratios for different screen ratios. You can download your ratio by clicking on either the number or corresponding picture: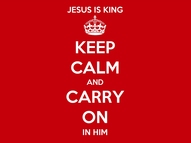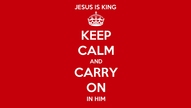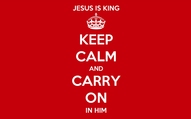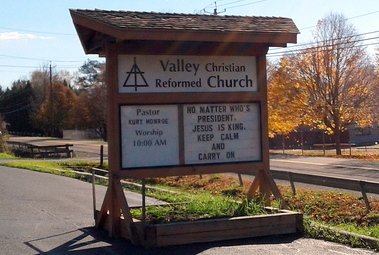 The "ministry of information" is at work on the sign out front, too. Somebody drove by and honked in confessional agreement just a few moments ago.
---

~ Valley Church ~
Gathered as God's family, we are sent into the world as agents of God's mission of renewal.

---
That we might better pray for one another and God's world:


We pray that on this election day God's people, the Church, would walk forth, rooted and built up in Christ, overflowing with thankfulness and true Christian hope.
We pray that God's saints would spill over with love, joy, peace, patience, kindness, goodness, faithfulness, gentleness, self-control, and all the fruits of the Spirit for the life of our nation and for the life of the world.
We pray that God's saints would be beautiful, joyful, and hopeful living witnesses to the kingship of Christ over all things, and that we would keep calm and carry on in Christ Jesus the King.