"Jesus replied, 'Go back and report to John what you hear and see: The blind receive sight, the lame walk, those who have leprosy are cleansed, the deaf hear, the dead are raised, and the good news is proclaimed to the poor."
---
If your nation has been waiting for centuries for the coming of a long-promised king who will rule with justice and peace and put all things to rights and finally someone shows up who may be "the one," you could probably be excused for wanting to make sure this is really "the one." That's pretty much what's happening in our passage this week. Even John the Baptist, as confident and sure as he is, is wondering if Jesus is "the one." Jesus' response to John's disciples runs pretty much like this: if it looks like a duck, quacks like a duck, and waddles like a duck, it's probably a duck. So, too, with kingdoms. If it looks like the kingdom of God and sounds like the kingdom of God, then it's probably the kingdom of God that has arrived and probably God the King who has come.
As we wait for the coming of the King who has already come during this season of Advent, may God grant us eyes to see and the ears to hear!
I encourage you to read and reflect on
Matthew 11.2-11
prior to our time together on Sunday morning.
We will also celebrate the feast of the Lord's Supper this Sunday morning. I encourage you to prepare in heart and mind for communion with our Lord and with our brothers and sisters in Christ.
---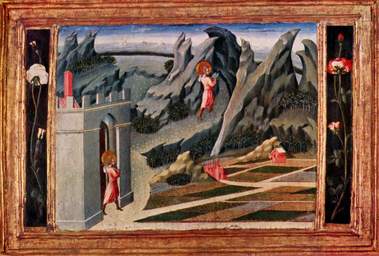 Into the Wilderness With John
:
This past Sunday I suggested that not only do we need to hear John the Baptist's message of repentance, but that we (as the church) are to be like John the Baptist. We have been given a Spirit-empowered task of prophetically announcing King Jesus to the world. But I also suggested that in order to prophetically herald into our culture, that we would need to strategically withdraw from our culture in certain ways like John did.
As the teens discussed the passage following the sermon on Sunday, Erin challenged the teens to strategically withdraw from their electronic/technological lives (for short periods of time through the week) in order to create spaces of silence in which they could be shaped and formed by God and his Word so that they might re-enter their online lives with a fresh G0d-shaped word for their friends and online neighbors.
This is a great example of the kind of strategic withdrawal that does not create walls of isolation around Christians but rather equips Christians to thoughtfully engage culture and love their neighbors. I encourage to similarly reflect on ways you can strategically withdraw so as to be better equipped and shaped by God to speak a John-like prophetic word of God's good news to your neighbors.
---
From the Deacons -
Haiti Hurricane Matthew Updates:
Over $2500 in donations were received in October in response to the deacons' appeal to assist the victims of Hurricane Matthew, especially in Haiti. However, more funds are needed to respond to the needs of family members of Valley families living in Haiti. Please give generously by designating your gift for "Haiti relief" during the offering on Sunday mornings.
While Etienne is in Haiti working to support the family and friends of the extended Germain family, World Renew also continues their work in Haiti following the hurricane. To learn more about their ongoing efforts in Haiti, and the needs that still persist, please see
here
.
And for another hopeful story about relief work for Haiti from
The Banner
, please see
here
.
---
Announcements, Events, and Opportunities:
From the Deacons - Christmas Project:
Each year the Broome County Council of Churches Jail Ministry provides gifts of children's books to the families of county jail inmates at Christmas and gives a small gift bag to each inmate containing a few items. Donations of playing cards, word puzzle books, full size hygiene items, pocket packs of tissues, stamps, single-trip bus passes, sweat suits, socks, underwear, hats, gloves, gently used or new children's books will help with this project.
The deacons will be purchasing children's books for this project. The congregation is invited to donate items for the inmates. A box will be available in the church foyer to collect your donations.
Volunteers are also needed to help decorate gift bags, sort items and wrap and/or deliver the children's books. White bags for decorating are available at the front desk of the Council of Churches office at 3 Otseningo Street.
The Reentry Coaching program is another component of the Jail Ministry in which Valley Church is participating.
Adult and Teen Education:
For the Life of the World: Letters to the Exiles:
We will resume For the Life of the World this Sunday following the service.

Our next Kids' Night Out will be from 5:00 to 8:00 p.m. tomorrow evening. If you are willing to volunteer, please contact Janet Crawford.
Men's Lunch at Apple Hills:
The men of Valley Church will gather for fellowship and food at noon on Thursday, December 15 at Apple Hills.

Live Nativity:
Valley's annual live nativity will be on December 17, with shows at 5:45 and 7:00 p.m. Mark your calendars and invite friends and neighbors!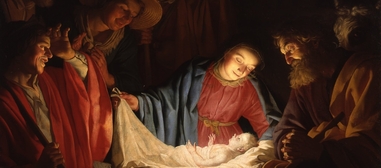 Christmas Eve Candlelight Service:
We will gather to celebrate the advent of the world's savior and King at our Christmas Eve candlelight service at 7:00 p.m. on Christmas Eve. I encourage you to invite neighbors and friends to join us as we hear God's story and celebrate God's loyal love for us and his world.
Can Collection for Boy Scout Troop 152:
A group of Boy Scouts from Troop 152 (Valley Church is the troop's charter organization) who are going to the National Jamboree in West Virginia in 2017 are collecting cans in a box at the east end of Valley's parking lot to raise funds for the trip.
---

~ Valley Church ~
Gathered as God's family, we are sent into the world as agents of God's mission of renewal.

---
This Sunday:
Worship Service
at 10:00 a.m.
For the Life of the World adult/teen study following the service.
---
That we might better pray for one another and God's world:


We continue to pray for safety, strength, wisdom, and courage for Etienne Germain as he helps family and friends in Haiti following hurricane Matthew.
We pray for healing for Elizabeth Bennett, Judy Zwierzinski, and Jan Vermaat.
We continue to pray for the family of Wilson and Maggie Germain during a difficult time.
We pray for the leadership team as they begin conversations regarding the congregational cohort for strengthening faith formation culture.
We pray for God's world: for the people of Syria; for ongoing restoration, renewal, and justice for the people of Haiti, especially following hurricane Matthew; for refugees fleeing violence around the world; for those who are persecuted for their faith around the world; for God's miraculous intervention in the Middle East; for organizations fighting to protect religious liberty in our changing world.
We pray for friends and family: for Kurt Monroe's aunt Betty and his cousins as they mourn the passing of Kurt's uncle Keith; we pray for healing for friends and family who are sick: for Adam Derzanovich; for David Derzanovich's brothers-in-law Tim and Bill; for Beth Cunningham's cousin Karen; for Garry Wickham's father; for Dan Stevens; for Bill Olan; for Harry's friend Debbie; for Luci's friend's granddaughter who was born with significant heart problems; for Pastor Bill Fowler; for Joe Griffin; for Lynda Huizinga's niece Alexis; for Alistair Krempel; for Mike Corgan's nephew who is battling heroin addiction; we pray for those battling cancer: for Jim and Marsha Conrad's friend Judy, for Marcus Doller's friend Scott, for the DeYoungs' niece/cousin Terri; for the Petersons' friends Pat and Amy.

---
Sunday Morning Ministries for
December 11, 2016
Greeter: Cindy Krempel


Ushers: Charlie Huizinga and Geroge de Jager

Intercessory Prayer: Doug Aukema

Scripture Reader: Florence Doller

Nursery: Melanie Nelson