"
Bear with each other and forgive one another if any of you has a grievance against someone. Forgive as the Lord forgave you."
~ Colossians 3:13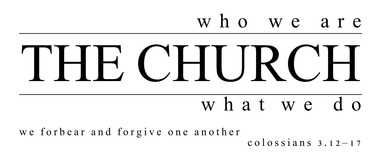 The Church: What We Do


What do we do? Well, we put up with one another (that's basically what forbearance is - putting up with someone). Sitting alongside all of those noble-sounding commands we're looking at in this sermon series (like loving one another, encouraging one another, serving one another, comforting one another), putting up with one another doesn't sound so noble. It sounds more like what we do with our kid brother or annoying sister. Then again, I guess that's the whole point. The church is more like a family that God puts us in than anything else. We get to choose our friends, but not our family, and sometimes we find our family annoying, tiresome, troublesome, or worse. But there they are, and Paul reminds us that it's our business to do the rather mundane work of putting up with them. And, like the siblings that we are, after we've behaved rather badly toward one another, we are to forgive one another, too. I encourage you to read about this (along with psalms, hymns, and spiritual songs again!) in Colossians 3:12-17 prior to our worship together on Sunday.
The painting at the top of the page is a detail from Rembrandt's vision of the acceptance of the prodigal son upon his return. That's a story of a father who put up with a whole lot and forgave a whole lot.
---

Sunday Service Time:
Worship: 10:00 a.m.
---
In the Life of Valley Church:
We continue to pray for healing for Edele Thompson as she undergoes radiation and chemotherapy to treat cancer in Rochester. (Her address there is 2 Amsterdam Drive, Fairport, NY 14450.) We give thanks that she has been relatively free of side effects from the treatments and even had the energy and the opportunity to teach VBS with her two daughters to a group of refugee children from Burma, Kenya, and Somalia (she's still doing her skits!). She's half of the way through her treatments.
We praise God for a successful surgery for Barbie Aukema and pray for a quick and full recovery.
We continue to ask God's blessing for Wilner and Marila Nicolas and their children while they are in Haiti, as they await and prepare for their immigration interview.
We give thanks with Vivian Keller as she has received the great news that the spot that showed up on previous CT scans is possibly just a scar, and that her blood tests have come back normal!
The Sea-to-Sea riders are on their way to Holland, MI today. We continue to ask God to give the riders and support drivers safety, and we give thanks for relief from the soaring temperatures on their behalf!

---
Upcoming Events and Opportunities:

Hope for a Hundred Hearts - Operation Christmas Child:

We are trying to collect 100 plastic shoe boxes for the 100 Operation Christmas Child boxes we will send out later this year. The plastic shoe boxes are stacking up (we've got 36 right now), but we obviously still need more. If you feel led, try to bring in your shoe boxes by this Sunday!
Fall Festival
:
Mark your calendars. The date for Fall Festival has been set: September 22, 2013.

---
Recommended Reading: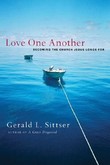 The format of the second half of this sermon series was inspired by Gerald Sittser's book
Love One Another: Becoming the Church Jesus Longs For
. This is a book that is easy to read but is also full of sound, substantive, and challenging thoughts about what we, as the church, are called and empowered to do.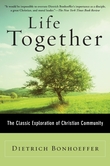 One of the classics on the life and actions of the church is Dietrich Bonhoeffer's Life Together. While it might be a bit more difficult to read than Sittser's book, any effort put into reading it is amply rewarded. I have heard some say that, after the Bible, Life Together should be on the top of the required reading list of any Christian. I wouldn't argue with that!