"The Sabbath was made for people, not people for the Sabbath. So the Son of Man is Lord even of the Sabbath."
~ Mark 2.27-28
---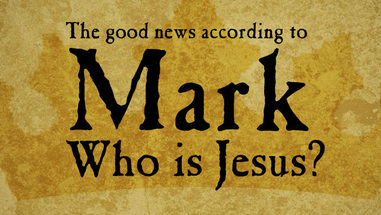 For the next seven weeks leading up to Advent we will be returning again to Mark's gospel. This week, in Mark 2.23-28, we will once again be thrust into a story in which the characters (and we alongside them) are trying to figure out who this Jesus is. At this point in the story Jesus meets increasing opposition from all sides.
In our passage this Sunday, Jesus and the Pharisees face off over the question of Sabbath. During their exchange, Jesus makes some startling declarations about his identity and about the very nature of Sabbath rest itself. I encourage you to read
Mark 2.23-28
prior to our time together this Sunday.
We will also celebrate the baptism of Alexander Bennett this Sunday!
---

Thanks to all who contributed to a wonderful weekend as we celebrated God's faithfulness to Valley Church over the past 50 years. We especially thank the former pastors for coming back and sharing their memories of Valley, and we thank the 50th Anniversary committee: Ron Crawford (who led and organized the motley crew!), Pat Aukema, Liz Bennett, George DeJager, Herlene DeYoung, Jeff DeYoung, Florence Doller, and Terry Woodnorth. Also thanks to the Petersons for rallying the youth to serve us during the ice cream social on Friday night, and to the youth for their service.
Stay alert for more information on how to get a copy of the pictures and movie from the weekend! For the moment you can download a higher resolution of the photo at the top of the page
here
. (Thank Dave Huizinga for taking it when you see him).
---
Operation Christmas Child Update:
Hear this from our fearless Operation Christmas Child leader, Tilly Huizinga:
The time has come for Operation Christmas Child to get into full swing. We will collect the following items from October 5 - November 9: school supplies, hygiene items, shoe boxes (plastic or cardboard); hard candy, small toys, socks, hats, mittens, etc. No liquids please. We will be packing the boxes for shipment on November 16th. Last year we sent 107 boxes, and we hope to do the same or more this year!
---
Help with Childcare for MOPS Needed at
First Church of Christ:
As we seek to continue and develop our cooperation (rather than competition) with our brothers and sisters in Christ, we have an opportunity to come alongside them as they minister to mothers of preschoolers in the Chenango area. They have asked for help covering childcare for MOPS meetings on the first Tuesday of each month from 9:00 a.m. to noon. MOPS is a Christian (interdenominational) organization that creates support networks of women who share the common bond of preschool age children. For more information about MOPS, please visit their website
here
.
If you would like to help with their childcare needs, please contact Pastor Kurt.
---

Sunday Mornings:
Coffee: 9:15 a.m.
Worship Service:
10:00 a.m.
---
That we might better pray for one another:
We continue to pray for Frank and Barb Lockwood as they mourn the loss of Cheryl.
We continue to pray for healing and strength for Jerry Krempel.
We pray for continued healing for Barb Hover.
We give thanks for the successful completion of Terry Woodnorth's training as a Faith & Finances facilitator.
We continue to pray for God's world: that the unrest in Hong Kong will remain peaceful; for the people of western Africa who are battling Ebola; for God's miraculous intervention in the Middle East, that the hearts and minds of the people living there, and that whole cultures, would begin to bend toward peace, and that God's church would continue to proclaim and embody the good news of God's reign there.
We pray for friends and family: for Charlotte Cummings daughter-in-law Davette following her surgery; for Deb Lolly's surgery; for Adam and Cheryl DeVoe's friend Joe Sanderson who is battling colon cancer; for healing for Ann DeJager's sister, Tonia, as she battle breast cancer; for Adam Derzanovich as he recovers from surgery; for David Derzanovich's two brothers-in-law, Tim and Bill.
---
Upcoming Events and Opportunities:
2nd Offering:
This Sunday (October 5) we will have an opportunity to give a special offering to support the ministry of Valley Church's CHOW pantry to our neighbors in need.
Council Meeting:
This Monday, October 6, we have a council meeting at 7:15 p.m.
Craft Night!:
On Wednesday October 8, anyone junior high and up is invited to join other crafters for a time of fellowship and crafting in Valley's fellowship hall from 7:00 to 9:00 p.m.
---
Sunday Morning Ministries for
September 28, 2014:
Greeter:
Cindy Krempel
Ushers:
George DeJager
Intercessory Prayer:
Scripture Reader:
Nursery: