Let all creation rejoice before the LORD,
he comes to judge the earth.
He will judge the world in righteousness
and the peoples in his faithfulness.
~ Psalm 96:13

Surprised by Hope!
We will continue our Surprised by Hope series this week in both the education hour (at 9:15) and in the service. Each week we will take a look at a passage that came up in the previous week's lesson. Last Sunday, during the DVD lesson, Tom Wright addressed Psalm 96, which will be the sermon text for this Sunday. I would encourage you to read through Psalm 96 between now and Sunday in preparation for worship. I will be focusing on the topic of the relationship between judgment and hope in the last few verses of the Psalm, but the whole of the Psalm points toward our Christian hope!
---
Surprised by Hope: Reflect, Act, Engage
Is there homework for this series? Well, not really, but each week the study gives suggestions for reflection, action, and engagement. (It's kind of like homework, but the teacher won't be collecting it or marking you down if you don't do it).
Though we might be tempted to think that Binghamton is fairly well off in comparison to places like Syria, or inner-city LA, New York, or Chicago (and it is!), that doesn't mean that there isn't plenty of hope
less
ness right here. The study guide invites us to: "walk or drive around your community . . . the place God has planted you. Pray for eyes to see the pain, loss, and hopelessness that can saturate our world. Actually ask the Holy Spirit to help you see beyond the physical to begin perceiving with the eyes of Jesus. As you see and feel the reality of what so many people face each day, pray for the kingdom of God to begin breaking into these places and lives. If you feel a prompting of the Spirit to take some kind of action in response to this exercise . . . act on it!" I would invite you to try to do this even as you drive to work or school. If you want another idea, look to the right - Life Choices Center!
---
Office Hours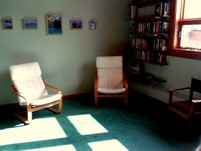 I recently came out of the academic world, and in that world professors keep office hours. Actually, some professors "keep" them better than others. I'm not sure if pastors typically call them office hours or not, but it seems as good a name for them as anything else! Barring emergency visits or meetings, I plan to
be in my office Tuesday through Friday mornings from 8:30 - 12:30.
In addition, I thought I'd let you know that Jennifer, the kids, and I have done a tiny bit of redecorating
in the pastor's office (see photo above). We didn't do much, but

I think the addition of some comfortable chairs and a selection of teas or a good cup of coffee might make you want to stop by for a chat all the more! So, feel free to stop by any time. I'd love to see you!
Sunday Service Times:
Sunday School: 9:15 a.m.
---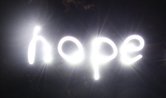 In the Life of Valley Church:
We continue to pray with the Nelsons for wisdom for the doctors who will be treating Holly's father.
We give thanks for a successful knee surgery for Cindy Krempel, and pray that her recovery and rehabilitation will go smoothly over the next weeks and months.
---
Upcoming events and opportunities:
Adult education will continue its DVD study based on N.T. (Tom) Wright's book called Surprised by Hope: Rethinking Heaven, the Resurrection, and the Mission of the Church at 9:15 on Sunday morning. We would love to see you there! (For more information on the book, see below).
There is often a sense of helplessness, if not hopelessness, that comes with an unplanned pregnancy. Right now, we have a very real way we can bring hope into the lives of women who are facing this situation. There are still a few bottles in the narthex that can be filled with coins, bills, and/or checks for Life Choices Center. You can learn more about Life Choices Center
here
.
---
Recommended Reading:
N.T. (Tom) Wright's Surprised by Hope: Rethinking Heaven, the Resurrection, and the Mission of the Church does just that; it looks at what our Christian hope is, what it is based on, and what it means for the life of the Church and for individual Christians. Wright helps us think clearly about what the Bible really says about heaven and earth, Jesus' resurrection, our resurrections, and how carefully listening to biblical teachings on these issues will impact the way we live for Christ and his kingdom here and now.