" 'The God who made the world and everything in it is the Lord of heaven and earth and does not live in temples built by human hands. And he is not served by human hands, as if he needed anything. Rather, he himself gives everyone life and breath and everything else.' "
~ Acts 17.24-25

---
We live in a tumultuous world and, it seems to many of us, in uncertain times. It doesn't take much of the 24 hour news cycle to ratchet up our anxiety, worry, and fear. And we might wonder: what does our faith in the God of creation and exodus and new exodus have to do with any of this - with any of the depressing news about ISIS, the economy, the election, the environment, or whatever happens to be on tap for the day? What does the reality of Jesus' resurrection on Easter Sunday have to do with any of this?
Tomorrow morning we will hear Paul speak to a group of anxious and uncertain people in the city of Athens, and Paul speaks words of certainty and hope that resonate just as loudly in 2016 as they did in the first century. I encourage you to read and reflect on
Acts 17.16-34
prior to our time together tomorrow morning.
We will also celebrate the feast of the Lord's Supper tomorrow. I encourage you to prepare in heart and mind for this time of communion with our God and with our brothers and sisters in Christ.
---
Upcoming Events and Opportunities
:

Second Offering
:
Tomorrow (April 10) we will have an opportunity to give a special second offering to support the Broome County Council of Churches Capital Campaign. Much of this capital campaign supports significant renovation and updates to the CHOW warehouse. Hard copies of letters with details were distributed to mail folders and the table with the guest book in the foyer last Sunday.


Multi-Team Garden Meeting
:
On Tuesday, April 12 all of the community garden teams (operations, engagement, and training/mentoring) will meet at 7:00p.m.

Kids' Night Out
:
The final Kids' Night Out of the 2015-2016 KNO season is next Saturday, April 16. If you are interested in helping, please contact Janet Crawford.


Potluck Lunch
:
Following the service next Sunday we will gather for a potluck lunch. I encourage you to join us for the food and fellowship!
Deacon and Elder Nominations
:
The council encourages you to prayerful think about nominations for the offices of deacon and elder for the upcoming year. Nomination forms were distributed to mail folders and the table with the guest book in the foyer. Please return nomination forms to Pastor Kurt by next Sunday (April 17).

Swimming Suits for Binghamton Youth
:
Becky Stocum is taking donations of all swim suit styles and sizes for children in the city of Binghamton. Swimming in street clothes is not allowed, so life guards are told to turn anyone away who is not wearing a swim suit. Though it only costs 25 cents to swim, many kids don't have suits. As you are spring cleaning and come across swim suits that don't fit or don't get used, please bring them to Becky. Used towels and draw string bags (such as those pictured below) are also very welcome.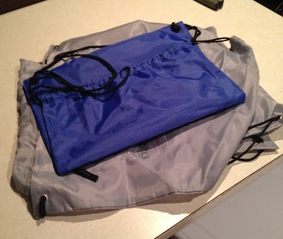 Global Leadership Summit
:
Valley Church will once again be taking a group to the annual
Global Leadership Summit
in Syracuse on August 11 and 12, 2016. The Leadership Summit not only addresses leadership within the church, but is also designed to equip and encourage leaders in the workplace, community, and home. Flyers with more information are on the tables in the foyer (or click the link above). If you are interested in attending or would like more information about the Summit, please talk to Pastor Kurt.
---

~ Valley Church ~
Gathered as God's family, we are sent into the world as agents of God's mission of renewal.

---
This Sunday:
Worship Service:
10:00 a.m.
---
That we might better pray for one another:


We give thanks for Holly Nelson's successful surgery and pray for continued healing and freedom from pain for Holly.

We give thanks for a good report from doctors for Cindy Krempel,

and pray for continued healing for her.
We pray for peace for the whole Krempel family, giving thanks for safety for Keith following his cardiac issues this past week. And we pray for peace for Keith and the rest of the family as he awaits surgery this Monday.
We give thanks for Ruth Giese's successful surgery and pray for continued healing for her.
We pray for strength and perseverance for the leadership of Kids' Night Out as they prepare for the final KNO of the season next week.
We pray for continued guidance and energy for the various teams planning and implementing the community garden, and that God would guide our neighbors to join us as we seek to honor and steward his reign over all things as we garden together.
We pray for the shalom of the greater Binghamton area, and for guidance as to specific ways we as individuals and as a church might partner with God as stewards of his reign to cultivate that shalom in the city of our exile.
We pray for God's world: for ongoing restoration, renewal, and justice for the people of Haiti; for refugees fleeing violence around the world; for those who are persecuted for their faith around the world; for God's miraculous intervention in the Middle East; for the people of the United States during this election season.
We pray for friends and family: we pray for peace for Jim Canary's father and for the whole extended family following his cancer diagnosis; we continue to pray for healing for Adam Derzanovich; for Mike Corgan's nephew who is battling heroin addiction; for healing and rehabilitation for Marcus Doller's mother; for energy and strength for Alistair Krempel; we pray for those battling cancer: for Jim and Marsha Conrad's friend Judy, for Marcus Doller's friend Scott, for the DeYoungs' niece/cousin Terri; for the Petersons' friends Pat and Amy.
---
Sunday Morning Ministries for
April 10, 2016
Greeter: Dot Simonds


Ushers: Herleen DeYoung and George de Jager

Intercessory Prayer: George de Jager

Scripture Reader: Florence Doller

Nursery: Lor Recker-Woodnorth

---