"The righteous will be glad when they are avenged, when they dip their feet in the blood of the wicked. Then people will say, 'Surely the righteous still are rewarded; surely there is a God who judges the earth.'"
---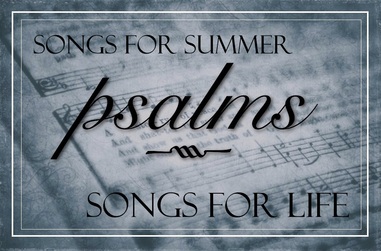 Some of the most difficult psalms for us to read and pray are the imprecatory psalms, the psalms that call for God to unleash his righteous justice on the wicked, the psalms that call for the breaking of teeth and shattering of bones. Christians are often either embarrassed by them (they seem so violent and uncivilized), theologically troubled by them (doesn't Jesus tell us to love our enemies, after all?), or simply don't know what to do with them. So we often skip these psalms or cringe while we read them.
These psalms of imprecation (spoken curse) are vitally important to us, specifically as Christians, though. We need to read them, sing them, and pray them, just as we need to read, sing, and pray the psalms that loudly and obviously proclaim God's hallelujah praise. We surely need to read, sing, and pray these psalms of imprecation specifically as those who stand on the other side of Jesus' life, death, and resurrection - in other words, specifically as Christians (and not as ancient Israelites). But these psalms offer our Christian understanding of evil and wickedness, along with our vision of justice and human flourishing, something that will be missing if we fail to wrestle through them.
I encourage you to read and meditate on
Psalm 58
prior to our time together on Sunday morning. As you read Psalm 58, I also encourage you to reflect on and prepare for the reconciliation and forgiveness that we receive from God and extend to others in the Lord's Supper that we will be celebrating together on Sunday.
---
Operation Christmas Child is beginning to get into full swing. We will be collecting plastic shoeboxes and sturdy cardboard shoeboxes now until September 27th. A display will be put in the downstairs fellowship area by September 12th. As always we will be looking for school supplies, hygiene items, toys, hard individually wrapped candy, socks, hats, mittens, hair accessories for the girls, etc. A schedule/bulletin insert will be in the bulletin soon for you to take home. Finally,
follow this link to purchase shipping labels online if you care to do so
. You can either print them and put it in Tilly Huizinga's mail folder or attach it to an email to Tilly at tillyhuizinga@yahoo.com and she will print them. It will be wonderful for everyone to see where the boxes are going.
---
On Sunday Terry asked for prayer for the bipartisan sponsored "
End Modern Slavery Initiative Act of 2015
," a bill designed to work with cooperative partner countries around the globe to combat modern slavery. (Terry recently wrote a
letter to the editor
of the
Press & Sun-Bulletin
about the bill.) To learn more about the current reality of modern day slavery, the bill, and to sign a petition in support of the End Modern Slavery Initiative Act, I encourage you to visit the International Justice Mission's
Freedom Commons
. For more information about International Justice Mission's amazing work combating trafficking, slavery, and injustice around the globe, you can visit their main website
here
.
---

Sunday Mornings:
Coffee: 9:15 a.m.
Worship Service:
10:00 a.m.
---
That we might better pray for one another:
We pray for the representatives from Valley Church, along with all the others, attending the Global Leadership Summit, that God would work in mighty ways to encourage and equip leaders to be more effective for the sake of His kingdom.
We pray for healing for Eli Stocum's arm.
We give thanks for the healing Luci Huizinga has experienced and pray for continued recovery.
We pray for continued healing for Claire Krempel.
We pray for continued healing and patience for Holly Nelson.
We pray for healing for Marcus Doller's back.
We pray for the peace and flourishing of the city of Binghamton, and for guidance as to specific ways we as individuals and as a church might actively encourage that flourishing.
We pray that God would move in the hearts and minds of those who would grow in their faith and discipleship through Faith & Finances, that they might hear about the course and register.
We pray that leaders in the United States and countries around the world would seek, legislate, and enforce justice for the most vulnerable, especially for those suffering in modern slavery and for the unborn.
We pray that God would bless the Operation Christmas Child process, and especially be present with and for each child who will be receiving a box.
We pray for God's world: for those who are persecuted for their faith around the world, and for those who are being called to witness to Jesus Christ with their blood; for restoration, renewal, and justice for the people of Haiti; for God's miraculous intervention in the Middle East, that the hearts and minds of the people living there, and that whole cultures, would begin to bend toward peace, and that God's church would continue to proclaim and embody the good news of God's reign boldly there.
We pray for friends and family members: we give thanks for the Canary girls' successful surgeries; we pray for Doug and Pat Aukema's nephew Charlie and their friend Fred, both battling cancer; for strength, energy, and freedom from pain for Angela Krempel; for Beth and Don's friend Donna and her boyfriend who was injured in a motorcycle accident.
---
CHOW Pantry Needs
and the CHOW Walk to Fight Hunger:
The Valley Church CHOW pantry is in need of canned meat products and canned fruit. You can drop off donations on the CHOW table in the area just outside of the downstairs church office.
Also, so that you can mark it on your calendar, I want to let you know that the CHOW walk to fight hunger is scheduled for Sunday, September 20 at Binghamton University, behind the East Gym. Registration begins at 1:00 p.m. and the walk starts at 2:00. For more information visit the CHOW walk website
here
.
Sunday Morning Ministries for
August 9, 2015:
Greeter:

Dot Simonds


Ushers:

David Derzanovich and Jim Conrad
Intercessory Prayer:
Leslie Vermaat
Scripture Reader:
Florence Doller


Nursery:
Jim & Sue Comfort