"Our help is in the name of the LORD,
the maker of heaven and earth."
---
This Sunday Sherm McElwain will be preaching "There Is a God . . ." on
Psalm 124
. I encourage you to read and reflect on the psalm prior to our time together on Sunday morning.
---
Valley Church Hosting
Q Commons: Engaging Our Divided Nation:
Valley Church is planning to be a streaming host site for this year's Q Commons, a two-hour live event that seeks to educate Christians on how they can bring hope and leadership to their communities in a critical moment for America. Q Commons, produced by the folks at
Q Ideas
, is a live learning experience that challenges attendees to stay curious, think well, and advance good in their communities. The event will be held on the evening of Thursday, October 13, 2016. For more information and to watch the introductory video, please see
here
. If you are interested in attending the event at Valley, please let me know by replying to this email and saying something along the lines of: "I/we would like to attend Q Commons."
---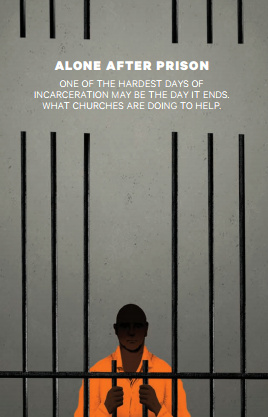 Life After Prison - Jail Reentry:
One of the pressing issues facing our country, our county, and our city at this moment is the reentry needs of our neighbors into the population following jail and prison terms. Churches in the United States are becoming increasingly aware of the needs of those reentering and the impact partnering with those who are reentering can have on their lives and the lives of families and communities. The cover of the most recent issue of
Christianity Today
(above) said, "Alone After Prison: One of the Hardest Days of Incarceration May Be the Day It Ends. What Churches Are Doing to Help." I encourage you to read the article
here
. One of the recent questions posed by Q Ideas was this: "How Can We Help Ex-Convicts Re-Enter?" I encourage you to read and watch more
here
.
Rev. Chris Mogensen, the chaplain at the Broome County Jail recently came and spoke to the Valley Church council regarding the Broome County Council of Churches Jail Ministry Program's reentry program. This is a bit about the program from his handout:
The Broome County Council of Churches Jail Ministry Program has always remained unswervingly committed to actively address reentry needs in regards to spirituality, life skills, mental health, addiction and basic human needs in an effort to restore wholeness and spiritual well-being to the returning citizens and their families. . . Our reentry program is in the process of a paradigm shift in which we are becoming more decentralized with a growing number of area congregations offering support. Teams of three people, centered in local congregations, will be providing mentoring within the context of friendship. Initial contacts are being established and transitioned through our One-On-One visitation team in the jail. . . Ongoing training and support is provided . . ."
The Valley Church council, at its last meeting, supported the development of a three-person mentoring team here at Valley Church We already have two members of a team! If you would like more information or are interested in joining a team, please talk to a deacon or to Pastor Kurt.
---
Announcements, Events, and Opportunities:
Sunday School Teachers and Nursery Volunteers:
If you would be willing to help with nursery or assist with Sunday School, please talk to pastor Kurt.
Pastor Kurt on Vacation:
Pastor Kurt will be away on vacation from Wednesday, September 7 through Tuesday, September 13. If you need pastoral care during this time, please contact an elder or deacon.

2016 Valley Church Fall Festival:
Valley Church's annual Fall Fest is just around the corner again. We will be holding our neighborhood party on September 18, from 1:00 to 5:00 p.m., complete with all the usual festivities plus a few more: games, prizes, ice cream and cotton candy, bounce houses, the dunk tank, and this year hot dogs, hamburgers, grilled chicken and even some veggies from the garden (for the health nuts out there). Please be prepared to volunteer and and also make sure you invite neighbors, family, co-workers, and friends!
Can Collection for Boy Scout Troop 152:
A group of Boy Scouts from Troop 152 (Valley Church is the troop's charter organization) who are going to the National Jamboree in West Virginia in 2017 are collecting cans in a box at the east end of Valley's parking lot to raise funds for the trip.
---

~ Valley Church ~
Gathered as God's family, we are sent into the world as agents of God's mission of renewal.

---
This Sunday:
Worship Service
at 10:00 a.m.
---
That we might better pray for one another:


We pray for God's blessings for all students and teachers who are returning to school.
We give thanks for Pete and Jan Vermaat's sixty years of marriage and the chance to celebrate with friends and family.
We pray for healing for Jacob Byma, who is unable to swallow food, and for continued wisdom for doctors as they analyze the results of testing done last week.
We pray for blessings and safety for Annette Vernon during her time studying in Scotland in the coming year.
We continue to pray for the family of Wilson and Maggie Germain during a difficult time.
We pray for members of our congregation struggling with ongoing medical issues.
We pray for God's world: for the people of south and east Africa impacted by severe droughts there; for ongoing restoration, renewal, and justice for the people of Haiti; for refugees fleeing violence around the world; for those who are persecuted for their faith around the world; for God's miraculous intervention in the Middle East; for the people and leadership of the United States during this election season; for organizations fighting to protect religious liberty in our changing world.
We pray for friends and family: for the health of marriages of friends and neighbors; for healing for Adam Derzanovich; for Mike Corgan's nephew who is battling heroin addiction; for healing and rehabilitation for Marcus Doller's mother; for energy and strength for Alistair Krempel; we pray for those battling cancer: for Jim and Marsha Conrad's friend Judy, for Marcus Doller's friend Scott, for the DeYoungs' niece/cousin Terri; for the Petersons' friends Pat and Amy.

---
Sunday Morning Ministries for
September 11, 2016
Greeter: Terry Woodnorth


Ushers: Jim Conrad and George de Jager

Intercessory Prayer: George de Jager

Scripture Reader: Terry Woodnorth

Nursery: TBD