"Paul and Timothy, servants of Christ Jesus, To all God's holy people in Christ Jesus at Philippi, together with the overseers and deacons: Grace and peace to you from God our Father and the Lord Jesus Christ."
~ Philippians 1.1-2
---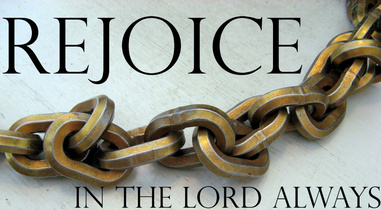 This Sunday we begin a new sermon series. We will descend from our eagle-eye view of the previous sermon series and focus closely on Paul's letter to the Christians in Philippi for the rest of the spring and summer.
Paul's letter to the Christians in Philippi is one of the warmest and most affectionate in the New Testament. It is a letter brimming with joy, written to dear friends who have encouraged and equipped Paul in his work. The Philippians' faithful partnership with Paul in the proclamation of the good news of Jesus gives Paul ample reasons to rejoice. At the same time, though, Paul writes this letter to the Philippians while in chains, facing the real possibility of execution, knowing that his brothers and sisters in Christ in Philippi have been anxious for him, and knowing that they too are facing persecution. Paul faces all of these realities head-on. His joy is not sentimental or saccharine. He is not a dewy-eyed man escaping the hardships of life in the real world. Yet he encourages the Philippians and us all the same: rejoice in the Lord always!
This summer, we will dwell in Paul's letter to the Philippians, allowing his words of encouragement and joy to shape and mold us into citizens of heaven who bring the overwhelming joy and hope of God's heavenly reign into our world here and now, preparing this world for its own future in which everyone will rejoice in the Lord always!
I invite you to read at least
Philippians 1.1-2
prior to our time of worship this Sunday, but it only takes about 20 minutes to read the letter in its entirety. If possible, I encourage you to read
the whole letter
prior to this Sunday, and, in order to really dwell in these words, I encourage you to read and meditate on Paul's letter to the Philippians as much as you can throughout the summer.
The picture at the top of the page is a detail from a photograph of ancient Philippi.
---

CAN YOU DO WHAT YOU LOVE?
Finding Power, Purpose, and Happiness
when the Old Rules Don't Apply.
If you've ever wondered what the good news of Jesus has to do with your work from Monday through Friday (or whenever it is that you work!), whether God cares about the work you do, or if you have questions about power and influence, purpose, and personal fulfillment in vocation, then Regent College and Christianity Today might have created a free online event you might be interested in joining.
On Friday, May 16th, from 3:00p.m. to 4:00p.m. (Binghamton time), join leading thinkers Andy Crouch, Rikk Watts, Josh Kwan, and Paige Gutacker in a Google Hangout to explore how we bring meaning and hope to our working lives and shift our perspective on "having it all." For more information on how to take part in this event, please see
here
.
---
2014 Offering of Letters:
This Sunday we have an opportunity to come together with our fellow Christians from around America and, through our offering of letters, ask our government to make critical reforms to our food aid programs. These reforms will make our food aid more efficient and more just for farmers around the world. If the reforms are implemented, more people will be fed without increasing the monetary costs.
Sample letters and pre-printed letters will be available this Sunday, May 18, or you can preview or download a sample letter here. You can learn more about Bread for the World and the Offering of Letters here. By using your influence with your elected officials, you participate in God's creative and redemptive work in the world.
---

Sunday Service Times:
Worship Service:
10:30 a.m.
Coffee for Adults and Sunday School for Children and Youth:
---
That we might better pray for one another:
We give thanks that God has paved a way for Annette Vernon's upcoming mission trip to Mango, Togo, in Africa. We pray that God would prepare Annette in every way for the work he has for her to do with her cousins and
Hospital of Hope
.
We give thanks with Joyce and Al Vos for a rich time remembering and celebrating Joyce's mother's life, and we ask for God's continued presence with Joyce and the rest of the family as they mourn their loss.
We give thanks for healing for Barb Hover, and we ask God to continue to free her body from cancer.
We give thanks for healing for Jenni DeYoung and pray for energy and strength for the rest of the school year.
We continue to pray for Rusty Nelson as he recovers from a baseball injury.
We give thanks for the new teen Bible study on Thursday nights, and we ask God to work in the teens' lives through this time together, and for strength, energy, wisdom, and creativity for Erin Peterson as she leads them.
We pray for reform to United States food aid, that food would be distributed efficiently and justly to those who need it, and that farmers across the globe would be treated with justice as a result of our nations policies.
We pray for family and friends: for continued healing for Jim Conrad's mother; for Beth Cunningham's friend Christine Cirucci and Adam DeVoe's Aunt Janet, who are both undergoing treatment to battle breast cancer; for the Bucci family; for the Peterson's nephew; for a successful surgery for the DeYoung's 3 year old relative Kaylin's heart surgery, and for her parents Tony and Tawni and brother Micah; for healing for Jim and Dorris Pitcher's son-in-law Lee Allard who is undergoing cancer treatments; and for Tilly Huizinga's friend Alan, whose infection is nearly healed, for continued healing and wisdom for doctors as they plan his surgery.
---
Upcoming Events and Opportunities:

Spring Clean-Up:
Thank you to all of you who came out and lent a hand for the spring clean-up! The building and grounds are looking great thanks to your hard work.
Deacon Suggestions:
Please remember to prayerfully fill out the deacon suggestion forms and submit them to Pastor Kurt by this Sunday, May 18.
Sunday School Breakfast:
On Sunday, June 1, we will celebrate another year of learning God's story in Sunday School with our annual Sunday School breakfast (at 9:15a.m.). Mark your calendars and watch for sign-ups for attendance and what you would like to bring!
Summer
Congregational Forum:
Following the service of worship on June 22 we will have a potluck and our summer congregational forum. Please mark your calendars.
---
Sunday Morning Ministries for
May 18, 2014:
Greeter:
Frank & Barb Lockwood
Ushers:
Joe Patak and Dave Derzanovich
Intercessory Prayer:
Pastor Kurt
Scripture Reader:
Nursery:
Children's Church:
Holly and Rusty Nelson