"I delight greatly in the LORD;
my soul rejoices in my God.
For he has clothed me with garments of salvation
and arrayed me in a robe of his righteousness . . ."
~ Isaiah 61.10a
---
Merry Christmas! Yes, it's still okay to say that even though it's not properly Christmas day. That's because the old song got it right. You know, the one about the partridge and the pear tree and golden rings and all. There are twelve days of Christmas, not just one. So leave your tree up, keep those lights lit, and keep partying like it's Christmas. It is!
In light of that fact, this Sunday we will continue reading God's word through Isaiah about the Messiah (the anointed King) who came as a baby and who is coming again. Our delight, this Christmas, is in him; he is the cause of our joy, for in his birth, his life, and his death and resurrection, he willingly accepted the garment of salvation and the robe of righteousness for our sake, that we might put on salvation and righteousness, too.
I encourage you to read and reflect on
Isaiah 61.10 - 62.3
prior to our time together on Sunday morning.
The artwork at the top of the email and below was painted by Daniella Doller in response to our readings from Isaiah during this Advent season.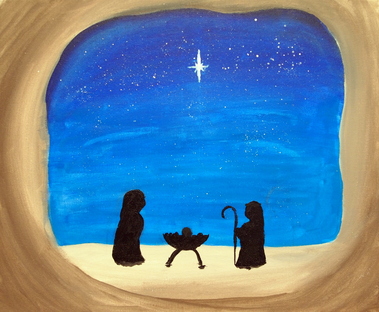 ---
Practices and Habits that Put Technology in Its Place:
One of the biggest challenges Christians in North America face in the 21st century is navigating our highly technological world in ways that honor how God has made us as embodied human beings in his very real world. The Faith Formation Ministries team of the Christian Reformed Church believe that living well and wisely with technology is so important to our formation as Christians that they are offering Andy Crouch's book
The Tech-Wise Family: Everyday Steps for Putting Technology in Its Proper Place
at discounts, and the leadership team of Valley Church believes that living wisely and well with technology is important enough that we're willing to buy the book for you (whether you a parent, grandparent, uncle, aunt, or whatever within your family) if you are interested in reading it. The new year is always a good time to think about practices and habits. We would encourage you to add an examination of your (and your family's) technological practices and habits to this year's list! The leadership team plans to offer opportunities to discuss the book and our relationship to technology in the coming year. Please sign the list in the foyer if you would like a copy of the book or reply to this email and tell Pastor Kurt "I want a copy of that Tech-Wise Family book!"
---
Upcoming Events and Opportunities:
No Children's Church for Elementary Children This Sunday:
Preschool through kindergarten will be dismissed to Children's Church this Sunday, but older elementary children will stay in the sanctuary through the service.
Pumpkin Soup Lunch:
We will gather for a traditional Haitian New Year pumpkin soup lunch following the service this Sunday. If you have not signed up but would like to attend, please let Pastor Kurt know by replying to this email as soon as possible.
Congregational Meeting:
We will hold our winter congregational meeting on Sunday, January 28 following the service. There will be a potluck lunch upstairs following the meeting. Please mark your calendars!
---

~ Valley Church ~
Gathered as God's family, we are sent into the world as agents of God's mission of renewal.

---
This Sunday:
Prayer gathering upstairs at 9:00 a.m.
Worship Service
at 10:00 a.m. (preschool - kindergarten will be dismissed for children's church part way through the service; older elementary children will stay with parents through the service).
---
That we might better pray for one another and God's world:

We pray for those who are separated from family by geographical distance during this season of family gatherings and for those who mourn the loss of a loved one over the past year and are particularly grieved during the Christmas season.
We pray for guidance, wisdom, and safety for Chuck Huizinga and his family as he prepares for ROTC and upcoming Army training prior to his time in college. And we pray for peace for his parents and family as well.
We give thanks along with the Myers that their home has sold and that they have found a new home in Michigan, and we pray that God would bless the logistics of finalizing the sales and moving to Michigan even as we are saddened by their move.
We pray for ongoing healing and recovery for Brian Aukema, Mike Flynn, Charlie Huizinga, Rod Whitacre, Marilyn Myers, Peter DeYoung, and Claire Krempel.
We pray for healing and relief from pain and discomfort for Beth Blake, who has been struggling with back issues and sciatica.
We pray for the ongoing needs of friends and family of Valley members: for healing for Pat Aukema's brother, Bill; for peace for the Monroes' extended family in Colorado; for continued healing for David Derzanovich's brother-in-law, Tim; for the de Jager's friend, Bill, who was diagnosed with kidney cancer; for Lor's neighbor who continues her cancer treatments; for Becky's friend Joe who is battling colon cancer; for Adam Derzanovich; for Lynda Huizinga's niece Alexis; for Alistair Krempel; for Mike Corgan's nephew who is battling heroin addiction.

---
Sunday Morning Ministries for
December 31, 2017
Greeter: Terry Woodnorth


Ushers: Joe Patak and George de Jager
Intercessory Prayer: Kurt Monroe
Scripture Reader (Isaiah 61.10 - 62.3): Harry Myers
Nursery: Natalie and Daniella Doller