"And you, my child, will be called a prophet of the Most High; for you will go on before the Lord to to prepare the way for him, to give his people the knowledge of salvation through the forgiveness of their sins, because of the tender mercy of our God, by which the rising sun will to us from heaven to shine on those living in darkness and in the shadow of death, to guide our feet into the path of peace."
---
Advent 2013: Prepare the Way of the Lord
This Sunday we continue our journey to Bethlehem, and already we celebrate a birth - the birth of a prophet of the Most High, John the Baptist. Like last Sunday, the emotional levels in this story outstrip the spoken word, and we hear Zechariah's tongue loosed not into speech, but into song. I encourage you to read and meditate on Luke 1.57-80 before we gather for worship on Sunday.
The image at the top of the email is a painting of the nativity of Christ by a Haitian artist that was included in an email from World Renew about the celebration of Christmas in Haiti. I encourage you to follow the link to the email to learn more about Christmas in Haiti, and to pray for our brothers and sisters in our congregation from Haiti who will likely miss family and Haitian Christmas traditions (along with sunshine and warm weather) as they celebrate Christmas in Binghamton this year.
---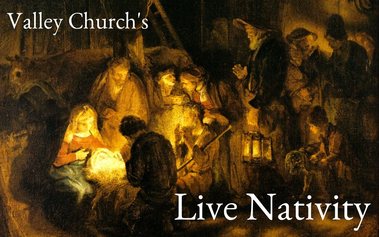 Live Nativity 2013:
This Saturday is Valley Church's annual live nativity. The youth will offer two shows, the first at 5:45 p.m. and the second at 7:00 p.m. The audience is invited to come inside for cookies, cocoa, coffee and conversation following the shows. This is a great opportunity to invite neighbors, friends, and co-workers to hear and see the story of the birth of the king who has come and who is coming in order to put the world right.
If you were unable to make it this past Sunday due to the weather but want to commit to volunteering to help with this year's live nativity, we still need help in the following areas:
*** Cookies! - please bring 2 dozen *** (this is our greatest need)

Greeters and ushers

Help with coffee and refreshments

Parking lot attendants

Extras: we need adult townspeople
Please email Ron Crawford if you can do any of the above and let him know. (rcrawford1@stnyy.rr.com)
---
Advent Music and Worship Leading:
There will not be mid-week rehearsal for Advent musicians and worship leaders this week. We will meet for rehearsal at 9:00 a.m. this Sunday.
---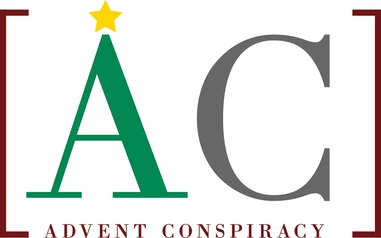 We have been encourage to conspire against the story of Christmas as it is told by Madison Avenue and Wall Street and Hollywood, and live this Advent and Christmas season according to God's story.
This Sunday you will find a piece of paper in your bulletin. On that piece of paper will be the following two lines:
Charitable organization(s)__________________
Amount given or pledged___________________
This is your opportunity to anonymously share the amount of money you have saved this Advent season and to which charitable organization(s) you have given or will be giving that money. We will tally the information and present it a week from Sunday. For those of you who have procrastinated, now is the time to finalize those giving plans!
In case you haven't made a decision about giving yet, we previously mentioned the following organizations:
A few other options suggested by Advent Conspiracy:
---

Sunday Service Times:
Children's Sunday School:
9:30 a.m.
Coffee available for adults:
9:30 - 10:30 a.m.
Worship Service:
10:30 a.m.
---
That we might better pray for one another:
We continue to pray for God's blessing and healing for Jenny DeYoung as she continues her chemo treatments.
We ask for healing and strength for Barbie Aukema's mother in her battle with lung cancer.
We pray for continued recovery for Charlie Huizinga following his knee replacement surgery.
We continue to pray for Jim Conrad's mother as she undergoes treatment for lymphoma.
We ask God to protect those travelling over the next few weeks.
---
Update and Reflections from the Van Dams:
Click
here
to view or download an update letter and reflections from Howard and Ruth Van Dam and family, serving with Christian Reformed World Missions and Sous Espwa in Haiti.
---
Upcoming Events and Opportunities: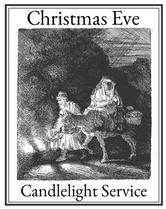 Christmas Eve Candlelight Service:
Valley Church will mark the beginning of our Christmas celebration with A Festival of Nine Lessons and Carols. We will hear nine readings (or lessons) from scripture that rehearse the story of God's creation, humanity's fall into sin, and God's coming in-the-flesh to culminate his rescue of all creation. Interspersed through the readings we will sing the carols of the mystery of God's incarnation.
Please invite friends and neighbors to join us for this Festival of Nine Lessons and Carols on December 24, 2013 at 7:30 p.m.
---
Recommended Reading: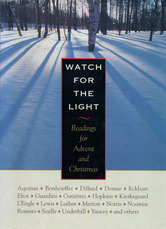 Watch for the Light: Readings for Advent and Christmas
is a collection of fairly short, daily readings for the seasons of Advent and Christmas from some of the very best Christian writers through the sweep of Christian history. You will be guided through your Advent preparations for the coming of Jesus, God and king, by people as diverse as Thomas Aquinas, Dietrich Bonhoeffer, C.S. Lewis, Philip Yancey, Gerard Manley Hopkins, and many more.