"Blessed are the peacemakers,
for they will be called children of God."
~ Matthew 5.9
---
The picture Jesus paints of the citizen of the kingdom of heaven in the Sermon on the Mount, and especially in the Beatitudes, is certainly not the picture of the citizen of the kingdoms of this world. Each Beatitude draws a sharp contrast between the values of Jesus' kingdom and the values of this passing age, and this week's Beatitude is no different: blessed are the peacemakers, for they will be called children of God. This beatitude stands in continuity with the picture of the merciful citizen of the kingdom, but Jesus now moves us from an attitude that is primarily responsive to others to an orientation that is proactive. The citizen of God's kingdom not only responds to others out of an orientation that is full of God's mercy, but the citizen of God goes out in order to pro-actively
make
peace with others, between others, and even to make peace with creation. It is not hard to see how such a person would be salt and light in a world of enmity, division, and war.
We will look specifically at the verse above tomorrow, but I encourage you, once again, to read and reflect on (and memorize if you haven't already done so)
Matthew 5.1-12
prior to our time together on Sunday morning.
We will also celebrate the feast of the Lord's Supper tomorrow, and I encourage you to prepare in heart and mind for that time of communion with our Lord and brothers and sisters in Christ.
---
Upcoming Events and Opportunities:

Ash Wednesday Service:
To mark the beginning of the season of Lent that leads up to Easter, you are invited to join us for an Ash Wednesday service of worship. The service is a quiet time of reflection on God's Word, singing, and imposition of ashes as we remember that we are "dead to sin and alive in Christ." Join us for this time of reflection and contemplation on Wednesday, February 14 at 7:00 p.m.
Lent Devotionals Available:
The church is providing devotionals published by the folks at Christianity Today (with devotionals authored by Mark Galli, Fleming Rutledge, Ruth Padilla Deborst and others) for personal and/or family use for this season of Lent. Pick up your copy this Sunday in the foyer.
An Opportunity to Support Claire Stocum:
We have an opportunity to support Claire Stocum on a mission trip through
Cru
to help continued relief efforts in Houston following Hurrican Harvey. Here's a note from Claire:
Hi everyone!
My involvement with Cru at Syracuse has brought so many amazing opportunities to grow in my faith, and we have an exciting trip coming up over Spring Break. Some students from our campus are joining Cru students from around the country in Houston, TX to help with Hurricane Harvey relief. The city is still struggling to recover from this natural disaster, and I'm excited to use my Spring Break to serve the Lord and help these people. While we're there, we'll be spending most of our days rebuilding homes, clearing debris, and praying for those effected. There will also be time for conference events, including speakers and small groups. Including travel, this mission trip costs $600, and I'd like to ask that you would prayerfully consider supporting me. Whether that is financially or prayerfully, I'd really appreciate your help! Please don't hesitate to email or call me, or ask my parents if you have any questions!
Thank you!
Claire
---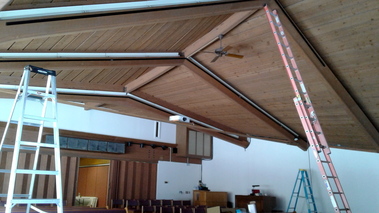 Men at Work - Lighting Project, Phase 1
:
At the congregational meeting George shared with us that the council voted to move forward with hiring an electrical contractor to install additional lighting fixtures in the sanctuary. Over the course of this week crews from M & P Rogers Electric have been in the sanctuary working on the first phase of the lighting project, which is installing the track lighting that will help brighten the sanctuary. They completed the installation yesterday afternoon and the lights are up and running!
---

~ Valley Church ~
Gathered as God's family, we are sent into the world as agents of God's mission of renewal.

---
This Sunday:
Prayer gathering upstairs at 9:00 a.m.
Worship Service
at 10:00 a.m. (preschool through 4th grade children will go to children's church part way through the service).
---
That we might better pray for one another and God's world:

We continue to pray for Emily DeYoung, who has found out she will need surgery on her knee. We give thanks that she is able to put weight on the knee and has been able to get back to class and some work, and we continue to pray for healing, for patience, for peace (especially given that Emily won't be able to compete in her senior year's timbersports season), and for wisdom regarding medical care. We also pray for peace and strength for Jeff and Carol as they try to care for Emily from a distance.
We pray for ongoing healing and recovery for Doug Aukema, Claire Krempel, Peter DeYoung, and Beth Blake.
We pray for healing and strength for all those who are sick with the flu, especially the elderly and those already weakened by other conditions, and for health and energy for those who give care to the sick.
We pray for healing and peace for Ryan Simmons following his surgery to remove a cancerous tumor, for wisdom for him and his doctors as they analyze tests results and think about future treatment, and for safety and peace for Ryan's parents as they return home.
We pray for protection for the vulnerable and freedom for the captives of human and sex trafficking, especially around events like the Super Bowl and Olympics.
We pray for the ongoing needs of friends and family of Valley members: for healing for Garry Wickham's father who re-broke his vertebrae, and for his mother who is caring for his father on her own; for healing for Ryan Simmons following his surgery, and for wisdom for his doctors as they decide on a course of treatments, and for peace for his family; for healing for Terry Woodnorth's brother, recently diagnosed with prostate cancer; for continued healing for David Derzanovich's brother-in-law Tim, who is recovering from a heart attack; for peace for the Monroes' extended family in Colorado; for Becky's friend Joe who is battling colon cancer; for Adam Derzanovich; for Lynda Huizinga's niece Alexis; for Alistair Krempel; for Mike Corgan's nephew who is battling heroin addiction.

---
Sunday Morning Ministries for
February 11, 2018
Greeter: Frank & Barb Lockwood


Ushers: Joe Patak & George de Jager
Intercessory Prayer: Ron Crawford
Scripture Reader (Matthew 5.1-12): Natalie Doller
Nursery: Herleen DeYoung