"This, then, is how you should pray: 'Our Father in heaven, hallowed be your name, your kingdom come, your will be done, on earth as it is in heaven. . .'"

Surprised by Hope!
This week in our education hour (at 9:15 - don't forget to change your clocks Saturday night!) and during the service we will be looking at the relationship of heaven and earth, and how heaven and earth both relate to our hope as Christians. The sermon text for this Sunday will be Matthew 6:9-10, a portion of Jesus' prayer instructions for his followers commonly known as the Lord's Prayer. The Lord's Prayer comes in the middle of Jesus' famous Sermon on the Mount, a sermon dedicated to exploring the manner in which God's heavenly rule and reality break into this creation in the present. So, if you have the time, I would encourage you to read the Sermon on the Mount (Matthew, chapters 5 through 7) in preparation for our gathered worship on Sunday.
This Sunday we will also be celebrating the Lord's Supper, so prepare in heart and mind to receive this thanksgiving meal that our Lord provides for us.
---
Classis Atlantic Northeast CANCELLED!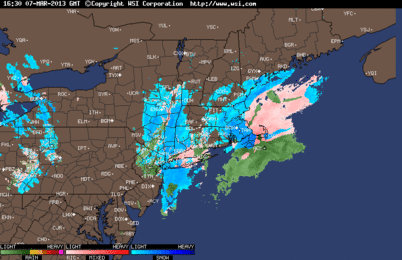 As many of you know, Classis Atlantic Northeast was scheduled to meet this Wednesday and Thursday. Because of the storm on the east coast, it was cancelled. All classis meetings are important, but this one was particularly important for Valley for two reasons. First, I was to be examined, and (hopefully) approved for ordination in the Christian Reformed Church. I only found out this past Sunday the direction in which my examination was going to go, so over the past few days I've been cramming and crunching, trying to remember and distill a whole Master of Divinity's worth of information into clear and concise answers. I was a bit disappointed at the cancellation.
This meeting was also important because Valley Church has brought an overture to classis, asking them to overture synod to accept the work of the changes to church order made by the task force that Terry Woodnorth has been on for the past few years. The task force involved the nature of the church and role of the deacons within it.
While disappointing, it's not the end of the road for either of these things, fortunately. Our CANE meeting has been rescheduled for March 22, and both my examination and Valley's overture will remain on the stripped-down agenda!
---
Choral Concert at First Church of Christ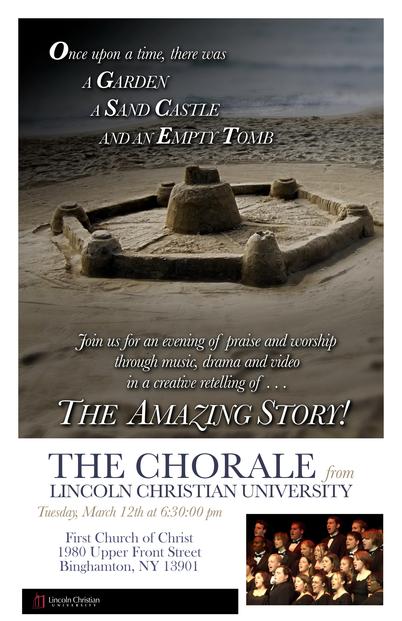 The First Church of Christ (the church just down the street from Valley Church) is hosting the Lincoln Christian University Chorale on Tuesday, March 12 at 6:30PM, and they have extended an invitation to our congregation to join them for this evening of choral music.
Sunday Service Times:
Sunday School: 9:15 a.m.
---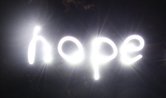 In the Life of Valley Church:
We lift up the Nelsons as they have received news that Holly's Dad is going to his home under hospice care, and for the Nelsons as they travel to California to be with Holly's Dad and the rest of the family. We pray for safety as they travel, for a good time of communion and fellowship with family and friends, and for God's loving presence to surround them in this time.
We pray for the Stocum family as Jim's Mom has been diagnosed with colon cancer and is having surgery to remove the growth on Friday. We pray for God's healing touch to be upon her, and his guidance to be over her doctors.
We continue to pray for Cindy Krempel as she recovers from her knee surgery.
---
Upcoming Events
and Opportunities:
Remember to set your clocks forward one hour on Saturday night, or you'll be an hour late on Sunday morning!
Don't Forget!! The youth are serving a baked potato and soup lunch after church on Sunday with all proceeds going to their summer mission trip. Come hungry!
Adult education will continue its DVD study based on N.T. (Tom) Wright's book called Surprised by Hope: Rethinking Heaven, the Resurrection, and the Mission of the Church at 9:15 on Sunday morning. We would love to see you there! (For more information on the book, see below).
If you still have baby bottles for Life Choices Center, please try to get those back to the church soon!
---
Recommended Reading:
N.T. (Tom) Wright's Surprised by Hope: Rethinking Heaven, the Resurrection, and the Mission of the Church does just that; it looks at what our Christian hope is, what it is based on, and what it means for the life of the Church and for individual Christians. Wright helps us think clearly about what the Bible really says about heaven and earth, Jesus' resurrection, our resurrections, and how carefully listening to biblical teachings on these issues will impact the way we live for Christ and his kingdom here and now.