"And she gave birth to her firstborn, a son. She wrapped him in cloths and placed him in a manger, because there was no guest room available for them."
---
And with those few simple sentences that seem remarkably unremarkable, Luke tells us of the end of our wait: the end of
our
weeks-long wait for Christmas, the end of the Israelites' centuries-long wait for their Messiah, the end of humanity's age-long wait for their Savior and for the beginning of the age to come. "She gave birth to her firstborn, a son." Something so extraordinary packed into something so very mundane. Even the bit about the manger and lack of accommodations could be the sad story of any of the displaced people in our broken world. It's almost too ordinary. But that's the point. At the end of our long wait, God said "yes" to everything that is ordinary, redeeming everything that is mundane simply (and amazingly!) by joining us in it, by clothing himself in regular old human flesh and living a human life. Something so extraordinary packed into something so very ordinary.
I encourage you to read and reflect on the simple, yet profound, beauty of the birth of the King in
Luke 2.1-20
prior to our time together on Sunday morning.
---
Announcements, Events, and Opportunities: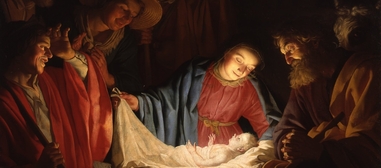 Christmas Eve Candlelight Service:
We will gather to celebrate the advent of the world's savior and King at our Christmas Eve candlelight service at 7:00 p.m. on Christmas Eve. I encourage you to invite neighbors and friends to join us as we hear God's grand story nd celebrate God's loyal love for us and his world.
We will also have an opportunity at the end of the service to give a special offering that will support Valley Church's youth ministry.
From the Deacons - Aid for Aleppo:
Last week we shared a plea from the team at Q Ideas and World Vision for help in Aleppo (see
here
).
This week, we wanted to let you know that World Renew is also at work with local church partners on the ground in Aleppo, helping to distribute food, water, blankets, and other aid. To find out more and to donate, please see
here
.
World Renew Uganda:
To hear about the ongoing redemptive work that God is doing through World Renew staff in Uganda, you can read the latest "Fresh from the Field" newsletter
here
.
Custodial Services Needed at Valley Church:
Paul Peterson (along with his family) has faithfully donated his time and energy to cleaning our building over the past three years. We are exceedingly grateful for his years of service and sacrifice. Changes in Paul's work schedule mean that he is no longer able to continue taking care of the church's custodial needs. The facilities team and council is currently seeking a person or family who would like some extra income to take on the task. If you or someone you know might be interested and would like more information, please contact Jim Conrad or Kurt Monroe.
Women's Bible Study:
The women will not be meeting for Bible study on December 28. Bible study will resume on January 4, 2017.
Can Collection for Boy Scout Troop 152:
A group of Boy Scouts from Troop 152 (Valley Church is the troop's charter organization) who are going to the National Jamboree in West Virginia in 2017 are collecting cans in a box at the east end of Valley's parking lot to raise funds for the trip.
---

~ Valley Church ~
Gathered as God's family, we are sent into the world as agents of God's mission of renewal.

---
This Sunday:
Worship Service
at 10:00 a.m.
---
That we might better pray for one another and God's world:


We pray for healing, strength, and courage for Ann de Jager as she battles breast cancer again. We also pray for peace and strength for George and the family and wisdom and discernment for Ann's doctors.
We pray for continued healing and strength for: Jan Vermaat, Judy Zwierzinski, Elizabeth Bennett, and Charlie Huizinga.
We continue to pray for safety, strength, wisdom, and courage for Etienne Germain as he helps family and friends in Haiti following hurricane Matthew.
We pray for God's world: for the people of Syria and especially for those of Aleppo; for ongoing restoration, renewal, and justice for the people of Haiti, especially following hurricane Matthew; for refugees fleeing violence around the world; for those who are persecuted for their faith around the world; for God's miraculous intervention in the Middle East; for organizations fighting to protect religious liberty in our changing world.
We pray for friends and family: for the family and friends of pastor Bill Fowler as they mourn his death; we pray for healing for friends and family who are sick: for Adam Derzanovich; for Beth Cunningham's cousin Karen; for Garry Wickham's father; for Lynda Huizinga's niece Alexis; for Alistair Krempel; for Mike Corgan's nephew who is battling heroin addiction; we pray for those battling cancer: for Jim and Marsha Conrad's friend Judy, for Marcus Doller's friend Scott, for the DeYoungs' niece/cousin Terri; for the Petersons' friends Pat and Amy.

---
Sunday Morning Ministries for
December 25, 2016
Greeter: Frank & Barb Lockwood


Ushers: Joe Patak and George de Jager

Intercessory Prayer: Kurt Monroe

Scripture Reader: Florence Doller

Nursery: No Nursery