"
You, my brothers and sisters, were called to be free. But do not use your freedom to indulge the sinful nature; rather, serve one another humbly in love."
~ Galatians 5.13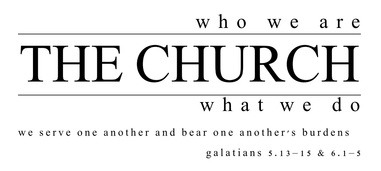 The Church: What We Do

Sometimes life seems like an uphill struggle, and gravity doesn't always seem as constant as the physicists tell us it is. As a fledgling cyclist I can tell you that some days it's easier than others to turn those peddles and get up and over some of the hills around here. On those hard days I long for someone to carry my water for me, someone to cut a hole through the wind in front of me - basically, someone to serve me. On the easier days I think I could probably do that for someone else. And that's precisely what this week's passage invites us into: a life of serving (and being served), a life in which we get to carry one another's burdens.
I invite you to
read Galatians 5.13 through 6.5 prior to our service of worship this Sunday. I will be focusing on 5.13-15 and 6.1-5, but the verses in between those two passages is about the fruit of the Spirit, and it's the empowerment of the Spirit that sets both passages in their proper context.
---
Sermon Audio available for this past Sunday's sermon.

A number of you are traveling quite a bit this summer, but I'm working on ways to keep you connected (in addition to this email) while you're in and out of town. Here's one way: if you want to keep up to date with the sermon series in between trips, you can either download or stream the sermon audio from August 11
here
. I encourage you to read James 5.13-20 before you listen!
---
Follow Up & Follow Through
Last Sunday we looked at James 5.13-20. James invited us to be a people who pray for one another, who confess sin to one another, and who turn one another around. I would like to offer a few practical, concrete actions we might take to be more consistent and faithful in some of these practices. Perhaps this will help you to brainstorm other practices that might work well for you.
Praying for one another:
Maintain a prayer journal or notebook, or even a simple sheet of paper tucked in your Bible or devotional book with a list of people, issues, communities, schools, universities, nations, or people groups God has placed on your heart and in your life. If you keep a journal, you can go back and look at the ways that God has worked and is working in these things. Make sure you can keep updating the journal or list!

On Sunday morning, during the sharing of joys and concerns, you could write down the joys and concerns of your brothers and sisters at Valley Church on a portion of the bulletin insert that accompanies the sermon series. Then you could slip that sheet of paper into your Bible or devotional book and lift up those needs and celebrations to God throughout the week.
Confessing sin to one another:
Dietrich Bonhoeffer argues that we can get sloppy in our thinking about sin and suggests that one way we can keep our thinking clear is to examine our lives in light of the ten commandments. You can find the ten commandments at Exodus 20. I invite you to hold up your life to those boundaries that God gave his people, that they might lead full, abundant, joyful lives. If there is something that doesn't line up in your actions, and you think you might be confessing to yourself (rather than God), and for which you might be forgiving yourself (rather than receiving God's forgiveness), see the next point.

If you aren't in a relationship with someone to whom you confess sin already, pray that God might lead you to that person, and give you the courage to initiate those times of confession. This is brave and courageous territory, so you might need to pray for courage, too!
Turning one another around:
While there is no requirement to "have it all together" (which is impossible anyway) prior to turning around a brother or sister who has wandered from the truth, we should probably all be practicing mutual prayer and confession of sin.
If you see a brother or sister who has wandered from the truth (who is engaged in actions that lead toward brokenness, sickness, and death), pray for wisdom, humility, gentleness, courage, patience, and integrity. Then, following God's leading and timing, confront the person and do your best to turn him or her around, remembering the words of one commentator: "To see someone wandering off in a dangerous direction and do nothing about it is a tragic dereliction of duty. It may be hard to turn them back – they may insist that they are right and we are wrong! - but the effort must be made . . ."
Above all things, remember James' invitation to surround all of life - suffering and joys - in prayer and praise.


Sunday Service Time:
Worship: 10:00 a.m.
---
That we might better pray for one another:
We continue to pray for healing for Edele Thompson as she undergoes radiation and chemotherapy to treat cancer in Rochester.
We pray for the friends and family of members: Pat and her daughter Karen, Sue, Michelle, Christine, and Jim Stocum's mother, Esther.
We ask for God's healing for Cheryl DeVoe following a scheduled surgery on Tuesday.
We continue to pray for full recovery for Barbie Aukema following her surgery last week.
We give thanks for the Global Leadership Summit and all the leaders within the Church and marketplace who were empowered and equipped this past week, and we pray for God's blessing on the international side of the Summit that will continue throughout this fall.
We continue to ask God's blessing for Wilner and Marila Nicolas and their children while they are in Haiti, as they await and prepare for their immigration interview.
The Sea-to-Sea riders are in Canada, eh? It's relatively cool up north, for which we give thanks, but we continue to ask God to give the riders and support drivers safety.
We pray for Valley Church, that God would continually transform us more and more into the likeness of Jesus Christ, making us a people who might play a loving role in his transformation of others and our community.

---
Upcoming Events and Opportunities:

Hope for a Hundred Hearts - Operation Christmas Child:

We are still collecting plastic show boxes for the 100 Operation Christmas Child boxes we will send out later this year. The plastic shoe boxes are stacking up ever higher, but we still need more!
Service Time Change
:
We will be resuming our 10:30a.m. service time on September 8, so mark your calendars.

Fall Festival
:
Start spreading the word. Invite your neighbors and friends. Like the event on Valley's
facebook page
(if you're on facebook). Make sure you've marked your own calendars. Fall Festival is coming on September 22!
---
Recommended Reading: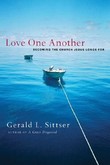 The format of the second half of this sermon series was inspired by Gerald Sittser's book
Love One Another: Becoming the Church Jesus Longs For
. This is a book that is easy to read but is also full of sound, substantive, and challenging thoughts about what we, as the church, are called and empowered to do.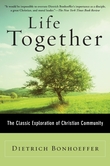 One of the classics on the life and actions of the church is Dietrich Bonhoeffer's Life Together. While it might be a bit more difficult to read than Sittser's book, any effort put into reading it is amply rewarded. I have heard some say that, after the Bible, Life Together should be on the top of the required reading list of any Christian. I wouldn't argue with that!