"Out in the open wisdom calls aloud,
she raises her voice in the public square . . .
Then I will pour out my thoughts to you,
I will make known to you my teachings."
---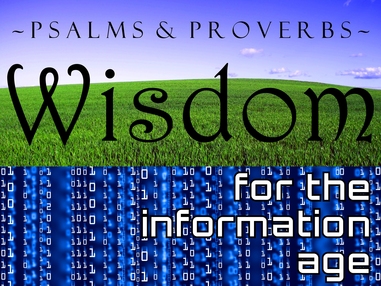 Over the next two weeks we will conclude our time exploring God's wisdom in Psalms and Proverbs by hearing from the book of Proverbs. This Sunday we will hear wisdom, personified as a righteous woman, calling out loudly in public. She invites all - especially those tempted toward folly - to heed her call and turn to her. To those who seek her, she is eager to pour out her thoughts. Wisdom's call is needed in every age, but particularly so in the information age that has confused the amassing of information for true wisdom. I encourage you to read and reflect on
Proverbs 1.20-33
prior to our time together this Sunday.
---
Announcements and Events:

2016 Valley Church Fall Festival
:
Valley Church's annual Fall Fest is just around the corner again. We will be holding our neighborhood party on September 18, from 1:00 to 5:00 p.m., complete with all the usual festivities plus a few more: games, prizes, ice cream and cotton candy, bounce houses, the dunk tank, and this year hot dogs, hamburgers, grilled chicken and even some veggies from the garden (for the health nuts out there). Please be prepared to volunteer and and also make sure you invite neighbors, family, co-workers, and friends!
Garden Harvesting for CHOW:
If you would like to help harvest part of the community garden produce for distribution to CHOW referrals, please contact Barb Lockwood.
---
From the Deacons:
World Renew -
Going Deeper for Gender Justice in Uganda:
World Renew's commitment to gender justice is rooted in the belief that God has ordained partnership between men and women in all spheres of life.
In development, gender justice means that girls and boys, women and men, have equal opportunity to benefit from community projects, equal access to community resources, equal opportunity to make community decisions and equal opportunity to develop their talents.
Working for lasting gender justice involves activities that dig deep into relationships between men and women at home, at work, and in the church. Discussions about the gender roles can be difficult, as they often include sensitive topics and issues of debate. This is why World Renew staff members are trained to create a space where both men and women feel safe to share their experiences and opinions as they work together for reconciliation.
To read the whole article and see pictures from World Renew see here.
---

~ Valley Church ~
Gathered as God's family, we are sent into the world as agents of God's mission of renewal.

---
This Sunday:
Worship Service
at 10:00 a.m.
---
That we might better pray for one another:


We pray for the family and friends of Jim Canary, Sr., who passed away last week, especially for Jim and Marci and the Huizinga family, as they grieve.
We pray for healing for Wilson Germain following a chest pain incident and hospitalization earlier this week. We give thanks for the healing he has experienced and pray for continued guidance for doctors as they assess his health. We also continue to pray for Wilson and Maggie and their family during a time of family hardship.
We pray for God's blessings for those preparing to return to college or go to college for the first time.
We pray for members of our congregation struggling with ongoing medical issues.
We pray for God's world: for the people of Italy following the earthquake there; for the people of Louisiana as they continue clean-up and recovery following the flooding there; for our nation's cities and particularly for the healing of relationships between police and communities; for the people of south and east Africa impacted by severe droughts there; for ongoing restoration, renewal, and justice for the people of Haiti; for refugees fleeing violence around the world; for those who are persecuted for their faith around the world; for God's miraculous intervention in the Middle East; for the people and leadership of the United States during this election season; for organizations fighting to protect religious liberty in our changing world.
We pray for friends and family: for the family and friends of Mike Sawyer following his death, especially for Don Blake's sister, who worked for the Sawyers; for healing for Adam Derzanovich; for Mike Corgan's nephew who is battling heroin addiction; for healing and rehabilitation for Marcus Doller's mother; for energy and strength for Alistair Krempel; we pray for those battling cancer: for Jim and Marsha Conrad's friend Judy, for Marcus Doller's friend Scott, for the DeYoungs' niece/cousin Terri; for the Petersons' friends Pat and Amy.

---
Sunday Morning Ministries for
August 28, 2016
Greeter: Frank & Barb Lockwood


Ushers: Doug Aukema and Herleen DeYoung

Intercessory Prayer: Kurt Monroe

Scripture Reader: Luci Huizinga

Nursery: Herleen DeYoung and Liz Bennett

---