Praise the LORD, you his servants;
praise the name of the LORD.
Let the name of the LORD be praised,
both now and forevermore.
From the rising of the sun to the place where it sets,
the name of the LORD is to be praised."
---
The information age has made so much information so readily available that it has also become what we could call an age of distraction. It is the age of multi-tasking (or attempting to multi-task): we forget to check our Facebook updates because we're checking our Twitter and Instagram feeds while the TV runs in the background, a song plays on the tablet, a book is open on the e-reader in our lap, and we're trying to carry on a conversation on our mobile phone while eating a microwave dinner.
In this information age of distraction, Psalm 113 commands us, servants of the Lord, to praise the Lord. If anything, praise is a posture of
non
-distraction, a posture of focus. Praise demands our full attention. True praise to the almighty God of creation and covenant demands that we stop and stand still. Praise demands a re-orientation of ourselves in both space and time. Praise demands that we remember, supremely, who God is and what he's done, and who we are and what's been done for us. Psalm 113, along with all the psalms, can help us stop and praise. I encourage you to read and reflect on
Psalm 113
prior to our time together on Sunday morning.
---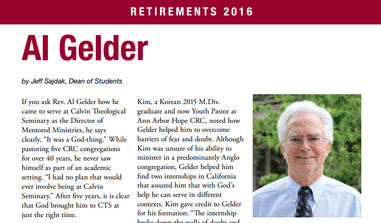 Calvin Theological Seminary's publication,
Forum
, has a wonderful article on Al Gelder's years of service to the seminary and his (most recent) retirement. You can pick up a hard copy of the summer edition of
Forum
in the foyer, or you can scroll down to page 23 in the online version
here
.
---

~ Valley Church ~
Gathered as God's family, we are sent into the world as agents of God's mission of renewal.

---
This Sunday:
Worship Service
at 10:00 a.m.
---
That we might better pray for one another:


We pray for peace and blessings for Wilson, Maggie, Miley, and Sophia Germain and the extended Germain family during a time of family hardship.
We give thanks for the birth of Jerry and Claire Krempel's great-granddaughter Violet Rose.
We pray for continued healing and strength for Dot Simonds.
We pray for Rusty Nelson as he tours Europe.
We pray for Tilly Huizinga in her work with Catholic Charities regarding the mental health issues facing New York state.
We pray for the shalom of the greater Binghamton area, and for guidance as to specific ways we as individuals and as a church might partner with God as stewards of his reign to cultivate that shalom in the city of our exile.
We pray for God's world: for the people of Nice and the whole of France following the terrorist attack there on Bastille Day; for the people of Ethiopia in the midst of drought; for ongoing restoration, renewal, and justice for the people of Haiti; for refugees fleeing violence around the world; for those who are persecuted for their faith around the world; for God's miraculous intervention in the Middle East; for the people and leadership of the United States during this election season; for organizations fighting to protect religious liberty in our changing world.
We pray for friends and family: for Jim Canary, Sr.; for continued healing and patience for Erin Peterson's brother Keith following his bicycle accident; for the Haner family (Nick is pastor of First Church of Christ) following the birth of their son, Isaiah, and for Nick as he recovers from his bicycle accident; for healing for Adam Derzanovich; for Mike Corgan's nephew who is battling heroin addiction; for healing and rehabilitation for Marcus Doller's mother; for energy and strength for Alistair Krempel; we pray for those battling cancer: for Deb Harmon's brother, for Jim and Marsha Conrad's friend Judy, for Marcus Doller's friend Scott, for the DeYoungs' niece/cousin Terri; for the Petersons' friends Pat and Amy.

---
Sunday Morning Ministries for
July 17, 2016
Greeter: Ruth Giese


Ushers: David Derzanovich and George de Jager

Intercessory Prayer: Kurt Monroe

Scripture Reader: Trent Nelson

Nursery: Lor Recker-Woodnorth

---