"It was now about noon, and darkness came over the whole land until three in the afternoon, for the sun stopped shining. And the curtain of the temple was torn in two. Jesus called out with a loud voice, 'Father, into your hands I commit my spirit.' When he had said this, he breathed his last."
~ Luke 23.44-46
"On the first day of the week, very early in the morning, the women took the spices they had prepared and went to the tomb. They found the stone rolled away from the tomb, but when they entered, they did not find the body of the Lord Jesus. While they were wondering about this, suddenly two men in clothes that gleamed like lightning stood beside them. In their fright the women bowed down with their faces to the ground, but the men said to them, 'Why do you look for the living among the dead? He is not here; he has risen!'"
~ Luke 24.1-6a
---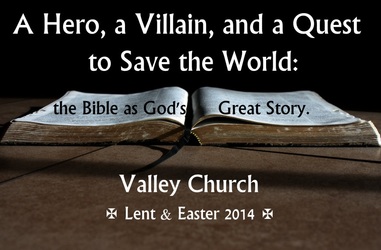 This Easter Sunday, as we continue our journey through God's grand story in the Bible, we will explore the manner in which Israel's and the world's King lived out his kingship. We will focus particularly on Jesus' journey to the cross, and his resurrection on Easter morning. I encourage you to read Luke
23.44 - 24.12
prior to our service of worship.
Parents, we will not have Children's Church this Sunday. Children's Church will resume next week, April 27. (There will be nursery this Sunday.)
The artwork at the top of the email is a detail from Gerard van Honthors'ts 1617 painting "The Mocking of Christ."
---
Easter Sunrise Service and Potluck Breakfast:
This Sunday morning we will gather with our brothers and sisters in Christ from the First Church of Christ at 8:00a.m. for a joint Easter sunrise service. We will meet here on the Valley Church lawn (weather permitting) for a short service to celebrate the resurrection of our Lord.
Following the service we will share a potluck breakfast with our brothers and sisters from First Church of Christ in our fellowship hall. Please bring a breakfast casserole, some fruit, muffins, bread, or other breakfast goodies to share! (We'll take care of coffee, tea, and drinks). I encourage you to rise early and join us in this celebration and fellowship with our brothers and sisters from our neighbor congregation.
---
"He stood up to read, and the scroll of the prophet Isaiah was handed to him . . ."
This past Sunday Trent Nelson stood up to read and was, in essence, handed the scroll of Isaiah (even though he was reading from Luke 4). Interestingly, Trent was recently in Nazareth on a business trip (he designs tents that have to stand up to the harsh conditions of the Israeli desert) and visited a recreation of a first-century synagogue, built to look like the one Jesus would have been in as he read from Isaiah as recorded in Luke 4. In the synagogue, Trent was able to look at a scroll of this passage from Isaiah. The tour guide in Nazareth also gave some of the background information on the Jewish people at the time of Jesus who were longing for the Messiah who would fulfill these words of Isaiah and set them free from oppressive Roman rule. Trent said I could share his pictures of the scroll and interior of the synagogue, so you will find them below. I encourage you to ask Trent about his experience in Nazareth.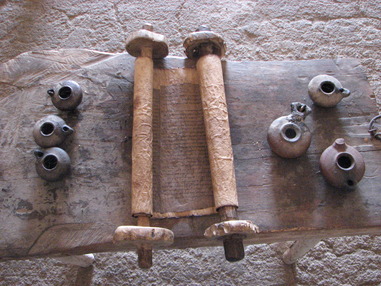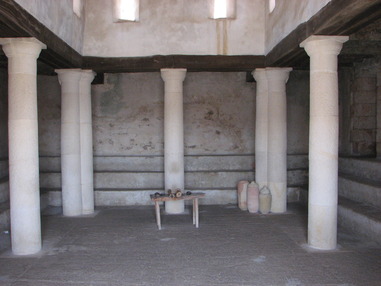 ---
Artwork from the Maundy Thursday Service:
Several people have commented on how moving they found the artwork we used during the Maundy Thursday service. If you would like to look at the artwork more, you can either preview the powerpoint presentation or download it
here
.
---

Sunday Service Times:
Potluck breakfast following the sunrise service.
Worship Service:
10:30 a.m.
No Sunday School or Profession of Faith Class Easter Sunday.
---
That we might better pray for one another:
We rejoice with the Moomeys as they celebrate the healthy birth of their granddaughter, Eva.
We give thanks for the healing that Jenni DeYoung has experienced and pray for her continued recovery.
We pray for continued healing and strength for Barb Hover during chemotherapy and radiation treatments.
We pray for Mindy Bufford's son CJ as he undergoes surgery on his foot today. We also pray for patience and peace for him during his recovery, which will require at least six weeks of minimal activity (as the weather changes and he will want to be outdoors playing).
We pray for continued healing for Jim Pitcher and wisdom for his doctors following his hospitalization.
We give thanks for healing for Becky Stocum's ear.
We ask for God's presence in Ukraine, Syria, and Haiti, that the people of those countries might experience peace and justice.
We give thanks for the birthing kits and medical team from Lourdes that has gone to Haiti.
We pray for family and friends: for Jim and Marcy Canary's family as they mourn the loss of Jim's grandfather; for healing for Joyce Vos' mother in Iowa; for continued healing for Jim Conrad's mother; for healing for Alan Slocum following his knee surgery; for the Petersons' nephew who is experiencing liver issues; for Beth Cunningham's friend Christine Cirucci who is undergoing chemotherapy and radiation treatments to battle breast cancer; for Adam DeVoe's Aunt Janet, also battling breast cancer; for the Bucci family; for healing for Elizabeth Bennett's friend Terry following brain surgery; for healing for Jim and Dorris Pitcher's son-in-law Lee Allard who is undergoing chemotherapy and radiation treatments; for freedom from addiction for Becky's friend's daughter who is in rehab.
---
Upcoming Events and Opportunities:
2nd Offering:
Next Sunday, April 27) we will have an opportunity to give a second offering to support Annette Vernon as she prepares to go on a short-term mission trip to Togo, Africa to help her cousins who are medical missionaries with
Hospital of Hope
in Mango, Togo.
No Sunday School or Children's Church on Easter Sunday:
In order to enable kids and youth to attend the sunrise service and potluck breakfast (see left column), we will not have Sunday School or profession of faith class this Sunday. Kids will also stay in the service this Sunday. Children's Church will resume a week from Sunday.
---
Sunday Morning Ministries for
April 20, 2014:
Greeter:
Dot Simonds
Ushers:
Charlie Huizinga and Cindy Krempel
Intercessory Prayer:
Leslie Vermaat
Scripture Reader:
Paul Peterson
Nursery:
Herleen DeYoung and Elizabeth Bennett
Children's Church:
No Children's Church this Sunday.