"Jesus went into Galilee, proclaiming the good news of God. 'The time has come,' he said. 'The kingdom of God has come near. Repent and believe the good news!' "
Mark 1.14b-15
---
Tomorrow morning we're going to do something a bit different; we're going to hear the whole gospel of Mark during the service. Over the summer, we'll hear from the gospel of Mark again, and prior to that time in Mark, we're going to hear the gospel in its entirety in one sitting. We're going to do that because the gospel writers wrote their gospels to be heard as one whole story, not primarily as little bits and pieces. It's helpful and necessary to look at the bits and pieces in detail as we do on a typical Sunday morning, but something different and important happens when we encounter the story of Jesus as a whole story. God can use his Word powerfully as we allow Jesus' story to sweep over us in its entirety.
The apostle Paul invites us to "let the message of Christ dwell among you richly," and hearing the message of Christ in the gospels in its entirety is one way we can do that together.
The artwork at the top of the page is the illustration of Mark writing his gospel in the
Lindisfarne Gospels
, an illuminated manuscript of the four gospels from roughly the year 700.
---
Announcements, Events, and Opportunities: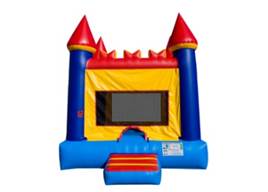 Bounce House:
As graduation party season, summer family reunions, and block parties arrive, please remember that Valley Church owns a bounce house which you can borrow (free of charge). Please contact Ron Crawford if you would like to reserve the bounce house for your event.
Doug & Pat Aukema 50th Anniversary
Open House:
The open house celebrating the 50th anniversary of Doug & Pat Aukema is today, from 2 to 6 p.m. at Brian & Crystal's house at 205 Knapp Hill Rd., Castle Creek.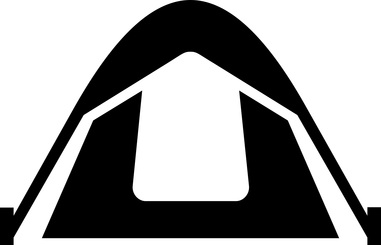 Valley Church Camping Retreat:
You are invited to join us for a camping retreat from the evening of Friday, August 25 through the morning of Sunday, August 27 at Chenango Valley State Park. You can either camp or participate during the day and sleep in the comfort of your own home. Please mark your calendars and sign up online
here
or on the sign-up sheet on the back of the door in the foyer. If you are camping, please reserve your camping spot soon. If you are tent camping, we would encourage you to reserve a spot in Chipmunk Bluff (especially site 81, 83, 85, 86, or 87, in order to reserve the large field for our use). If you are RV camping and need electricity, please select an appropriate site nearby in the Chipmunk Bluff area. See
here
to make reservations.
---

~ Valley Church ~
Gathered as God's family, we are sent into the world as agents of God's mission of renewal.

---
This Sunday:
Worship Service
at 10:00 a.m.
Children will remain in the service of worship with their parents for the rest of the summer.
---
That we might better pray for one another and God's world:


We give thanks with Marilyn Myers for her successful hip replacement surgery, praying for continued healing and rehabilitation.
We give thanks with Cody Zuiderveen (and Jessica and Hudson) for his successful examination to become a Minister of the Word in the Christian Reformed Church.
We give thanks with Doug & Pat Aukema for God's faithfulness as they celebrate 50 years of marriage.
We give thanks with Tilly Wickham for her acceptance into the BU nurse practitioner program, and for Tilly's studies in preparation for the GRE.
We pray for continued healing and recuperation for Jim Comfort, and for the peace of Christ for Jim, Susan, and John and Sara during this time.
We continue to pray for Claire Stocum during her time of training and discipleship in Jackson Hole, Wyoming.
We pray for continued healing and strength for Luci Huizinga and Peter DeYoung.
We pray for God's world: for the people of Syria; for the people of South Sudan, Somalia, Nigeria, and Yemen who are facing food shortages and starvation; for unity and civility among the citizens of the United States and for guidance, wisdom, and unity for government leaders at all levels; for ongoing restoration, renewal, and justice for the people of Haiti; for those who are persecuted for their faith around the world and the organizations and people fighting to protect them.
We pray for friends and family: we pray for Doug's sister, Claire, who is working with World Renew in Nepal, that God would grant protection and efficiency in their work; we pray for healing, strength, and peace for Edele Thompson as she battles cancer; we pray for healing for Marcus' sister's family as they grieve the death of her mother-in-law; we pray for healing for Lor's uncle John and for her neighbor, both being treated for cancer; for Becky's friend Joe who is battling colon cancer, and for peace and strength for his family; for Adam Derzanovich, that doctors would gain wisdom and understanding and a path forward for effective treatment and for Adam's spirits; we pray for healing for Garry Wickham's father, who is suffering from a compression fracture; for continued healing for David D.'s brother-in-law, Tim; for Beth Cunningham's cousin Karen; for Lynda Huizinga's niece Alexis; for Alistair Krempel; for Mike Corgan's nephew who is battling heroin addiction.

---
Sunday Morning Ministries for
June 18, 2017
Greeter: Cindy Krempel


Ushers: Doug Aukema and Herleen DeYoung
Intercessory Prayer: Kurt Monroe
Scripture Reader: Joel Huizinga, Jennifer Monroe, Kurt Monroe, and Paul Peterson
Nursery: Melanie Nelson