"[Jesus] went to Nazareth, where he had been brought up, and on the Sabbath day he went into the synagogue, as was his custom. He stood up to read, and the scroll of the prophet Isaiah was handed to him. Unrolling it, he found the place where it is written: 'The Spirit of the Lord is on me, because he has anointed me to proclaim good news to the poor. He has sent me to proclaim freedom for the prisoners and recovery of sight for the blind, to set the oppressed free, to proclaim the year of the Lord's favor.'"
~ Luke 4.16-19
---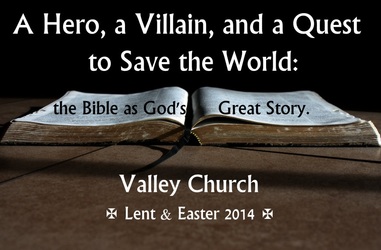 This Sunday, as we continue our journey through God's grand story in the Bible, we come to the triumphal entry of Israel's and the world's King into the story in a special way. This coming of the King comes on the Sunday that we also celebrate and commemorate Palm Sunday, King Jesus' entry into Jerusalem just before his crucifixion, death, burial, and resurrection.
This Sunday, as we shout out "Hosanna! Blessed is he who comes in the name of the Lord! Blessed is the coming kingdom of our father David," we will encounter the manner in which Jesus fulfills all of Israel's kingdom hopes and expectations along with all of God's promises to Abraham and his descendants. We will see how King Jesus arrives with a kingdom, even if his reign and kingdom don't look like what the Israelites or we might have expected.
I encourage you to read
Luke 4.14-21
prior to our service of worship.
The artwork at the top of the email is a detail from a fresco of Jesus' entry into Jerusalem done by Giotto in about 1305 in the Scrovegni Chapel in Padua, Italy. You can see the whole work
here
.
---
Potluck Lunch:
This Sunday (April 13) we will hold a potluck directly following the service. Please bring a dish to share with the rest of the Valley Church family.
---
Holy Week Services:
Holy Week begins this Sunday, and we have a few special services that you can mark on your calendars. We will gather for worship on Maundy Thursday to remember and meditate on the sacrifice of the Triune God on behalf of humanity and his creation, and to celebrate Lord's Supper together, just as Jesus shared a supper with his disciples on that day. The Maundy Thursday service will be at 7:00p.m. on Thursday, April 17.
On Easter Sunday (April 20), we will gather with our brothers and sisters from the First Church of Christ (the congregation on the corner of River Road and 12) at 8:00a.m. for a joint
Easter sunrise service
. We will meet here on the Valley Church lawn for a short service to celebrate the resurrection of our Lord. Following the service we will share a
potluck breakfast
with our brothers and sisters from First Church of Christ in our fellowship hall. Please bring a breakfast casserole, some fruit, bread, or other breakfast goodies to share! (We'll take care of coffee, tea, and drinks). I encourage you to rise early and join us in this celebration and fellowship with our brothers and sisters from our neighbor congregation.
---
Noah (the movie):
I mentioned the movie
Noah
this past Sunday and said that I had heard that the filmmakers had vividly portrayed the horrible reality of violence and evil in the world at the time of the flood. I haven't seen the movie yet, but I thought I should lead you to some thoughtful reviews so that you could make up your mind about whether or not you might want to see it.
Christianity Today
did a helpful review
here
. (It also provides links to even more reviews at the end of the article).
Sojourners
also published a thoughtful review
here
.
---
Updated Online Calendar:
If you use the church's online Google calendar and have it synced to a device or your gmail account, please make sure that you are synced to the newer valleychurchny@gmail.com calendar. It is the one that is currently on the website (
here
). If you are synced to an older version you won't get new calendar updates. Sorry about any inconveniences.
---

Sunday Service Times:
Children's Sunday School:
9:30 a.m.
Coffee available for adults:
9:30 - 10:30 a.m.
Worship Service:
10:30 a.m.
---
That we might better pray for one another:
We pray for healing and strength for Jenni DeYoung throughout her radiation treatments.
We pray for continued healing and strength for Barb Hover during chemotherapy and radiation treatments.
We give thanks for healing for Becky Stocum.
We pray for healing for Jim Stocum's knees.
We ask for God's presence in Afghanistan, Ukraine, Syria, and Haiti, that the people of those countries might experience peace and justice.
We pray for safety as the "snowbirds" return north for the summer.
We pray for Judy Crawford during this difficult time of the year, and for the Crawford family as they mourn the passing of Ron's uncle.
We pray for family and friends: we give thanks for good news for Jim Conrad's mother following her chemotherapy and pray for continued healing as she undergoes radiation; we continue pray for the Petersons' nephew who is experiencing liver issues; we pray for Beth Cunningham's friend Christine Cirucci who is undergoing chemotherapy and radiation treatments to battle breast cancer; we pray for Adam DeVoe's Aunt Janet and her oncologists as she battles breast cancer; we pray for the Bucci family and give thanks that their five-year-old daughter's ocular tumor has not grown and pray for continued healing; we pray for healing for Jim and Dorris Pitcher's son-in-law Lee Allard who is undergoing chemotherapy and radiation treatments.
---
Upcoming Events and Opportunities:
2nd Offering:
This Sunday (April 13) we will have an opportunity to support the ministries of Edward Okiror in Uganda for
World Renew
(formerly Christian Reformed World Relief Committee). Edward works in support of three dioceses of the Church of Uganda, all in war-affected Northern Uganda. The focus of his work is on resettlement of communities, agricultural rehabilitation and development, HIV and AIDs activities, capacity building of partner dioces, conflict resolution, peace building, and micro-enterprise promotion. For more information on Edward's work please see
here
.
Holy Week Services and Events:
Please see the left column for details about Maundy Thursday and Easter Sunday.
Youth Overnight:
Valley Youth will have their overnight event on Sunday, April 13 through the morning of Monday, April 14. Mark your calendars!
No Sunday School on Easter Sunday:
Due to the sunrise service and breakfast (see left column) on Easter Sunday, we will not have Sunday School or profession of faith class on Easter.
---
Sunday Morning Ministries for
April 13, 2014:
Greeter:
Ushers:
Joe Patak and Jerry Krempel
Intercessory Prayer:
Scripture Reader:
Trent Nelson
Nursery:
Children's Church:
Erin and Jacob Peterson