"Teach us to number our days, that we may gain a heart of wisdom."
~ Psalm 90.12

This Sunday we will be hearing from Psalm 90, a prayer attributed to Moses that meditates on the weakness of our human condition and on our mortality. The prayer asks God to help us to come to a sure and certain knowledge of our mortality and knows that wisdom is found in coming to terms with our limitations and our own death. I invite you to read Psalm 90 prior to our time of worship tomorrow morning.
We will also be singing two new songs. We introduced one, "Indescribable," last Sunday during the offertory. You can listen to it here. We will also be singing "My Soul Finds Rest." You can listen to it here. I encourage you to familiarize yourself with the songs prior to the service of worship tomorrow so that you can sing with joy and gusto!
---

Fall Festival 2013
To those of you who helped, whether you baked cookies, topped off the dunk tank with 33 degree water, helped with bounce houses, kept kids' sugar levels at full, grilled hot dogs to order, cleaned up, planned, plotted, or prayed: thank you! Despite the clouds and cold, the kids had a great time, and we were able to serve our neighbors in this community by throwing a family-friendly party for everyone.
---

Next Sunday (October 6) we will be beginning a new sermon series from the book of Mark. As we move forward, we can look back and solidify some of the things we've talked about over the past few months in the sermon series on the Church. We will be receiving one final bulletin insert this Sunday (September 29) with the complete lists of "who we are" and "what we do." You will find the scripture references we looked at on the back of the insert in case you want to go back and look at the passages I preached on. I invite you to keep a copy of the insert in your Bible, or put one on your refrigerator or somewhere visually prominent.
I invite you to think about the ways we are, as a church, living into our identity and doing those things the church is supposed to do as God's people. I also invite you to imagine ways we could, as a church, more fully embrace our identity or more fully practice the actions of the church.
Are there ways you can help your brothers and sisters in Christ to pray more? Are there ways you can serve, be served, or help make others aware of opportunities to serve? Are there ways you can more fully live out your salvation in this community of salvation - perhaps by seeking reconciliation with someone with whom you've had a long-standing disagreement, or by giving up an envious spirit that has kept you from loving one of your brothers or sisters at Valley Church? Is there someone who has been on your heart who might need to be comforted or welcomed into your home and your heart?
You can also ask yourself: which is the hardest of these for me? What do I need to pray for help with, and ask for help with from a few trusted brothers or sisters in Christ? What am I good at? How can I lead others with that gift? Who might I be able to help grow in something? How might I be able to encourage and build someone else up? I would encourage you to take a few moments to reflect on the list, and then write down specific names, or specific ideas about how you might be able to grow, or how you might be able to help the whole of Valley Church grow!
I'm excited about who we already are and what we already do, but I'm even more excited about who God is continually calling us to, and what he is continually empowering us, through his Spirit, to do. Let's pray for wisdom, strength, courage, and energy to continue growing together as the Church!
---

Sunday Service Times:
Children's Sunday School: 9:30a.m.
Coffee available for adults :
9:30 - 10:30a.m.

Worship Service:
10:30 a.m.
---
That we might better pray for one another:
We pray for Lucky Dimidio, who was transferred from the hopsital to Willow Point nursing home earlier this week. We pray that God would surround both Lucky and Harriet with his peace and comfort as Lucky's health continues to decline. We pray for strength, energy, and wisdom for Marsha and Jim and the rest of the family as they seek the best care for Lucky and minister to the needs of Lucky and Harriet.
We praise God for Claire Krempel's recovery following bypass surgery and we pray that God would continue to heal her.
We give thanks for healing in both Charlie Huizinga and Judy Zwierzynski following their knee replacement surgeries, and we ask for speedy recovery and rehabilitation for both.
We ask God to grant Wilner and Marila Nicolas patience as they wait for passports and paperwork so that they can return to the United States.
We give thanks for Daryl Whitacre's successful surgery. We ask God that he would continue to heal her and rid her body of any remaining cancer, and to prepare her for radiation treatments that will begin in October.
We ask for continued healing for Dorris Pitcher.
We pray for healing for Edele Thompson.
We give thanks for Lor Recker-Woodnorth's mother's wonderful transition into her new home and for her contagious joyful spirit throughout the move.
We pray for the friends and family of members: Pat and her daughter Karen, Matthew McDuffy, Stephanie Moomey and her husband's family as they mourn the passing of Stephanie's mother-in-law, Luci Huizinga's mother as she recovers from a broken shoulder blade, Adam Devoe's grandfather who is in the late stages of Alzheimer's and his grandmother, Jim Stocum's mother Esther, Mindy Buford's friend Al Long who is in critical condition following a motorcycle accident in South Carolina, and Beth Cunningham's friend's grandson Lucas.

---
Upcoming Events and Opportunities:
Supporting the Indonesian Christian Reformed Fellowship of Dover, New Hampshire:
On October 6 we will have the opportunity to support our Indonesian brothers and sisters in Christ who are meeting in Dover, New Hampshire as the deacons will be taking up a second offering. We invite you to give generously.

Hope for a Hundred Hearts - Operation Christmas Child:

We will be collecting gifts for the Operation Christmas Child boxes for the next few weeks. You will find the collection schedule directly below. If you have any specific questions, don't hesitate to ask Tilly.
Sept. 29: Small Toys (beanie babies, yo-yos, travel size Etch-a-Sketch, match box cars, small dolls, etc. - anything that will fit in a shoe box).
Oct. 6: Hygiene items (soap, toothpaste, washcloths - we have all the toothbrushes we need).
Oct. 13: Combs, brushes, hair accessories.
Oct. 20: Hats, gloves, scarves, boys and girls clothing (t-shirts, socks, underwear).
Oct. 27: Hard candy (wrapped individually).
World Renew Responds to Colorado Floods:
If you would like to read of the Christian Reformed Church's response to the flooding in Colorado and see what kind of work your support for World Renew is used for, please read
this article
at the World Renew website.
---
Recommended Reading: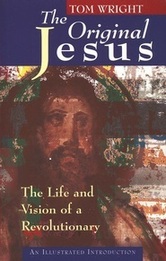 We're going to be spending some time in the good news about Jesus according to Mark again (starting next week). I highly recommend a little book on Jesus and the gospels by Tom Wright that helps to place Jesus accurately in his first century Jewish and Roman context,
The Original Jesus: The Life and Vision of a Revolutionary
. It will help you read the gospels with an eye and ear to their historical context and understand a bit more about how Jesus would have been received and understood by those in his own day.