"Then Jesus came to them and said, 'All authority in heaven and on earth has been given to me. Therefore go and make disciples of all nations, baptizing them in the name of the Father and of the Son and of the Holy Spirit, and teaching them to obey everything I have commanded you. And surely I am with you always, to the very end of the age."
~ Matthew 28.18-20
---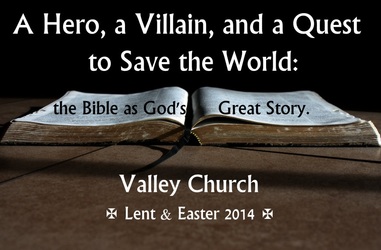 This Sunday, as we continue our journey through God's grand story in the Bible, we come to the fifth chapter. The fifth chapter tells of God's continuing rescue of all creation, and in this chapter God invites his kingdom people (the Church) to be participants and agents of his kingdom, and therefore agents of the great rescue of all creation. As members of God's community, like Israel, we have been blessed to be a blessing to the world. I encourage you to read Matthew 28.16-20 prior to our service of worship.
The picture at the top of the email is a satellite image (courtesy of the folks at Google) of the Chenango area looking south toward Binghamton (Valley's building is the little white bit at the bottom center just below the Chenango Forks school complex). When Jesus says go, it's to here and to the people of this area that we are primarily sent (and to the north, east, and west of here for those of you who live those ways)!
---
Deacon Suggestions:
It's hard to believe it, but we're coming to the time of the year when we need to think about letting some of our elders and deacons take a much-deserved rest from their labors. This year Paul Peterson (elder) and Adam DeVoe (deacon) will be completing their terms of service. Both the elders and the deacons have determined that they can faithfully fulfill their offices with four officers in each group, so we will need to fill only one deacon position. You will receive a suggestion form this Sunday that will also provide the charge and description of that office. I encourage you to reflect on the office of deacon and prayerfully consider who, among your brothers and sisters in Christ at Valley, might be gifted and called to serve as a deacon.
---
Summer Congregational Assembly:
Mark your calendars! The summer congregational assembly has been scheduled for Sunday, June 22. Once again, we will have a potluck following the service, and then we'll hold our assembly; we'll hear the ongoing story of God's work through Valley Church in and to our community, and we'll also get to elect new officebearers for the coming year.
---

Let the Biking Begin:
If you want to drop in and visit me in my office but don't see my car outside, it doesn't necessarily mean that I'm not there. I'm going to try to ride my bike to work when the weather is nice, and on those days there won't be a car to see. Also, just as a reminder, I try to be in the office from around 8:30 until 12:00 from Tuesday to Friday for drop-in visits, but I'm sometimes called out or have to make an appointment, so it's always best to call ahead. I'm often in the office outside of those hours and always welcome a drop-in, and I'm also available to schedule an appointment when it's convenient for you.

---

Sunday Service Times:
Worship Service:
10:30 a.m.
Coffee for Adults and Sunday School for Children and Youth:
---
That we might better pray for one another:
We pray for peace for Joyce Vos' mother, Wilma Van Zee, who is facing her last days in hospice care in Pella, Iowa. We pray for peace and strength for Joyce, too, as she ministers to her mother over the coming days.
We give thanks for good scan reports from Barb Hover's doctors, and now pray for continued healing and strength for her as she continues in her radiation treatments.
We give thanks for a successful surgery for CJ Bufford, and we pray for a speedy and full recovery.
We continue to give thanks for the healing that Jenni DeYoung has experienced, and we ask for continued recovery and strength.
We pray for continued healing for Jim Pitcher.
We ask for God's presence in Ukraine and for the leaders who make decisions on the global stage, that peace might prevail. We also continue to pray for the people of Syria and Haiti, that they might experience God's justice and shalom.
We pray for family and friends: for continued healing for Jim Conrad's mother; for Beth Cunningham's friend Christine Cirucci and Adam DeVoe's Aunt Janet, who are both undergoing treatment to battle breast cancer; for the Bucci family; for the Peterson's nephew; for healing for Jim and Dorris Pitcher's son-in-law Lee Allard who is undergoing cancer treatments.
---
Upcoming Events and Opportunities:
2nd Offering:
This Sunday we will have an opportunity to give a second offering to support Annette Vernon as she prepares to go on a short-term missions trip to Togo, Africa to help her cousins who are medical missionaries with
Hospital of Hope
in Mango, Togo.
---
Sunday Morning Ministries for
April 27, 2014:
Greeter:
Ruth Giese
Ushers:
Jerry Krempel and Cindy Krempel
Intercessory Prayer:
Pastor Kurt
Scripture Reader:
Nursery:
Jim & Sue Comfort
Children's Church: