"For God so loved the world that he gave his one and only Son, that whoever believes in him shall not perish but have eternal life. For God did not send his Son into the world to condemn the world, but to save the world through him.
~ John 3.16-17
---
The heart of the Reformation solas was the rediscovery of the good news that salvation came to the world by God's grace alone, through the gift of faith alone, which itself was made possible by the faithfulness of the triune God in Christ alone. And what a rediscovery that was for the people of the late Middle Ages and for us! But it's important to remember that God's grace wasn't motivated by an abstract theological principle. Rather, God's grace itself flowed out of who God is, and particularly out of the holy covenant love God has for his very good creation. This Sunday we remember that God's love alone stands as the motivating force of his grace, the gift of faith, and the gift of himself to the world in Christ Jesus.
I encourage you to read and reflect on the very familiar words in John 3.16-17 (printed in full above) prior to our time together tomorrow morning.
Reflecting on God's love has caused God's people to sing his praises for millennia (think of the psalms), including the people of the church in the Middle Ages!
Ubi Caritas
, a composition of the ninth century church that became part of the Maundy Thursday liturgy reflects on the saving power of Christ's love to gather us into his body (church alone!), maintain us in unity, and then send us forth in reconciling love for others. I've printed the English translation below, and invite you to listen to the King's College Choir sing Maurice Durufle's setting of the poem
here
.
Ubi Caritas
Where charity and love are, God is there.
Christ's love has gathered us into one.
Let us rejoice and be pleased in Him.
Let us fear, and let us love the living God.
And may we love each other with a sincere heart.
Where charity and love are, God is there.
As we are gathered into one body,
Beware, lest we be divided in mind.
Let evil impulses stop, let controversy cease,
And may Christ our God be in our midst.
Where charity and love are, God is there.
And may we with the saints also,
See Thy face in glory, O Christ our God:
The joy that is immense and good,
Unto the ages through infinite ages. Amen.
---
Upcoming Events and Opportunities: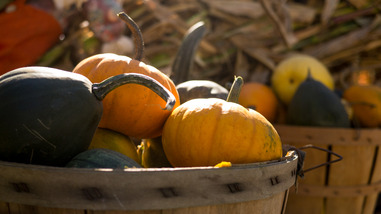 Harvest Dinner:
We will gather for our annual Harvest Dinner following the service tomorrow (November 12). If you have not already signed up and plan to attend, please contact one of the fellowship team members (Herleen DeYoung, Beth Blake, Sue Comfort, Holly Nelson, or Elizabeth Bennett).
Thanksgiving Basket Reverse Offering:
Please bring items for donation to the Thanksgiving basket reverse offering no later than Sunday, November 19th.
Matching Donation Opportunity Through World Renew for Emergency Food for Syria:
World Renew has announced a matching gift opportunity to provide emergency food for victims of the Syrian war with one of World Renew's partner organizations, One Day's Wages. The deadline for the matching opportunity is November 28. Please see
here
for more information.
Praying Together:
You are invited to join together with your brothers and sisters in Christ for prayer prior to the service each week upstairs. Luci Huizinga and Becky Stocum are helping to organize this time of prayer for our congregation, our neighborhood, and our world. You are encouraged to join them near the upstairs kitchen at 9:00 on Sundays.
Faith Formation/Education Opportunity:
We will not have faith formation class tomorrow so that we can all gather for the Harvest Dinner. We will resume "The 'R' in CRC: What Does It Mean to Be Reformed?" on November 19.
---

~ Valley Church ~
Gathered as God's family, we are sent into the world as agents of God's mission of renewal.

---
This Sunday:
Prayer gathering upstairs at 9:00 a.m.
High School gather at 9:15 a.m.
Worship Service
at 10:00 a.m. (preschool - 4th grade dismissed for children's church part way through the service).
Harvest Dinner following the service.
---
That we might better pray for one another and God's world:


We pray for healing and strength for Rod Whitacre as he recovers from quadruple bypass surgery, especially for a good transition as he will hopefully be returning home either today or tomorrow.
We pray for continued healing, recovery, and patience for Marylin Myers following her hip replacement surgery.
We give thanks with David Derzanovich at the news that his dauther-in-law is pregnant and pray for safety for Kate and the baby; we also pray for Kate's family as they mourn the death of her father.
We pray for peace and wisdom for Doug and Pat, Brian and Crystal, and Jim and Barbie Aukema as they prepare for the auction of the dairy cows this coming Thursday, as they say goodbye to dairy farming after decades of farming together as a family, and as they continue to discern and navigate this new season in life.
We pray for healing and a relief from pain for Beth Blake, who is suffering back pain and problems with sciatica.
We pray for continued healing for Peter DeYoung, Claire Krempel, Ron Crawford, and Sue Brown.
We continue to pray for our world: for the family and friends of those killed in the church shooting in Texas; for those who have been impacted by recent disasters, especially the people of Puerto Rico, Houston, Florida, the Caribbean, Mexico City, East Africa, and South Asia.
We pray for ongoing needs: we continue to pray for: Keirsten's friend's mother, Mrs. Gunderson, who is battling pancreatic cancer; for Garry's friend's sister-in-law who was also diagnosed with pancreatic cancer; for the de Jager's friend, Bill, who was diagnosed with kidney cancer; for Lor's neighbor who continues her cancer treatments; for Becky's niece who has fluid on her brain; for Becky's friend Joe who is battling colon cancer; for Adam Derzanovich; for Lynda Huizinga's niece Alexis; for Alistair Krempel; for Mike Corgan's nephew who is battling heroin addiction.

---
Sunday Morning Ministries for
November 12, 2017
Greeter: Judy Zwierzynski


Ushers: Doug Aukema and Herleen DeYoung
Intercessory Prayer: Florence Doller
Scripture Reader (John 3.16-17): Natalie Doller
Nursery: Jim & Sue Comfort