"But these assets I have come to regard as liabilities because of Christ. More than that, I now regard all things as liabilities compared to the far greater value of knowing Christ Jesus my Lord, for whom I suffered the loss of all things - indeed, I regard them as dung! - that I may gain Christ, and be found in him, not because I have my own righteousness derived from the law, but because I have the righteousness that comes by way of Christ's faithfulness - a righteousness from God that is in fact based on Christ's faithfulness."
~ Philippians 3.7-9 (New English Translation)
---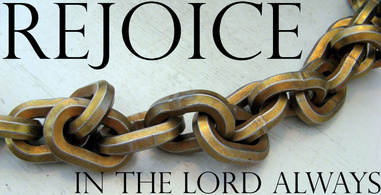 This Sunday we turn our attention to Paul's letter to the Philippians again. In this passage Paul, the pastor, herald of Jesus' kingship, tent maker, and letter writer, tries his hand at a new vocation: accounting. This passage is all about assets and liabilities. Only his accounting practices seem to turn those categories on their heads, and he invites us to get out our own ledger books and make sure that we're recording our own assets and liabilities in the correct columns. I invite you to read and meditate on
Philippians 3.1-11
prior to our time together this Sunday.
---
An Update on Edward Okiror's work in Uganda with World Renew:
The most recent issue of National Geographic contained an article on food insecurity in the United States titled "The New Face of Hunger." It is the beginning of an eight month series on the global issue of food in the magazine. The statistics cited in the article for hunger and food insecurity in America are both surprising and staggering (though the continuing and growing demand on CHOW should alert us to the presence of this problem even in our own neighborhood). As bad as the problem is in America, I think we can imagine the even greater levels of instability and insecurity surrounding agriculture and food in a place like Uganda, Africa.
Recently, our deacons led the Valley congregation to forge a relationship with Edward Okiror (who works with World Renew) to support his multi-faceted ministry to the people of Uganda. Edward is directly involved in helping Ugandans creatively combat food insecurity by learning new agricultural and business practices. A newsletter from Edward outlining some of the amazing details of the transformative work that God is doing through Edward and the people of Uganda is available here: Food Security Transforms Communities.
I encourage you to read the article, not only with gratitude for the way God is working in Uganda, but with an attentiveness to the guidance of the Spirit as we imagine ways God might be asking us to creatively address the problem of food insecurity in our neighborhood in similarly transformative ways.
---

Sunday Service Time:
Worship Service:
10:00 a.m.
No Sunday School for the Summer.
---
That we might better pray for one another:
We give great thanks for the healing that Barb Hover has experienced over the past months and for continued health for her.
We pray for Becky Stocum's mother, who is experiencing health issues, and for Becky and her siblings as they care for their mother.
We pray for healing for Ann DeJager's sister, who was recently diagnosed with breast cancer for the third time.
We pray for healing for Adam DeVoe's aunt Janet, who is experiencing complications following her reconstructive surgery.
We pray for Terry Woodnorth as he begins training that will enable him to equip others to think about their finances through the lens of their faith in Jesus.
We continue to pray that God's shalom would break forth in our neighborhoods and around the globe: for the unemployed, underemployed, impoverished, and hungry here in the Southern Tier; for the people of Gaza and Israel, Iraq, and Syria, and for those working for peace in those places; for peace in Ukraine and Russia, Nigeria, and the countries of west Africa as they battle Ebola.
---
Upcoming Events and Opportunities:
Sign-Ups for Summer Coffee Hour:
The sign-up for the summer coffee hours (you'll want to find someone to partner with for this) is on the back of the front door.
50th Anniversary:
Don't forget to mark your calendars for Valley's 50th anniversary celebrations on September 26-28. Also, please remember to let us know of addresses and phone numbers you might know of previous members who have moved away in the contact book in the foyer.
---
Sunday Morning Ministries for
August 3, 2014:
Greeter:
Ushers:
David Derzanovich and Jerry Kremple
Intercessory Prayer:
Kurt Monroe
Scripture Reader:
Natalie Doller
Nursery:
Holly Nelson
Children's Church:
No children's church