"Cursed is the ground because of you; through painful toil you will eat of it all the days of your life. It will produce thorns and thistles for you, and you will eat the plants of the field. By the sweat of your brow you will eat your food until you return to the ground, since from it you were taken; for dust you are and to dust you will return."
~ Genesis 3.17b-19
---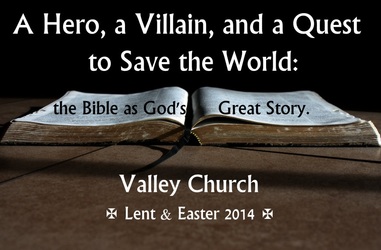 This Sunday we continue our journey through the story of scripture, and we come to the second "chapter." The second chapter tells the story of humanity's rebellion and fall into sin, the story in which humanity dirties its hands and we find ourselves forced to live, work, and die within the cosmic consequences of our rebellion. If we think in terms of the five-act plays of the ancient world, in this act (or chapter) conflict is introduced, and the initial setting that was stable and whole is disrupted; relationships that were healthy, peaceful, and thriving are shattered. But even in the midst of this chapter, we encounter a God of patience and grace, and we hear words that promise the great rescue to come. I encourage you to read
Genesis 3
prior to our time of worship together.
---

This Saturday is Parents' Night Out! Remember to invite neighbors and friends and co-workers to take advantage of an opportunity to get out for an evening while the PNO volunteers care for their children. Please encourage folks to register by emailing valleychurchny@gmail.com or by calling the office at 648-8224.
---
The Sacred 4th Dimension:
This past Sunday I shared a quote from the poet, novelist, essayist, and farmer Wendell Berry. Berry has said, "There are no unsacred [or secular] places; there are only sacred places and desecrated places." Physicists often speak of the space-time continuum, and they refer to time as the fourth dimension. Time is part of the created reality in which we live. And in that sense, we could easily paraphrase Mr. Berry: "There are no unsacred or secular times; there are only sacred times and desecrated times." Just as every square inch and subatomic particle of the universe is intended to be the stuff of God's temple palace, so every second and nano-second and every one of our actions is designed to be a part of its sacred liturgy, and we are the royal priests who lead the daily services in God's temple palace.
Christian monks have known this for centuries. They punctuate their days with scheduled times of prayer not so that they will have isolated sacred moments in the midst of otherwise secular time and secular work, but rather so that the whole of their lives, every second of every day, would be sacred. Those scheduled times of prayer are designed to make the rest of their days and all of their actions prayerful - in other words, sacred. Those prayers are designed to remind them that all time is God's sacred time. When you live like this, every act, from singing in choir to cutting grass or washing dishes or milking cows, is a sacred act of worship done in God's temple.
While none of us are monks or nuns, we live and move and have our being in creation, God's sacred temple palace and God's sacred time. Like monks and nuns, we can pause throughout our days for brief moments of prayer to reorient ourselves to the sacred reality of every place, every moment of the day, and every last one of our actions and relationships. Our priestly role in God's sacred time, just like the monks, encompasses everything from doing laundry, changing diapers, talking over a cup of coffee with a co-worker, and the morning commute to Sunday morning worship. There is no secular time, and there are no secular acts. We either treat our time and actions as sacred or we desecrate time with desecrating actions; there is no other option.
It is my prayer that we, as a congregation, might experience God's redemption in space and time. I pray that we would be God's royal priests, constantly declaring to a watching world (that all too often desecrates the time that is entrusted to it), in actions and in words, the true sacred nature of the world in which we live, and the true nature of our loving Creator.
---

Sunday Service Times:
Children's Sunday School:
9:30 a.m.
Coffee available for adults:
9:30 - 10:30 a.m.
Worship Service:
10:30 a.m.
---
That we might better pray for one another:
We give thanks for God's care for Jenni DeYoung and we pray for ongoing healing and strength for her as she prepares for radiation treatments.
We pray for continued healing and strength for Barb Hover.
We pray for Becky Stocum following surgery on her ear this morning. We pray for and for a speedy recovery and a full restoration of hearing.
We pray for a return to health for Paul Peterson.
We give thanks for the new faith of Etienne's online friend Eduardo.
We ask for God's presence in Ukraine, that non-violent international policy would prevail in the situation and that peace would reign in that region; we continue to pray for God to perform mighty deeds in Haiti; and we pray for peace in Syria.
We pray for family and friends: we pray for the Bucci family as Mr. Bucci has been diagnosed with Parkinsons and their five-year-old daughter is battling an ocular tumor; we pray for healing for Jim and Dorris Pitcher's son David following a recent surgery, and for their son-in-law Lee Allard who is undergoing chemotherapy and radiation treatments.
---
Upcoming Events and Opportunities:
Men's Lunch at Apple Hills:
Today, Thursday, March 27, we will hold a men's lunch at the Apple Dumpling Cafe at Apple Hills at noon. All men are welcome. (Apple Hills is at 131 Brooks Road, Binghamton, NY 13905) .
New Directories:
The 2014 directories are available! If you did not pick one up from the Krempels this past Sunday, please look for it in your mail folder this Sunday. Many thanks to the Krempels for all their work on the directories!
---
Sunday Morning Ministries for
March 30, 2014:
Greeter:
Claire Krempel
Ushers:
Cindy Krempel and David Derzanovich
Intercessory Prayer:
Scripture Reader:
Nursery:
Luci Huizinga
Children's Church:
Trent and Melanie Nelson