"In the beginning God created the heavens and the earth."
~ Genesis 1.1
---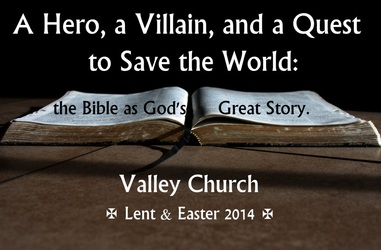 Because of my absence this past Sunday, we put the new sermon series on hold. We will resume exploring the story of God's great rescue of all creation this Sunday. Specifically, we will look at the beginning of the story - the creation of all things by God. I encourage you to read
Genesis 1 and 2
prior to our time together. As you read, I encourage you to try to imagine the kinds of questions the ancient Israelites might have had about creation following their 400 year captivity in Egypt.
Because of my absence and how the sermon series now fits within Lent and Easter, I have made a few changes to the series, adding a Sunday on Jesus so that we can celebrate and focus on his death and resurrection on Easter Sunday. This is the new schedule:
March 23: Chapter One - Creation: Genesis 1 & 2.
March 30: Chapter Two - the Fall: Genesis 3.
April 6: Chapter Three - the Rescue - Israel: Isaiah 42.5-7.
April 13: Chapter Four, Part 1 - the Rescue - Jesus: Luke 4.14-21.
April 20: Chapter Four, Part 2 - the Rescue - Jesus: Luke 23.44 -24.12.
April 27: Chapter Five - the Rescue - the Church: Matthew 28.16-20.
May 4: Chapter Six - New Creation: Colossians 1.15-20.
---

Our next Parents' Night Out is scheduled for Saturday, March 29 from 5:30 to 8:30 p.m.! I encourage you to invite neighbors, friends, co-workers, and anyone else you can think of to take advantage of this great opportunity for parents to get out for the evening and for kids to have a great time playing games, doing crafts, and learning cool stuff. To register kids, call the office at 648-8224 or email valleychurchny@gmail.com.
---
More Resources for Understanding the Bible's Authority and Reading the Bible as Story:
Following the first sermon in this series (which was about our approach to the Bible and the importance of reading the Bible as story), I want to provide you with more resources and recommendations for reading if you're interested in thinking more about this.
First, there are two articles on reading the Bible as story that have been made available by Mike Goheen free of charge. The first is an article by Eugene Peterson entitled "Living Into God's Story," which is non-technical, accessible, and short (just over two pages). It is available
here
. The second is a longer article by Mike Goheen himself entitled "Reading the Bible as One Story," available
here
.
Secondly, if you are interested in how we approach the Bible more generally, and in what way it is authoritative, I highly recommend the book
The Last Word: Scripture and the Authority of God
by N.T. Wright. J.I. Packer describes the book as "masterly throughout," and I couldn't agree more.
---
Council and Classis News:
This past Tuesday Valley's council met for our monthly meeting. We heard exciting news from the still-new finance team that progress was being made toward establishing healthy systems, practices, and ways of communicating the financial realities to the congregation in meaningful and helpful ways. Look forward to more from the finance team. Many thanks are due to Ron, David, Jeff, Terry, Pat, George, and Greg for all their hard work. Special thanks are due to Ron, who has spent hours and hours pouring over financial documents and trying to figure out new computer programs.
We also discussed a transition of the custodial responsibilities. Long-time custodian Mike Komaromi has had to step down because of other responsibilities in his life. Our own Paul Peterson has stepped up to take on the cleaning duties on a volunteer basis! He says he was motivated by his love to clean (I'm not making this up), but we all need to help Paul by cleaning up after ourselves and others as much as we can. Try to remember to pick up your coffee cups and your bulletins, wipe your feet upon entering, and whenever you see something you can pick up or clean up, please help him out! Thanks to Jim and Marsha Conrad for working on the transition, and many thanks to Paul for stepping up and volunteering his time and energy in this way!
The council is also spending significant time right now thinking about the nature of the (universal) Church as a sent Church - a Church on God's mission in the world. We're wrestling with what that might mean for how a church should be structured, and what its values and goals should be. I encourage you to pray for us as we wrestle through some paradigm shifts and enter into new territory. Look forward to hearing more about missional church thinking soon!
Yesterday I was able to go to our re-scheduled classis meeting. The two main items on the shortened agenda were the approval of an overture to Synod 2014 requesting the board of trustees of the denomination to create an editorial policy for
The Banner
. You can read the overture
here
. The other item was the examination of Jonathan Fischer, who has been called by New Hope Church in Bangor, Maine. Jonathan did a great job, and we were pleased to approve him for ordination.
---

Sunday Service Times:
Children's Sunday School:
9:30 a.m.
Coffee available for adults:
9:30 - 10:30 a.m.
Worship Service:
10:30 a.m.
---
That we might better pray for one another:
We continue to give thanks for Jenni DeYoung's recovery from surgery and ask for continued healing as she will begin radiation treatments soon.
We pray for continued healing and strength for Barb Hover.
We ask for the empowerment of God's Holy Spirit as we seek to love our families, friends, neighbors, and even enemies with the self-giving love of Jesus Christ.
We continue to ask God to perform mighty deeds for and through: the people of Ukraine; the people of Haiti; our brothers and sisters in Christ in Syria and all Syrians.
We pray for family and friends: for Jim Conrad's mother, Ruth, during her chemotherapy treatments; for Jim and Dorris Pitcher's son David following a surgery to address blood clots, and their son-in-law, Lee Allard, who has cancer.
---
Upcoming Events and Opportunities:
Elder Meeting:
Elders will meet at 7:00 p.m. on Tuesday, March 25.
Parents' Night Out:
Saturday, March 29. See the left column for more information.
---
Sunday Morning Ministries for
March 9, 2014:
Greeter:
Ushers:
Cindy Krempel and Jerry Krempel
Intercessory Prayer:
Scripture Reader:
Nursery:
Children's Church: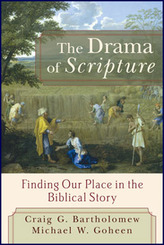 The Drama of Scripture: Finding Our Place in the Biblical Story
, by Craig Bartholomew and Mike Goheen (available in print and for kindle). This book is an excellent introduction to reading the Bible well, and how we can participate in the ongoing story of God's rescue of his creation. It provides the central framework for the current sermon series and will work as a perfect accompaniment to it.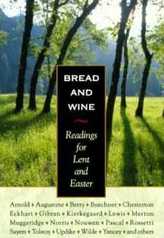 Bread and Wine: Readings for Lent and Easter
.
Bread and Wine
is an enriching devotional for the season of Lent that will help you walk the road with Jesus toward the cross and resurrection. Contributing authors are as varied as Saint Augustine, C.S. Lewis, Leo Tolstoy, Mother Theresa, and Wendell Berry.