"
Therefore welcome one another as Christ has welcomed you,
for the glory of God."
~ Romans 15:7
(English Standard Version)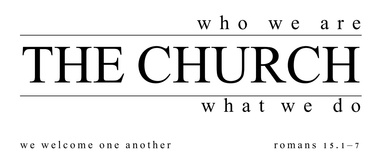 The Church: What We Do

"Welcome!" I say it at the beginning of every service on Sunday morning. At the very least, it is my hope that everyone who walks through the doors of the building feels a warm, hospitable welcome (or a cool welcome on these hot and humid days). But the question is, is that all there is to the Christian practice of welcoming one another?
This Sunday we will continue our exploration of the actions of the church which arise out of our love for one another, and out of Christ's love for us. Specifically, we will examine Paul's command for Jesus' followers to welcome, or accept, one another.
I invite you to read Romans 15:1-7 in preparation for our time together on Sunday morning.
The painting above is by the Italian painter Caravaggio in the late 16th century. The scene portrays the supper that two disciples shared with the resurrected Jesus after they met him on the road to Emmaus (as recorded in Luke 24:13-35). If you read the passage in Luke, you might find it difficult to determine who is welcoming whom. The disciples invite Jesus to stay with them, but it is Jesus who offers the bread of the meal to the disciples. This passage, and this painting, underscore the way our ability love and to welcome one another is only possible because Jesus has already loved and welcomed us.
---
Dogs Are On (again)!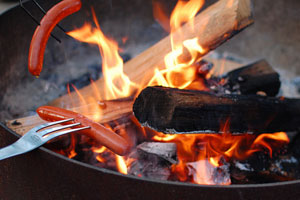 The forecast is looking good; the temperatures are supposed to drop. So, this Sunday (July 21) the Monroes will be lighting a fire in the fire ring behind the church so that we can have our second "dogs are on" get together. Once again, this will be an informal, bring-your-own-food, bring-your-own-plates, bring your own frisbees, volleyballs, and bocce balls type of gathering. We will arrive at 4:30 to get the fire going. We would love for you to join us whenever!

Sunday Service Time:
Worship: 10:00 a.m.
---
In the Life of Valley Church:
We pray for healing for Edele Thompson as she undergoes chemotherapy to treat cancer. She is staying with her daughter in Rochester while she is treated. (Her address there is 2 Amsterdam Drive, Fairport, NY 14450.)
We pray for Wilner and Marila Nicolas as they have encountered some setbacks in their immigration process. We pray that they would find the sponsors they need and that the interview (now scheduled for September) would go smoothly. Their daughter Whitney stayed in the United States with Widline and Christaline, so we pray for the family as they are separated once again.
We give thanks for healing for Esther Hamlin following her surgery, and pray for continued health and recovery.
We give thanks for the work of all those involved in the Sea-to-Sea bike ride to help alleviate poverty. We pray for the safety of the both the riders and drivers of support vehicles as they continue their trek across the United States.
We also pray for those within our congregation who are traveling for vacations this summer. We pray not only for their safety on the road and in the air, but that they would be refreshed, renewed, and energized for their return to their work.


---
Recommended Reading: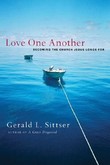 The format of the second half of this sermon series was inspired by Gerald Sittser's book
Love One Another: Becoming the Church Jesus Longs For
. This is a book that is easy to read but is also full of sound, substantive, and challenging thoughts about what we, as the church, are called and empowered to do.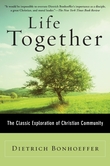 One of the classics on the life and actions of the church is Dietrich Bonhoeffer's Life Together. While it might be a bit more difficult to read than Sittser's book, any effort put into reading it is amply rewarded. I have heard some say that, after the Bible, Life Together should be on the top of the required reading list of any Christian. I wouldn't argue with that!