"Set your minds on things above, not on earthly things. For you died, and your life is now hidden with Christ in God. When Christ, who is your life, appears, then you also will appear with him in glory. Put to death, therefore, whatever belongs to your earthly nature: sexual immorality, impurity, lust, evil desires and greed, which is idolatry. . . But now you must also rid yourselves of all such things as these: anger, rage, malice slander, and filthy language from your lips."
---
When I made the sermon series schedule for the season of Epiphany, I did not intentionally plan a return to Paul's letter to the Colossians on the week of the presidential inauguration. Nevertheless, it is appropriate that upon the event of the presidential inauguration we return to the book of Colossians, Paul's letter that speaks again and again of the sovereignty of King Jesus over
all
things. Indeed, the passage we will hear tomorrow reminds us that the only inauguration that counts in the ultimate and eternal sense had already taken place long before any United States president took the oath of office: the inauguration of the kingship of Jesus over all things.
In the passage we will hear tomorrow, Paul reminds us that the reign of Jesus has been inaugurated in the lives of Christians. We have died with Christ and have been raised in Christ. King Jesus' rule, his very life, has begun in us. That means that our lives, from the inside out, have been transformed and are being daily renewed. And that means that we will look different, both from what we once were and from the surrounding culture that has not yet given heed to the inauguration of the reign of Jesus over all things. To put Paul's equation simply: God has truly changed us. Therefore, we must act like God has changed us.
I encourage you to read and reflect on
Colossians 3.1-11
prior to our time together tomorrow morning.
---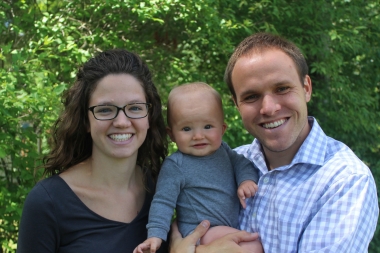 The Zuiderveens:
It was a blessing to hear the word of God proclaimed to us by Cody Zuiderveen this past Sunday, and to hear a bit of his family's story as they respond to God's call to them to serve the people of Haiti. I hope that many of you had an opportunity to talk to Cody after the service as well.
I also encourage you to pray for the Zuiderveens as they will be moving to Haiti on January 24.
---
Announcements, Events, and Opportunities:
Children's Church Changes:
As we go forward in this children's church season, we will be providing children's church for kids ages 4 through 8. Nursery is available for children ages 0 through 3.
Change for Life - Life Choices Center:
Starting tomorrow, January 22, Valley Church will once again participate in the "Change for Life" campaign and fill baby bottles with pocket change (or bills or checks!) to support the work of Life Choices Center as they help couples and single mothers in the Binghamton area who are facing unplanned pregnancies. Pick up your bottle tomorrow!
Winter Congregational Meeting:
We will gather after the service on February 5 for a potluck lunch and our winter congregational meeting. Please mark your calendars now!
Small Kitchen Table and Chairs Needed:
A relative of a member of Valley needs a small kitchen table and chairs. If you have something that might work and are willing to donate it, or if you would like more information about this need, please talk to a deacon or to Pastor Kurt.
Can Collection for Boy Scout Troop 152:
A group of Boy Scouts from Troop 152 (Valley Church is the troop's charter organization) who are going to the National Jamboree in West Virginia in 2017 are collecting cans in a box at the east end of Valley's parking lot to raise funds for the trip.
---

~ Valley Church ~
Gathered as God's family, we are sent into the world as agents of God's mission of renewal.

---
This Sunday:
Worship Service
at 10:00 a.m.
---
That we might better pray for one another and God's world:


We give thanks for Ann de Jager's successful surgery and pray for continued healing and recovery for her.
We pray for healing and strength for: Jan Vermaat, Judy Zwierzinski, and Elizabeth Bennett.
We continue to pray for safety, strength, wisdom, and courage for Etienne Germain as he helps family and friends in Haiti following hurricane Matthew.
We pray for God's blessing on those who are returning to college following Christmas break.
We pray for God's world: for the people of Syria and especially for those of Aleppo; for ongoing restoration, renewal, and justice for the people of Haiti, especially following hurricane Matthew; for refugees fleeing violence around the world; for those who are persecuted for their faith around the world; for God's miraculous intervention in the Middle East; for organizations fighting to protect religious liberty in our changing world.
We pray for friends and family: we pray for healing for friends and family who are sick: for Adam Derzanovich; for David Derzanovich's broters-in-law Tim and Bill; for Beth Cunningham's cousin Karen; for Judy Zwierzinski's friend Mike who has been diagnosed with Legionnaires disease; for Garry Wickham's father; for Lynda Huizinga's niece Alexis; for Alistair Krempel; for Mike Corgan's nephew who is battling heroin addiction; we pray for those battling cancer: for Jim and Marsha Conrad's friend Judy, for Marcus Doller's friend Scott, for the DeYoungs' niece/cousin Terri; for the Petersons' friends Pat and Amy.

---
Sunday Morning Ministries for
January 22, 2017
Greeter: Ruth Giese


Ushers: Joe Patak and George de Jager
Intercessory Prayer: Kurt Monroe

Scripture Reader: Luci Huizinga

Nursery: Melanie Nelson