"In those days Caesar Augustus issued a decree that a census should be taken of the entire Roman world. (This was the first census that took place while Quirinius was governor of Syria.) And everyone went to their own town to register.
So Joseph also went up from the town of Nazareth in Galilee to Judea, to Bethlehem the town of David, because he belonged to the house and line of David. He went there to register with Mary, who was pledged to be married to him and was expecting a child. While they were there, the time came for the baby to be born, and she gave birth to her firstborn, a son. She wrapped him in cloths and placed him in a manger, because there was no guest room available for them."

Luke 2 . 1 - 7

---
Upcoming Events: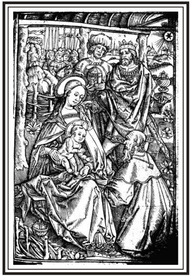 Christmas Eve Candlelight Service -
A Festival
of Lessons and Carols
:
This evening we will gather at 7:30 p.m. to once again encounter "the loving purposes of God seen through the windows and the words of the Bible" that culminates in the coming of God into our world in the birth of Jesus Christ. As we hear of God's work in our world, we will respond in jubilant song and carols. In addition, we will hear special musical offerings from our soloists, children, youth, and a brass quintet.

Pastor Kurt on Vacation
:
Pastor Kurt will be on vacation from December 25 until January 1. If you need pastoral care during this time, please contact an elder or deacon. Sherm McElwain will be preaching on December 27.
No Sunday School
:
There will be no Sunday School on December 27.

Winter Congregational Meeting
:
Mark your calendars. The winter congregational meeting will be on Sunday, January 10 directly after the service. We will gather upstairs for a potluck lunch, to celebrate the feast of the Lord's Supper, and to hear some of the stories of God's work in and through Valley Church at the congregational meeting.

---
---

~ Valley Church ~
Gathered as God's family, we are sent into the world as agents of God's mission of renewal.

---
Sunday Mornings:
Coffee: 9:15 a.m.
Worship Service:
10:00 a.m.
---
That we might better pray for one another:

We continue to pray for healing and strength for Ann de Jager.

We pray for healing, peace, perseverance, and patience for Holly Nelson, and energy and strength for the whole Nelson family.
We pray for those sick with the cold and flu and other seasonal illnesses.
We pray for the shalom of the greater Binghamton area, and for guidance as to specific ways we as individuals and as a church might partner with God as stewards of his reign to cultivate that shalom in the city of our exile.

We pray for God's world: for the refugees fleeing violence around the globe and for governments as they respond to the crises - that they might be guided by compassion along with discernment; for those who are persecuted for their faith around the world, and for those who are being called to witness to Jesus Christ with their blood; for ongoing restoration, renewal, and justice for the people of Haiti; for God's miraculous intervention in the Middle East, that the hearts and minds of the people living there, and that whole cultures, would begin to bend toward peace, and that God's church would continue to proclaim and embody the good news of God's reign boldly there.
---
Sunday Morning Ministries for
December 27, 2015:
Greeter: Dot Simonds


Ushers: David Derzanovich and Jim Conrad

Intercessory Prayer: George de Jager

Scripture Reader: Terry Woodnorth

Nursery: Jim & Sue Comfort

---