Then he who sat on the throne said,
"Behold! I make all things new!"
~ Revelation 21:5a

This Sunday is the first Sunday of Lent. We will depart from Mark's gospel in order to begin
our
Surprised by Hope
series (Tom Wright still gets credit for the title and theme). On Sunday, I will give an introduction to the series, laying the foundation that will enable us to understand the questions and issues that will arise over the following six Sundays. Our scripture for this Sunday will be Revelation 21:1-5a.
This week also marks the beginning of the study that will take place during the education hour starting at 9:15. I hope to see you then!
---
Thank You from the Monroes!
As you might guess, we wouldn't have chosen to begin our lives with you, our brothers and sisters in Christ at Valley Church, the way we did. We came to you distracted, with half our heads and hearts still in New Mexico, still with Jennifer's parents. We wanted to jump in here. We wanted to jump in with the enthusiasm of a kid doing a big cannonball into the pool in the middle of summer vacation. As it worked out, we were more like the skinny tentative kid peering over the edge of the high dive, knees knocking, and teeth chattering. As one of my favorite bands says, "One foot in and one foot back, it don't pay to live like that." It really doesn't, but it seems that sometimes it's the only way to live and be faithful to the people you already love and the people you might not know yet, but that you've been called to love.
And the beauty of it was this: you wanted us to jump in like the kid doing the cannonball, but you treated us with the compassion of a parent watching (and praying for) that terrified kid peering over the edge of the high dive. You loved us in tangible, visible, taste-able ways. For all of the hugs, shared tears, dinners, cards, sympathetic words, and prayers we are ever so grateful. Thank you.
And now we have received the gift from the collection that you took up while we were in New Mexico. We are simply blown away by your love and support. Thank you so very, very much.
---
Something to think about . . .
I know it's a bit late to get this in order for this year, but there's always next year! If you think that maybe, just maybe, there should be more to Valentine's Day than the way it usually gets celebrated, take a look at the following link and think about making next February 14 "Generosity Day." Or make up your own celebratory day for Feb. 14.
Sunday Service Times:
Sunday School: 9:15 a.m.
---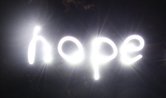 In the Life of Valley Church:
We give thanks for the good news that Holly Nelson's Dad's biopsy went well, and that he is home from the hospital. The family awaits the official diagnosis, treatment plan, and prognosis. We can also give thanks for the time Holly was able to spend with her father, and for her safe return from California. Let's join the Nelsons as they continue to pray for her father and the doctors.
We are also thankful for news from Vivian Keller that her doctors see no need to do anything at present and are rather waiting until the next scheduled CT scan in April. We pray that this scan will show healthy and clean lungs!
---
Upcoming events and opportunities:
Adult education will begin its DVD study based on N.T. (Tom) Wright's book called Surprised by Hope: Rethinking Heaven, the Resurrection, and the Mission of the Church at 9:15 on Sunday morning. We would love to see you there! (For more information on the book, see below).
Remember to fill up those baby bottles with coins, bills, and/or checks for Life Choices Center. If you didn't pick up a bottle, there are still some available by the coffee pot. You can learn more about Life Choices Center
here
.
If you are interesting in the Disability Advocate Volunteer Position advertised here last week, please get in touch with me! If you missed it but are intrigued, please contact me.
---
Recommended Reading:
N.T. (Tom) Wright's Surprised by Hope: Rethinking Heaven, the Resurrection, and the Mission of the Church does just that; it looks at what our Christian hope is, what it is based on, and what it means for the life of the Church and for individual Christians. Wright helps us think clearly about what the Bible really says about heaven and earth, Jesus' resurrection, our resurrections, and how carefully listening to biblical teachings on these issues will impact the way we live for Christ and his kingdom here and now.