"In the fifteenth year of the reign of Tiberius Caesar - when Pontius Pilate was governor of Judea, Herod tetrarch of Galilee, his brother Philip tetrarch of Iturea and Traconitis, and Lysanias tetrarch of Abilene - during the high-priesthood of Annas and Caiaphas, the word of God came to John son of Zechariah in the wilderness. He went into all the country around the Jordan, preaching a baptism of repentance for the forgiveness of sins. As it is written in the book of the words of Isaiah the prophet:
"A voice of one calling in the wilderness,
'Prepare the way for the Lord,
make straight paths for him. . ."

Luke 3 . 1 - 4

---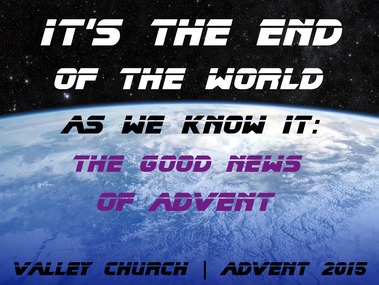 The rough looking guy at the top of the email is John, the son of Zechariah, the one usually known as John the Baptist. He might not be the first guy we're tempted to think of when we think of Christmas, but his story is thoroughly intertwined with Jesus' story, including Jesus' birth. In a sense, we can't get to Jesus' without John pointing and preparing the way. This Sunday, we will journey to the wilderness to stand face-to-face with this prophet and hear him cry out to us: the King is coming - turn your hearts to meet him. For the next two weeks John will be our Advent guide, preparing the way for the coming King, and helping to prepare our hearts and minds for his coming. I encourage you to read and reflect on
Luke 3.1-6
prior to our time together tomorrow morning.
The painting at the top of the page is a detail from Mathias Grunewald's
Isenheim Altarpiece
, c. 1516.
---
Suggestions for Celebrating
a Meaningful Advent Season:
"Be always on the watch . . ."
Jennifer and I have collected some ideas for celebrating Advent in meaningful and joyful ways (as opposed to simply celebrating "the Christmas season") into a sort of Advent guide book that we handed out last Sunday. If you weren't here or didn't have a chance to pick one up, you can download a digital copy
here
. Also, as promised, we have compiled a Advent Spotify playlist of songs that express longing and anticipation (from such varied artists as U2, Johnny Cash, and Wynton Marsalis), which you can listen to
here
.
---
Upcoming Events and Opportunities
:
Elder's Meeting
:
Elders will meet at 7:00 p.m. on Wednesday, December 9.


On Saturday, December 12 from 5:00 to 8:00 p.m. we have another opportunity to extend God's renewing and refreshing love and grace to families in our neighborhood with another Kids' Night Out evening. Remember to invite neighbors and friends (link to KNO webpage and online registration is
here
), and if you are willing to assist with crafts or games or anything else, please talk to Janet Crawford.
Live Nativity:
"Let us now go even unto Bethlehem, and see this thing that is come to pass . . ."

We will hold our 14th annual Live Nativity on Saturday, December 19, inviting our neighbors, friends, co-workers, and extended family to journey to Bethlehem to see the coming of the world's King as the youth of Valley Church act out Christ's birth. We'll be pulling out all the usual stops this year: costumes, music, lights, cookies and hot drinks after the shows. Performances will be at 5:45 and 7:00.
---

~ Valley Church ~
Gathered as God's family,
we are sent into the world
as agents of God's mission
of renewal.

Sunday Mornings:
Coffee: 9:15 a.m.
Worship Service:
10:00 a.m.
---
That we might better pray for one another:

We pray for Ann De Jager, who received results of a biopsy this week that indicated the presence of a malignant tumor again. We pray for healing, peace, and assurance for Ann; we pray for wisdom for Ann's doctors as they discern a course of treatment; we pray for peace and strength for George as well.

We pray for healing, patience, and peace for Holly Nelson, and energy and strength for the Nelson family.
We give thanks for Frank & Barb Lockwood's 62 years of marriage.

We pray that the graduates of Faith & Finances (see
here
for a photo) would experience the life-giving reign of Jesus in their finances in the weeks, months, and years to come.
We pray for the shalom of the greater Binghamton area, and for guidance as to specific ways we as individuals and as a church might partner with God as stewards of his reign to cultivate that shalom in the city of our exile.
We pray for God's world: for the people of San Bernardino and the people of Paris and the whole of France; for the refugees fleeing violence around the globe and for governments as they respond to the crises - that they might be guided by compassion along with discernment; for those who are persecuted for their faith around the world, and for those who are being called to witness to Jesus Christ with their blood; for ongoing restoration, renewal, and justice for the people of Haiti; for God's miraculous intervention in the Middle East, that the hearts and minds of the people living there, and that whole cultures, would begin to bend toward peace, and that God's church would continue to proclaim and embody the good news of God's reign boldly there.
We pray for friends and family: we pray for the Conrad family following the passing of Jim's uncle; we pray for healing for Adam Derzanovich; we pray for healing for Janet Crawford's uncle who is struggling with an anuerysm; we pray for healing for Gary's father following his surgery; we pray for those battling cancer: for Jim and Marsha Conrad's friend Judy, for Marcus Doller's friend Scott, for Doug and Pat Aukema's nephew Charlie, for Jim Stocum's friend Pam, for Tilly Huizinga's client at Catholic Charities, for the DeYoungs' niece/cousin Terri.
---
Sunday Morning Ministries for
December 6, 2015:
Greeter: Frank & Barb Lockwood


Ushers: Doug Aukema and George De Jager

Intercessory Prayer: Kurt Monroe

Scripture Reader: Paul Peterson

Nursery: Jim & Marsha Conrad

---