"This is what God the LORD says - he who created the heavens and stretched them out, who spread out the earth with all that springs from it, who gives breath to its people, and life to those who walk on it: 'I, the LORD, have called you in righteousness; I will take hold of your hand. I will keep you and will make you to be a covenant for the people and a light for the Gentiles, to open eyes that are blind, to free captives from prison and to release from the dungeon those who sit in darkness.'"
~ Isaiah 42.5-7
---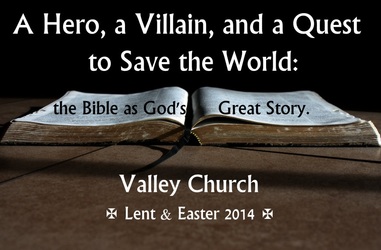 This Sunday we continue our journey through the story of the Bible, and we arrive at the third "chapter" in the biblical story. This chapter tells us of the beginning of God's rescue of creation and humanity through Israel, of God's covenant love for the descendants of Abraham, and of both Israel's faithfulness and infidelity to their covenant God.
Our scripture reading for this Sunday encompasses themes of creation, covenant, and God's desire to bless all peoples. The reading's emphasis on the blessing of Gentiles echoes the very first promises of God to Abraham in Genesis 12.1-3. I encourage you to read and reflect on
Isaiah 42.5-7
(also above) and
Genesis 12.1-3
prior to our time together on Sunday.
Because the Israelites viewed the Exodus as their most formative story, we will be singing African-American spirituals this Sunday, songs that drew heavily from the story of the Exodus and were written by a people who cried out to God for deliverance from the plantation-owner pharaohs who ruled over them. Most of the songs we will sing this Sunday are familiar to many Americans, but one of the less familiar songs is "Mary Don't You Weep," which you can hear
here
.
The artwork at the top of the email is a detail from a 1960 woodcut by the Jewish artist Peter Lipman-Wulf entitled "Exodus #11, The Lord Overthrew the Egyptians in the Midst of the Sea." Part of a chariot wheel is visible in this detail. You can see the whole work and read more about it
here
.
---
Potluck Lunch:
On Sunday, April 13 (a week from this Sunday), we will hold a potluck following the service. Please mark your calendars and begin thinking about what delicious dish you would like to share with your Valley Church family.
---
Holy Week Services:
Holy Week is quickly approaching, and we have a few special services that you can mark on your calendars. We will gather for worship on Maundy Thursday to remember and meditate on the sacrifice of the Triune God on behalf of humanity and his creation, and to celebrate Lord's Supper together, just as Jesus shared a supper with his disciples on that day. The Maundy Thursday service will be at 7:00p.m. on Thursday, April 17.
On Easter Sunday (April 20), we will gather with our brothers and sisters from the First Church of Christ (the congregation on the corner of River Road and 12) at 7:30a.m. for a joint
Easter sunrise service
. We will meet here on the Valley Church lawn for a short service to celebrate the resurrection of our Lord. Following the service we will share a
breakfast
with our brothers and sisters from First Church of Christ in our fellowship hall. I encourage you to rise early and join us in this celebration and fellowship with our brothers and sisters from our neighbor congregation.
---
Solar Power and the Care of God's Very Good Creation:
If you have ever thought about solar power as an option, there is an organization in the southern tier (
Southern Tier Solar Works
) that exists to help the southern tier to generate more of its energy from solar power. And they might be able to help you switch to solar, too. They are offering ten workshops that help homeowners navigate the landscape of solar power programs and incentives, and offer sign-up for a bulk buying program. For more information about the organization and about the workshops please see
this pdf
. (You can also talk to the Petersons, who have solar panels, or Terry and Lor, who are looking into it).
---

Sunday Service Times:
Children's Sunday School:
9:30 a.m.
Coffee available for adults:
9:30 - 10:30 a.m.
Worship Service:
10:30 a.m.
---
That we might better pray for one another:
We give thanks for the safe arrival of Etienne's sister Vanya and brother-in-law Besin and their family to the United States, and we pray for a smooth transition into life in America.
We give thanks for God's care for Jenni DeYoung and we pray for ongoing healing and strength for her during her radiation treatments.
We pray for continued healing and strength for Barb Hover as she continues in chemotherapy and radiation treatments.
We give thanks for a good report from Becky Stocum's doctor on the success of her surgery, and we pray for Becky as her healing continues.
We give thanks for the birth of a healthy baby, Jocelyn, to Christaline Germain. Both baby and mother are doing well.
We ask for God's presence in Afghanistan, Ukraine, Syria, and Haiti, that the people of those countries might experience peace and justice.
We give thanks for a safe return for George and Ann DeJager and ask for safety as our other "snowbirds" return north for the summer.
We pray for family and friends: we pray for Paul and Erin Peterson's nephew who is experiencing liver issues; we pray for Beth Cunningham's friend Christine Cirucci who is undergoing chemotherapy and radiation treatments to battle breast cancer; we pray for Adam DeVoe's aunt, Janet, who is also battling breast cancer; we continue to pray for the Bucci family as Mr. Bucci has been diagnosed with Parkinsons and their five-year-old daughter is battling an ocular tumor; we pray for healing for Jim and Dorris Pitcher's son-in-law Lee Allard who is undergoing chemotherapy and radiation treatments, and for their nephew Karl who is recovering from a heart attack; we pray for Beth Komaromi who is also experiencing heart problems again; we pray for a safe move for David Derzanovich's son and daughter-in-law and give thanks for a new job for Stephen; we pray for safety as Ruth Giese's son returns from New Zealand; we give thanks for the Krempel's daughter/sister Karen's successful home sale and move to Elmira.
---
Upcoming Events and Opportunities:
2nd Offering:
On April 13 we will have an opportunity to support the ministries of Edward Okiror in Uganda for
World Renew
(formerly Christian Reformed World Relief Committee). Edward works in support of three dioceses of the Church of Uganda, all in war-affected Northern Uganda. The focus of his work is on resettlement of communities, agricultural rehabilitation and development, HIV and AIDs activities, capacity building of partner dioces, conflict resolution, peace building, and micro-enterprise promotion. For more information on Edward's work please see
here
.
Holy Week Services and Events:
Please see the left column for details about Maundy Thursday and Easter Sunday.
Youth Overnight:
Valley Youth will have their overnight event on Sunday, April 13 through the morning of Monday, April 14. Mark your calendars!
No Sunday School on Easter Sunday:
Due to the sunrise service and breakfast (see left column) on Easter Sunday, we will not have Sunday School or profession of faith class on Easter.
New Directories:
The 2014 directories are available! If you did not pick one up from the Krempels this past Sunday, please look for it in your mail folder this Sunday. Many thanks to the Krempels for all their work on the directories!
---
Sunday Morning Ministries for
March 30, 2014:
Greeter:
Ushers:
Greg Huck and George DeJager
Intercessory Prayer:
Scripture Reader:
Nursery:
Children's Church: