"All Scripture is God-breathed and is useful for teaching, rebuking, correcting and training in righteousness, so that the servant of God may be thoroughly equipped for every good work."
~ 2 Timothy 3.16-17
---
500 years ago this fall a monk nailed a piece of paper on a church's door. (If you think that this monk must have been a disrespectful, vandalizing cheeky scoundrel, know that the door was already something of a community bulletin board). None of the other papers pinned to the door on that fateful October 31, 1517 are remembered. But the 95 theological theses that the monk Martin Luther nailed to the door, thanks in part to the printing press that had only recently been invented, have been immortalized. The nailing of those 95 theses onto that church door is credited with fanning the small, scattered flames of various peoples' attempts to reform the Roman Catholic Church into the roaring blaze we now call the Reformation.
Over the next nine weeks, we will celebrate and explore some of the main themes that emerged in the Reformation, themes which were quickly solidified by those who followed after the Reformers into what are called the solae, or "solas," of the Reformation. Sola is the Latin word for alone. Most people recognize five primary solas. They are:
Sola scriptura - scripture alone
Sola gratia - grace alone
Sola fide - faith alone
Solus Christus - Christ alone
Soli deo gloria - the glory of God alone
To the original five, I am going to add a few more that we might want to emphasize (or re-emphasize) as we think about some of the negative, unintended outcomes of the Reformation or original emphases that have lapsed a bit:
Sola ecclesia - church alone
Sola sancta caritas - holy love alone
Solus sanctus spiritus - Holy Spirit alone
Regale sacerdotium - a royal priesthood (not technically a sola!)
Given that there are five (or now 8+) solas, they obviously aren't alone in the sense of being the only thing that is important to the Reformers and those of us who follow the Reformers' thinking. It is rather that each sola plays an exclusive role in a unique part of God's saving acts. For example, if we were to ask "through whom is one saved? Can I save myself? Can I be saved by the merit of the saints? Can I be saved by the prophets or patriarchs?," the Reformed answer comes back: You are saved through Christ alone!
This Sunday, we will examine
sola scriptura
- scripture alone. Like the above example, it is the Reformers' answer to a particular question: "how can we learn and know of God's saving grace and what the appropriate response to God's purposes in the world is?" In preparation for our time together I encourage you to read and reflect on
2 Timothy 3.16-17
.
We will also gather around the feast of the Lord's Supper, the tangible and taste-able extension of God's Word. I encourage you to prepare in heart and mind for our communion with our Lord and our brothers and sisters in Christ around his table.
---
Second Offering for World Renew's Disaster Relief:
This Sunday (September 24) we will have an opportunity to give a second offering to support World Renew's ongoing efforts to extend relief to the victims of various recent disasters. To read more about what World Renew is doing around the globe right now, please see
here
.
I also received an email from World Renew asking for immediate assistance as they seek to help the Rohingya refugees who are fleeing the persecution they faced in Myanmar. The Myanmar government has been consistently persecuting minority groups in recent years (Christian and Muslim alike), and World Renew tells us that in less than one month more than 400,000 Rohingya people have fled their homes and taken refuge in Bangladesh. We need to pray for the Rohingya people and for the people of Bangladesh as their infrastructure and resources are overwhelmed by the crisis. We can also partner with World Renew as they provide relief for the refugees. For more information see
here
.
---
Upcoming Events and Opportunities:
Ladies' Bible Study:
Ladies' Bible Study has been canceled for this coming Wednesday. The ladies' Bible study will resume on Wednesday, October 4.

Pete's Story:
On Thursday, October 19 at 7:00 p.m., Joel Vermaat will share Pete's Story, a presentation of his journey with his son, Pete, through Pete's life, his struggles with mental health issues, and his suicide. Joel shares Pete's story to raise awareness to mental health issues and opportunities for suicide prevention. You are encouraged to invite neighbors, friends, co-workers. We do, however, ask that those in attendance be at least high school aged or older.
Live-In Caretaker Opportunity:
An elderly Chenango Bridge resident, Beverly Smales, is looking for a live-in caretaker. If you know of anyone who might be interested and would like more details, contact pastor Kurt for Beverly's phone number.
---
Freedom Sunday Update
from the Deacons:
The deacons thank the congregation for their generous support of International Justice Mission on September 10; the congregation gave $783 to support the work of IJM around the world. This is an example of what our gift to IJM can accomplish: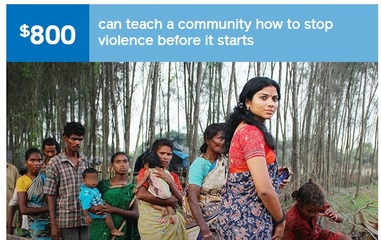 If you wish to become a monthly IJM Freedom Partner, contact Terry Woodnorth or visit
https://www.ijm.org/freedom-partner
. To become an IJM prayer partner, visit
https://www.ijm.org/get-involved/pray
. The presentation given by IJM president Gary Haugen can be found at
https://www.youtube.com/watch?v=yALZPvT9w9Y
. Gifts to IJM can also be placed in the offering plate this Sunday (September 24).
---

~ Valley Church ~
Gathered as God's family, we are sent into the world as agents of God's mission of renewal.

---
This Sunday:
Worship Service
at 10:00 a.m.
Children will remain in the service.
---
That we might better pray for one another and God's world:


We give thanks for another wonderful Fall Fest this past Sunday, and the opportunity to serve and celebrate with our neighbors, and we give thanks for the faithful leadership of Ron and Janet Crawford, and Erin Peterson who stepped up to help Ron, and for the many other faithful volunteers who helped prior to and on the day of the event!
We continue to pray for those grieving losses: for Lydie Germaine and her extended family following the passing of her father, and for George and Ann de Jager and their extended family following the passing of their grandson.
We give thanks for the healing that Sue Brown has received following her surgery. We pray that God would grant her continued healing, recovery of strength and energy, and patience. We pray also for energy, strength, and patience for Tim as he helps care for Sue.
We give thanks for the healing Ron Crawford has experienced over the past weeks and pray for continued healing and recovery for him.
We pray for continued healing and rehabilitation for Claire Krempel.
We pray for those with ongoing summer illnesses, especially Barb Lockwood and Jan Vermaat.
We pray for God's presence and peace for Annette Vernon as she transitions to life in China and faces a heavy workload.
We pray for peace and safety for the people of the Houston, Florida, the Caribbean, Mexico City, East Africa, and South Asia, all who are suffering from various natural disasters.
We pray for ongoing needs: we pray for continued healing for Joyce Vos' brother who is battling brain cancer; for Lor's neighbor who continues her cancer treatments; for Becky's friend Joe who is battling colon cancer; for Adam Derzanovich; for Beth Cunningham's cousin Karen; for Lynda Huizinga's niece Alexis; for Alistair Krempel; for Mike Corgan's nephew who is battling heroin addiction.

---
Sunday Morning Ministries for
September 24, 2017
Greeter: Frank Lockwood


Ushers: David Derzanovich and Charlie Huizinga
Intercessory Prayer: Kurt Monroe
Scripture Reader (2 Timothy 3.16-17): Harry Myers
Nursery: Herleen DeYoung