"I will bless those who bless you, and whoever curses you I will curse;
and all peoples on earth
will be blessed through you."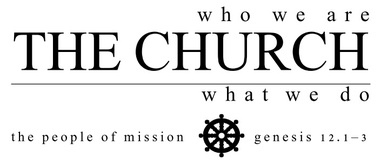 The Church: Who We Are and What We Do

If you were here on Sunday, you know that I unveiled our new sermon series that will
carry us through the summer and into early fall. We'll be looking at the Church for the whole series; first, at
who we are
as God's Church and, second, at
what we do
. This past Sunday we celebrated our unity and empowerment in the Holy Spirit. This Sunday we will explore God's call on Abram. Abraham is, in many ways, the one we look to as the first of the people God "called out" to go and be a people of mission - a blessing to all nations. In preparation, I encourage you to read Genesis 12.1-3.
In light of this emphasis on the church as God's
people
, and a people of mission, I have reversed the view of the photo at the top of the page. Rather than looking at ourselves, we are to look outward, toward the world, in its brokenness and its beauty. We have been called out by God not to be a "holy huddle," but to be a people of mission who bring Jesus' death and resurrection to bear in all places - in our homes, places of work, schools, sporting events, online - everywhere! God has promised that all the peoples and nations of the earth would be blessed through
us
, the church!
---
Dogs Are On!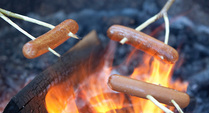 Who wants to say "soup's on" when it's summer? So, here's the hot weather version (for when the heat comes back): dogs are on! Periodically throughout the summer the Monroes are going to be roasting some hot dogs (or cooking up
something
) in the fire ring behind the church, and then hanging out, tossing the frisbee or baseball, strumming the guitar or mandolin or banjo, and generally having a relaxing time. Anyone and everyone is welcome to join us! This will be a very informal, bring-your-own-food, bring-your-own plates, bring-your-own blanket or lawn chairs to sit on, bring your own volleyballs and bocce balls type of gathering. Our first "dogs are on" get together will be Memorial Day (May 27). So, if you don't have plans for Memorial Day, you're very welcome to come and join us; dogs are on! We'll be there at 4:30. We'll let you know of future cookouts via this newsletter.
---

Just a quick note: If you want to drop in and visit me at the church, but you don't see my car outside, it doesn't mean that I'm not there. The doctor told me I'm free to engage in strenuous activities, so I've started riding my bike to work when the weather is nice. That's why you might not see my car outside.
Also, if it's hot outside, you'll probably find me working downstairs. The past few days I discovered the office upstairs can get rather toasty!

Sunday Service Times:
NO SUNDAY SCHOOL THIS SUNDAY.

---
In the Life of Valley Church:
We give thanks for great news about Lor Recker-Woodnorth's mothers. Her surgery went well, and she has been released from ICU into the cardiac rehab. We celebrate her progress, and we can continue to pray for her speedy recovery as she also fights a touch of pneumonia that was caught early.
We praise God that McKenna Derzonovich is finally home from the hospital with her parents and sister.
I give thanks for great news concerning my heart. The cardiologist has ruled that the "shadow" that appeared on my echocardiogram is completely benign, and that the specific form of premature heartbeats I'm experiencing only occur in young, healthy hearts!
We ask that God would be present with the family of Mary Howard (Jim Conrod's cousin) as she lost her battle with cancer earlier this week. We give thanks for her strong faith and the assurance we have that she is at peace with her Lord and Savior.
We pray for Wilner and Marila Nicolas as they continue to wait to go to Haiti in order to be reunited with their two oldest children and return to Binghamton.
We pray for the family and church of Tim Bosma in Ancaster, ON, as they grieve the tragic loss of a husband and father.

---
Upcoming Events
and Opportunities:
No Sunday School or Children's Church this Sunday:
There will not be adult or children's Sunday School or Children's Church this Sunday due to the Memorial Day Weekend travels of many families, Sunday School teachers, and children's church leaders.
Sunday School Breakfast:

The Sunday School breakfast will be on June 9. Sign-ups are on the back of the front door.
Sale for Project Concern:
There is a sale (all manner of things that you can't live without as Barb said on Sunday) at the Lockwoods from 8 to 4 on Friday (today) and from 9 to 3 on Saturday. All proceeds go to Project Concern.
Informal Get- Together and Cookout Behind the Church on Memorial Day:
See "Dogs Are On!" in the center section for details.

Feedback for Offering of Letters:
If you wrote letters to members of Congress this past week for the Offerings of Letters, please report to Terry Woodnorth how many letters you wrote, and to whom, so that Bread for the World can have accurate data reported to them.
Thank you for your advocacy on behalf of poor and hungry people in the U.S. and worldwide.